When opening the Task Manager on the Windows PC, you may find the UNCServer.exe process. What is UNCServer exe? Should I disable it? A lot of users are confused about these questions. Now, let's explore the answers together with MiniTool.
According to many user reports, there is a process called UNCServer exe on Lenovo computer that is using a great number of system resources. This process is commonly seen on Windows 10/8.1/7. What is UNC Server? Should I remove it? Please keep reading the following content.
What Is UNCServer.exe
What is UNCServer? The UNC is short for Universal Naming Convention. UNCServer is known as a system update server module that often starts as soon as the Lenovo System Update software is started. It will close along with exiting the System Update software. Usually, the executable file of this module is located in C:\Program Files\lenovo\system update\tvsu.exe.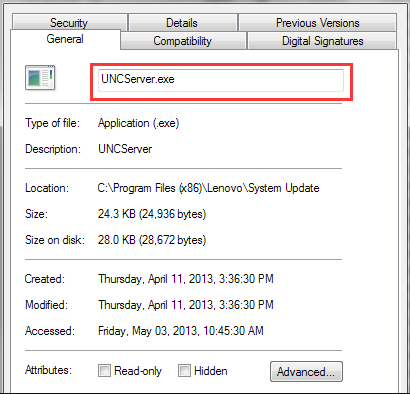 This module serves as a separate Windows process when Lenovo System Updates is running. The UNC Server task is also related to the newer ThinkVantage System Update program (TVSU). It enables the System Update to self-update and download packages by opening the inbound TCP and UDP traffic.
If the UNCServer exe process appears inside the Task Manager, it indicates that the module is actively working. However, if this process is always one, it is very possible that your system is suffering from a bug. So, you may wonder if it should be removed.
Is safe to remove it? Get the answer from the following part.
Is Safe to Remove UNCServer.exe
As mentioned above, the UNCServer exe file is a part of Lenovo System Update that's signed by Lenovo. So, it is not recommended that you remove the UNC Server file. Sometimes, however, a malicious file that poses as UNCServer.exe will have the required permissions to access all TCP and UDP ports.
For both Domain and Public profiles, you should make sure the UNCServer.exe is legitimate and doesn't have any harmful threat to the computer. If you do not confirm this file is safe, we recommend you have a virus scan for your computer. After that, you can remove it.
In addition, you can also remove UNCServer.exe if it is consuming too many system resources.
How to Remove UNCServer.exe
To prevent UNCServer.exe from using too many system resources, you can remove it by the following 2 methods.
Tip: Disabling UNCServer.exe will affect the ability of your computer to self-update and download the latest security packages automatically.
Way 1. Uninstall Lenovo System Update Software
The first and simple way to remove UNCServer.exe is to uninstall Lenovo System Update. This operation will completely delete the server module. Here's how to do that:
Step 1. Press Win + R keys to open the Run dialog box, and then type appwiz.cpl in it and hit Enter.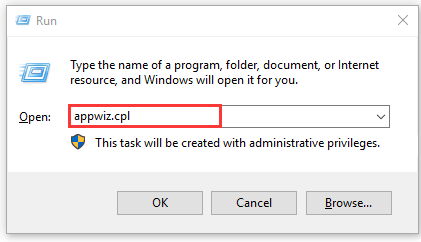 Step 2. In the Programs and Features window, right-click the Lenovo System Update from the list of programs and select Uninstall.
Step 3. Follow the on-screen prompts to complete this uninstallation. After that, you can restart the computer and check if the UNCServer.exe still using system resources on Task Manager.
Way 2. Disable the TVSUpdateTask
In addition to the above method, here is a less destructive method that can prevent UNCServer.exe from consuming too many system resources. To do so, follow the steps below to disable TVSUpdatTaske:
Step 1. Press Win + R keys to open the Run dialog box, and then type taskschd.msc in it and hit Enter.
Step 2. In the Task Scheduler window, expand the vertical menu on the left pane Task Scheduler Library and select TVT from the sub-menu.
Step 3. Scroll down the listed tasks from the right pane to find the TVSUpdateTask, and then right-click it and select Disable.
Step 4. Once this process completes, restart your computer. Then it will prevent Lenovo System Update from running on a schedule and leave the process running in the background.