This article focuses on how to clone hard drive by using Samsung cloning software - MiniTool Partition Wizard. Detailed steps are given here.
Help! My Samsung Data Migration Cloning Failed
"So I bought an 840 EVO 250GB SSD recently, and for the past few days, I have been trying to use the software that came with it to transfer all my data over. It starts up fine and migrates the data fine until it gets to exactly 470MB. After that, the number stops and the time goes until around 2:45-3 minutes before a pop-up box will show up saying "Cloning Failed. An error occurred while defragmenting the disk. 308300[04b44c]". I have tried tips on opening with the administrator or making sure something was enabled in the disk management, but nothing so far has helped."–from Tomshardware
Founded in 1983, Samsung has become a world-famous technology company that produces mobile phone, tablet, notebook, SSD, camera, TV, refrigerator, etc. Among these products, SSDs are enjoying high evaluation, and a lot of PC users tend to use Samsung SSDs as their new storage devices. Nevertheless, many users don't know how to clone hard drives to Samsung SSDs. Here in this post, we are going to talk about a piece of professional Samsung cloning software.
We believe many users have heard about Samsung cloning software called Samsung Data Magician, which is released by Samsung to help users quickly, easily, and safely migrate all of their data – including the operating system, application software, and user data – from existing storage devices to their new Samsung SSDs. However, as you can see from the above example, this system migration software sometimes fails to do the job due to many limitations. Thus, a more professional hard drive cloning software is strongly recommended here.
Top-ranking Samsung Cloning Software – MiniTool Partition Wizard
Briefly speaking, MiniTool Partition Wizard is one of the best Partition Magic alternative trusted by millions of Windows users. It is a very popular disk partitioning management software that can be used to extend partition to resolve "partition bar gets red" issue, to recover lost partitions caused by virus attack or human errors, to convert dynamic disk to basic to install more systems, to convert FAT32 to NTFS file system to store huge single files, to convert MBR disk to GPT disk to break the 2TB disk space limit, to change cluster size to take full advantage of disk space, to clone hard drive to SSD for hard drive upgrade…It is worth mentioning that this partition magic alternative also provides a Bootable Media Builder feature to help create a bootable Partition Wizard to cope with hard drive management issue when computer fails to boot.
Knowing what this program is, let's have a look at how it works on Samsung data migration windows 10. Here we take the Pro Edition (able to clone system from MBR disk to GPT disk) for example.
Tip: No matter your source drive or the target drive is produced by Samsung, MiniTool Partition Wizard can do the system cloning/disk cloning well. If you are cloning non-system disk, you can download MiniTool Partition Wizard Free Edition to finish your jobs.
MiniTool Partition Wizard FreeClick to Download100%Clean & Safe
Case 1: Clone System on Basic Disk
Preparatory work:
Connect Samsung hard drive to your computer and make sure it can be recognized by Windows and works properly.
Back up all important data on the target disk if there is any because all of them will be cleaned during the cloning process.
Step 1. After launching MiniTool data migration software, you will see some features and your disk layout listed in the main interface at first sight. Then you can see MiniTool Partition Wizard has selected system disk by default, hence you just click "Copy Disk Wizard" to start.
Tip: Copy Disk Wizard on the left action panel will lead you to the welcome page and then ask you to choose the source disk, while right-click system disk and click Copy directly will lead you to choose the target disk.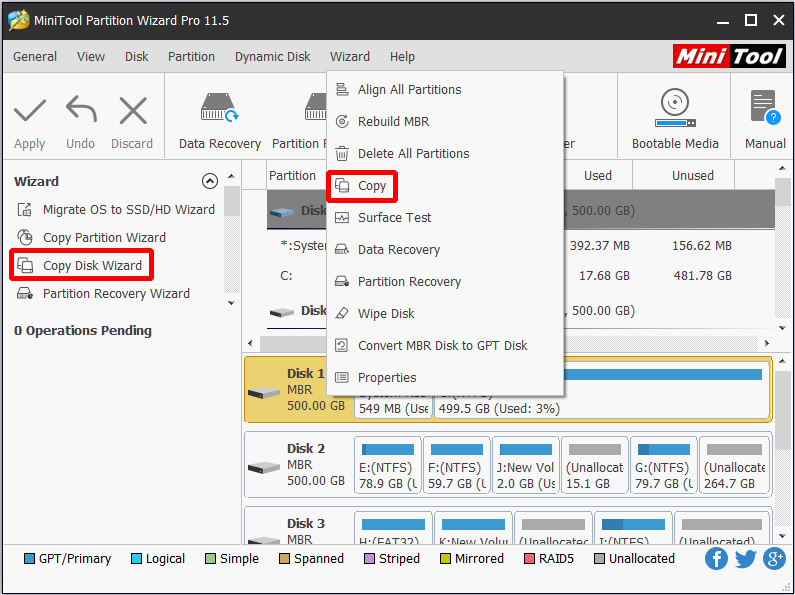 Step 2. Then choose where you want to copy the disk to. Please note that the target disk should be basic disk and all data on it will be cleaned. However, if it is a dynamic disk, you should convert dynamic disk to basic disk in advance. Then click Next to go on. Immediately you will receive a warning message saying all data on the selected disk will be destroyed. Confirm you want to continue and go ahead to the next page.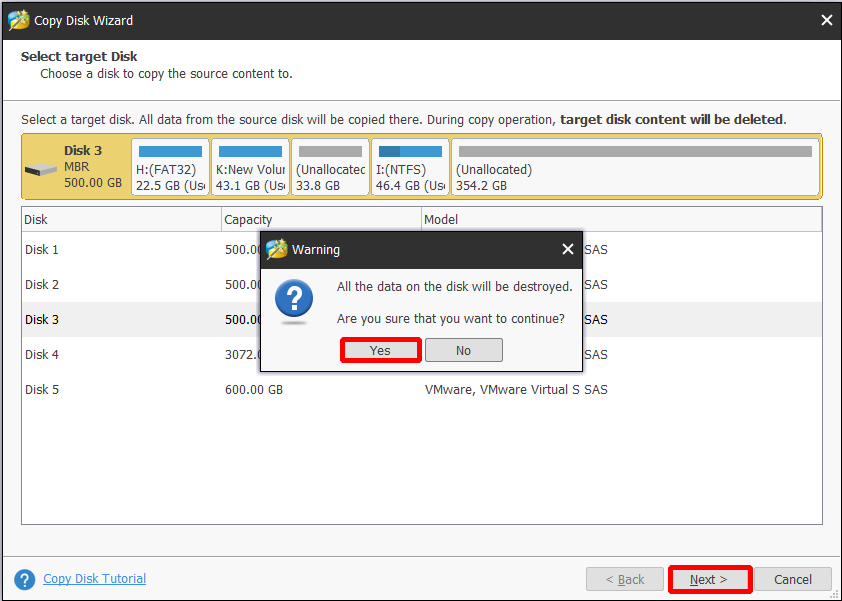 Step 3. Choose a copy option you want. Fit partitions to entire disk will automatically adapt the partition size to fit the entire disk, and Copy partitions without resizing will keep the original partition sizes (this option is available only when the target disk is not smaller than the source disk). Also, you can change each partition size by dragging the slider before you click Next.
Tip: If the target disk is an SSD or advanced format disk, you can check Align partitions to 1MB to improve its performance. If you want the target disk to employ GUID partition table (GPT), you can check Use GUID Partition Table for the target disk. However, be sure that your BIOS support UEFI boot mode. And to boot from GPT disk, please remember to change BIOS mode to UEFI.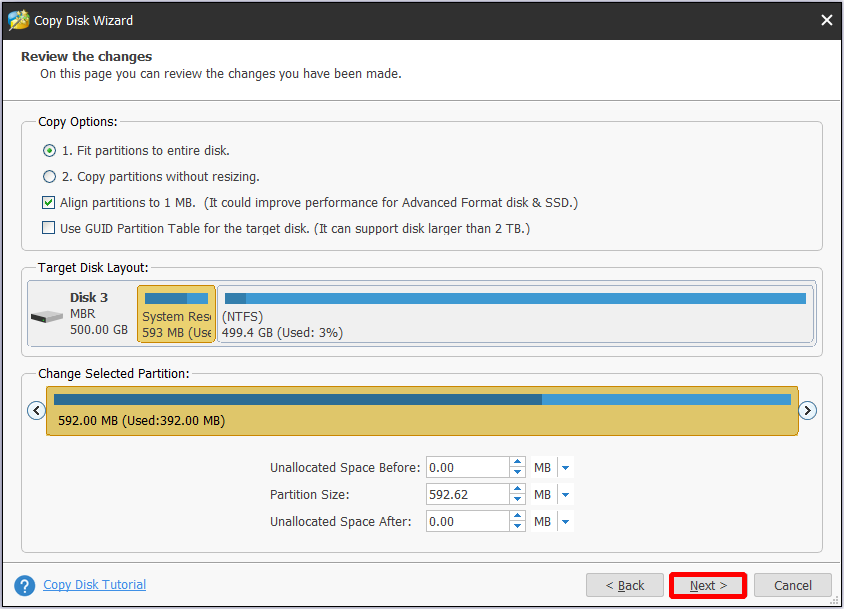 Step 4. Then MiniTool Partition Wizard will tell you: to boot from the new disk, please configure computer BIOS settings and make sure the new disk is configured as the default boot disk. After that click Finish.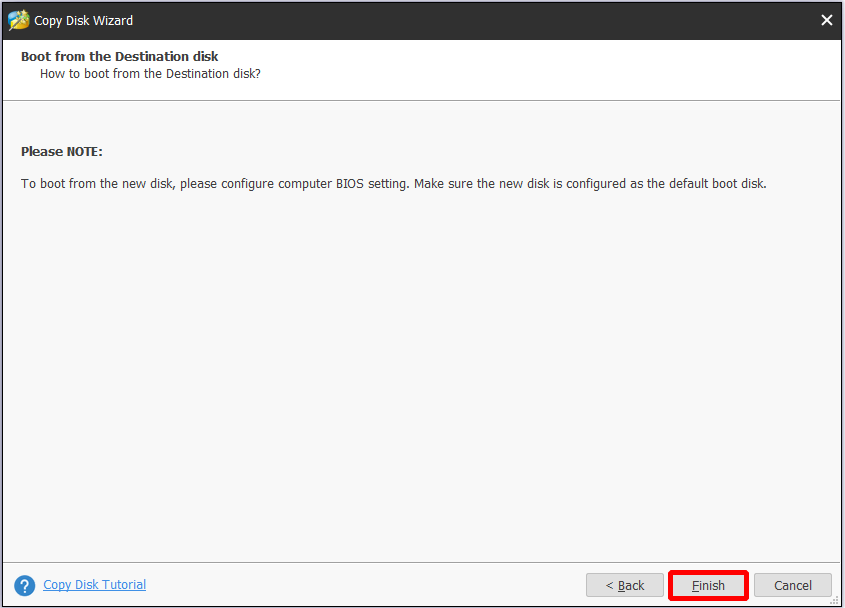 Step 5. Finally you have come back to the main interface where you can preview what is going to happen on your target disk. Here you just click Apply to bring all changes into effect if you confirm this disk cloning.
Tip: If you are cloning the system disk, MiniTool Partition Wizard requires a reboot and will finish all operations after the reboot.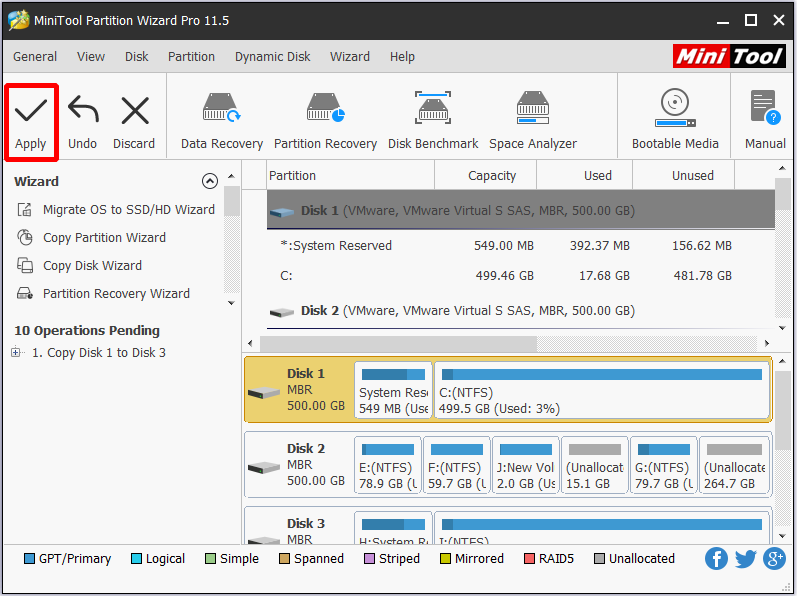 After doing these, MiniTool has finished Samsung cloning. Now it's your turn to change BIOS settings if you want to boot Windows from the target disk (change BIOS mode to UEFI if the target disk employs GUID partition table, then set the target disk to the first place in the boot sequence. And finally, save your changes).
Reading here, you may wonder: what if I want to clone system installed on a dynamic disk? Should I first of all convert the system disk to basic disk before I can clone it? Or do I have a simple way? Here MiniTool Partition Wizard also gives you the perfect solution. It is able to clone system/whole drive from dynamic disk to basic disk.
Case 2: Clone System on Dynamic Disk
Tip: Both Migrate OS to SSD/HD and Clone Disk support cloning system on dynamic disk. Here we just take the former one to show you how magical MiniTool Partition Wizard is.
Step 1. After doing the preparatory work mentioned in the former part, run MiniTool Partition Wizard Pro. Since Partition Wizard automatically selects the OS disk, you just choose Migrate OS to SSD/HD from the tool bar to begin.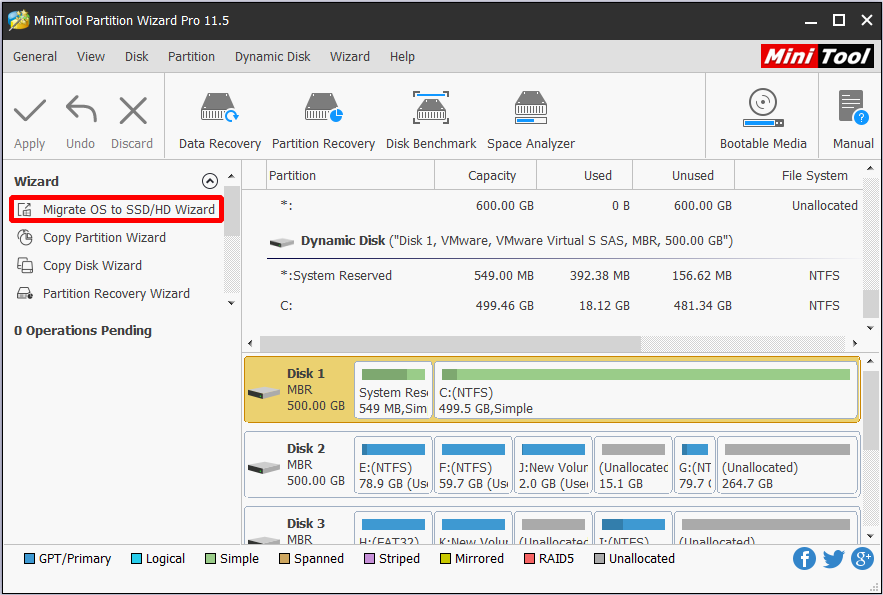 Step 2. Then choose how to migrate your OS on the dynamic disk: to clone all partitions on the whole disk OR to clone the system only? Here we choose the latter one for an example and click Next to go on.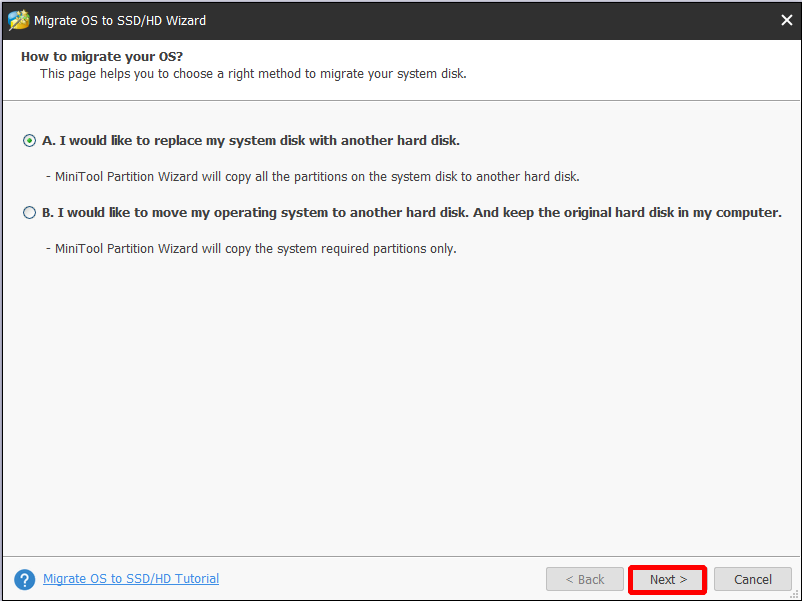 Step 3. Now select a target disk which should be a basic disk and can be cleaned to store all files that are related to the operating system. If the hard drive is not empty, you will receive a warning message saying all data on the disk will be destroyed as soon as you click Next button. Confirm you accept what will happen to the target disk to continue.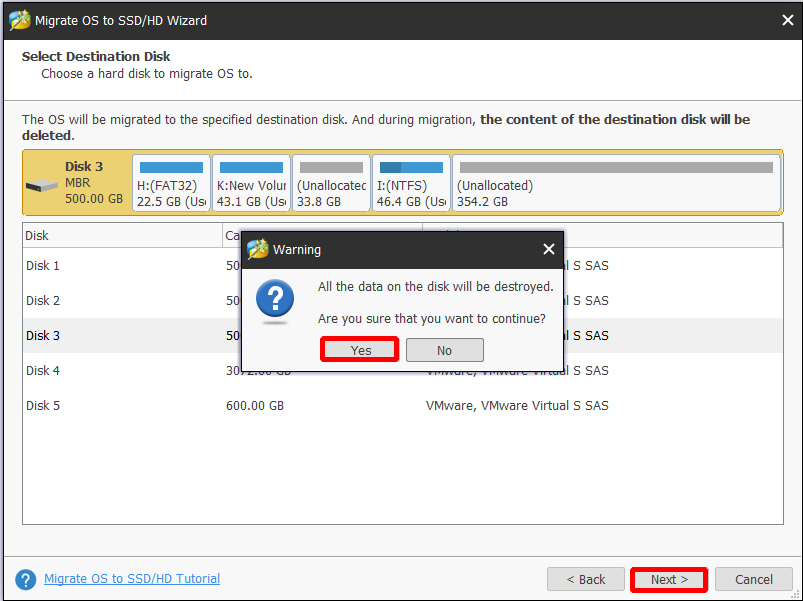 Step 4. Here on the next page, you can choose whether to adopt Align partitions to 1MB to improve the performance of the target disk as well as edit the partition size of each partition. Then click Next and go on.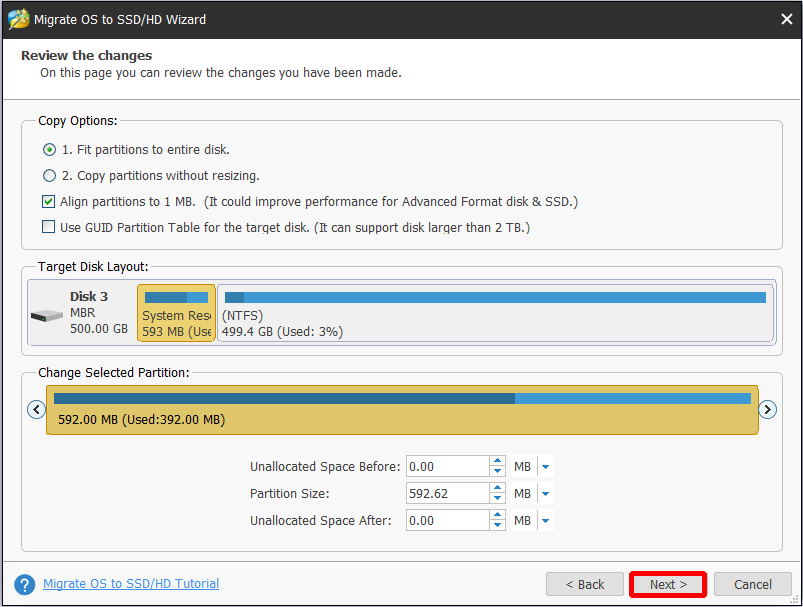 Step 5. See! MiniTool Partition Wizard reminds you to change computer BIOS settings so as to boot from the new disk. Click Finish after reading the message.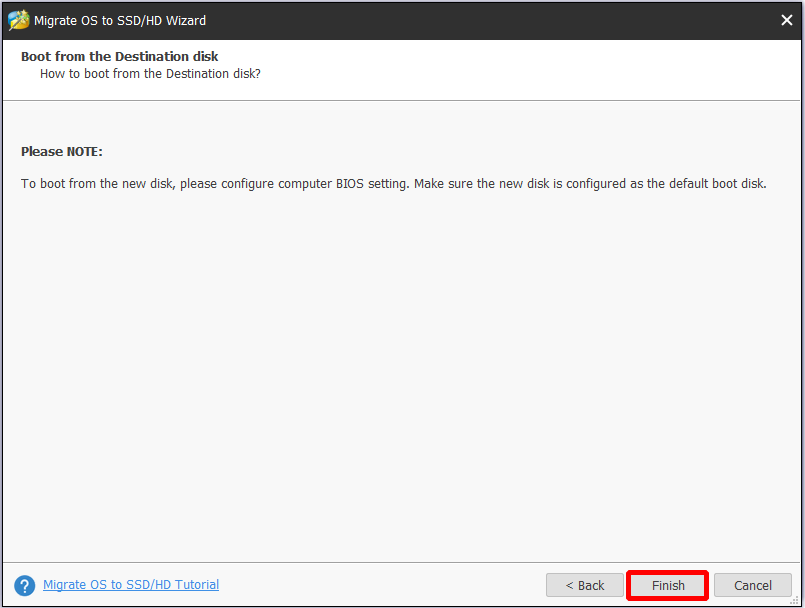 Step 6. Finally, on the main interface of MiniTool Partition Wizard, you can see the target disk will contain a copy of your system on the dynamic disk, and the disk style is basic disk easier for hard drive management.
Tip: If you want the target disk also employs dynamic disk style, you can go ahead to Windows Disk Management and turn it to dynamic disk.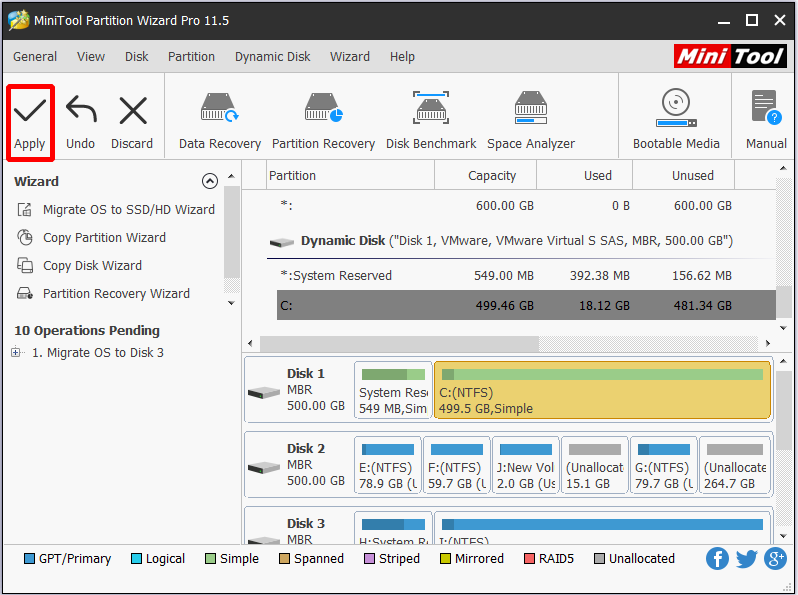 "MiniTool Partition Wizard is a great Samsung cloning software that can clone system installed on both basic disk and dynamic disk to another hard disk like SSD. Here I would like to recommend it to you guys and hope it can help when Samsung data migration cloning failed."Click to Tweet
Why You Clone Hard Drive
After introducing Samsung cloning software, it is necessary to know why you need to clone a hard drive (in other words, in what situation you need to clone hard drive). In the following cases, you may consider hard drive cloning:
You are storing data on a small hard drive. As time goes by, this disk can no longer satisfy your need of data storage. Hence, you need to clone this hard drive to a larger one.
You are running Windows on hard Disk Drive and want to transfer Windows to an SSD with outstanding performance to overcome HDD's shortages. View SSD VS HDD to know their differences.
Your hard drive is failing and hence you need to send it to repair center. In this case, clone all data on the drive, because the repair center is not responsible for data loss.
You want to make a backup of the hard drive in case that you may perform some operations mistakenly or the hard drive may get corrupted by other possible reasons. Usually, it is recommended to have at least one cloning copy at hand.
You are an administrator and have many computers (with the same configurations) to be installed. Then you just install one computer and do hard drive cloning to copy the system, as well as necessary applications, to make things easier.
You are about to donate or sell your computer. Before you act, make sure you have a copy of your important data and then wipe disk on your PC.
More…
Recommended:
MiniTool ShadowMaker is released for public testing! It is a piece of backup software that is designed to satisfy different backup demands. Also, it has a feature called "Clone Disk", which is capable of Samsung data migration. If you are interested, you can go to the official site to have a try on this brand new backup software.
If you happen to encounter data loss caused by hard drive issues or human errors, and no cloning copy is available, you can turn to Data Recovery feature of MiniTool Partition Wizard and try to find the lost data. This is a read-only data recovery feature that you can totally rely on to retrieve lost data and prevent privacy leakage. Besides, the boot disk is able to restore data when the operating system cannot boot.
After reading this post, we believe you must have had a basic understanding of why you need to clone hard drive, and how to use Samsung cloning software to do the job. Hopefully, the information here is helpful. In fact, MiniTool Partition Wizard not only clones system disk safely, but also clones data drive well. Besides, it can copy single partition for backup purpose. Just download MiniTool Partition Wizard Free Edition to experience its features.
Should you have any questions towards using MiniTool Partition Wizard, or any suggestions for improving MiniTool Partition Wizard, just leave us comments in the following area, or you can send an email to [email protected].