Good news! NAKIVO Backup & Replication V9.0 for Windows Server has been released. In today's post, you will learn the related information about NAKIVO Backup & Replication V9.0, including major features, various improvements, and hardware requirements.
About NAKIVO Backup & Replication V9.0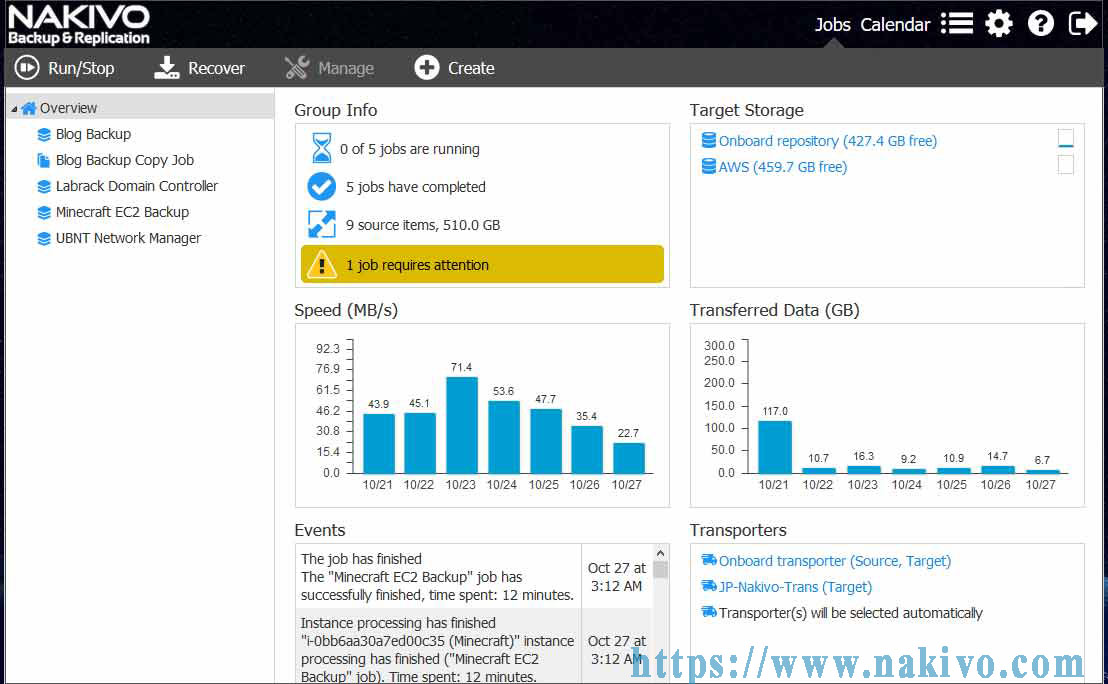 NAKIVO is well known to virtual machine backup and recovery solutions for environments such as VMware, Hyper-V, and AWS EC2 environments. With the recent release of NAKIVO Backup & Replication V9.0, some new functionalities with physical Windows Server backups like Hyper-V 2019 are offered.
Tip:
In addition to this backup and recovery solutions, you have an alternative
MiniTool
. This software also provides you with a
backup
feature. Besides, it boasts many other powerful features such as
rebuild MBR
,
move/resize partition
and etc.
Let's have an in-depth understanding of its news features contained in NAKIVO Backup & Replication V9.0
Windows Server Backup
NAKIVO Backup & Replication V9.0 for Windows Server are performed in an application-aware mode, which ensures the consistency of all applications and databases running on Windows Server.
With this program, you can make a backup of your Windows Sever, including the data of applications such as Microsoft Exchange, Active Directory, SQL, and Oracle. Besides, you can recover files and folders, improve network acceleration, and save storage space with global deduplication and compression.
NAKIVO Backup and Replication v9.0 protect Windows Server backups from any unauthorized access. To protect physical Windows Server Backups, you can encrypt it with AES 256-bit encryption. NAKIVO V9.0 has upgraded its acceleration technologies to cover Windows Server backups as well.
Hyper-V 2019 Support
NAKIVO Backup and Replication v9.0 Beta extended its service to Windows Server Hyper-V 2019. With this beta release, NAKIVO Backup & Replication V9.0 can work with Hyper-V 2019.
Physical to Virtual (P2V) from Backup
The latest version brings much advanced P2V functionality. It enables you to restore Windows Server backups to VMware and Hyper-V VMs. With this P2V functionality, you can migrate your physical workloads to a virtual environment with ease.
NAKIVO Data Protection Solution for NEC HYDRAstor
Combined its efforts with NEC HYDRAstor, NAKIVO was designed to create data protection for different virtualization platforms including Hyper-V, AWS EC2, VMware, Nutanix AHV, and Windows Servers.
As a part of the combined solution, NEC HYDRAstor provides deduplication technology that can be used to fix the problem of continually expanding the backup size, which enables NAKIVO Backup and Replication to prevent virtual environments from data corruption and data loss.
This feature provides a data protection solution that can shrink the size of backups by up to 95% and make sure data protection for the environment.
NAKIVO Backup and Replication V9.0 Key Merits
Why you choose NAKIVO Backup and Replication V9.0 for Windows Server? You probably get the answers from the following key merits of it:
Many improvements: Fast deployment, smaller backup size, instant recovery, higher backup speed, and guaranteed recoverability.
Incremental Windows Server backups: unique blocks of data are copied to the backup repository.
Save the use of storage space: NAKIVO Backup and Replication can automatically delete Microsoft Exchange and Microsoft SQL logs after a successful Windows Server backup. 
It offers an incremental backup with LAN: Free data transfer and network acceleration, CBT/RCT/CRT.
Exclude global backup deduplication, variable backup compression, swap data, and truncation of SQL and Exchange logs.
Product Installation and Requirements
Windows Server Backup with NAKIVO Backup & Replication V9.0 can be installed on Windows or Linux, and directly onto a NAS. It run natively on Synology, QNAP, Western Digital, ASUSTOR, and NETGEAR. 
Since it is separated from the virtual infrastructure, it does not consume any resources. Moreover, it offers the support for deduplication appliances such as NEC HYDRAstor and Dell/EMC Data Domain.
NAKIVO Backup and Replication V9.0 can back up Windows Server machines with several Operating Systems:
Microsoft Windows Server 2008R2 64-bit
Microsoft Windows Server 2012 64-bit
Microsoft Windows Server 2012R2 64-bit
Microsoft Windows Server 2016 64-bit, and
Microsoft Windows Server 2019 64-bit.
And it supports the NTFS, FAT 32, and ReFS Windows File Systems.