Have to concede that it has taken way to long. Anyway, Microsoft finally announced Hyper-V Server 2019 is now available in the Evaluation Center. But you may wonder what new features this Microsoft Hyper-V Server has? There are some related information you may need.
Microsoft Quietly Began to Rolls out Hyper-V Server 2019
In fact, it's been a long time for this release. Initially Microsoft made Windows Server 2019 to customers available on October 2, 2018 and plans to deliver Hyper-V Server 2019 to Visual Studio Subscription customers by June 19. Based on the same code base as Windows Server 2019 (Windows Server Version 1809), Microsoft Hyper-V Server 2019 is normally issued alongside with its more traditional Windows Server siblings.
However, that didn't happen this time. As a result, some latest Windows Server versions all suffered from the same issues that distressed Windows 10 version 1809. But it's surprising that Microsoft just made an evaluation media version of Windows Server 2019 when these issues were fixed, then this firm said nothing about Microsoft Hyper-V Sever 2019 again.
So why Hyper-V Server 2019 delays?
We have been closely following this release for several months. It is reported that some issues were found in the installation for Hyper-V Server 2019, and Microsoft is taking effective measures to resolve it. Microsoft has been asked about this release since last year, but always only gave the same answers "coming soon" each time.
Anyhow, it's finally here. And if you are looking for some related information about Hyper-V Server 2019, please keep reading the following part.>
About Microsoft Hyper-V Server 2019
Hyper-V Server 2019 is a free standalone product that includes the roles related to virtualization. Besides, it is associated with the Windows Server product, including the same hypervisor technology in the Hyper-V role on Windows Server 2019.
As a robust, optimized enterprise-class virtualization platform, Microsoft Hyper-V Server 2019 provides many new and enhanced features. The previous Microsoft Server versions have many different updates and fixes as follow:
There are no longer any prompts for the product key on Hyper-V Server 2019 installation. It is an enterprise hypervisor provided at no additional cost.
Now it is properly prompted for administrators to change their passwords when they sign in at first time.
Updated installation branding.
Microsoft Hyper-V Server provides you with a modern, remote management solution by Windows Admin Center, which integrates with Azure Backup, disaster recovery, and other powerful features.
Except for the above features, there are Microsoft Hyper-V Server 2019 new features such as:
Failover cluster has been improved and no longer needs the use of NTLM.
Server Message Block (SMB) is also strengthened. Now SMB 1.0 is disabled by default.
Provide built-in Windows subsystem for Linux.
Provide built-in Windows Defender Advanced Threat Protection.
Built-in .NET Framework 4.7 is available. Microsoft Hyper-V Server 2016 provided .NET Framework 4.6.
Hyper-V Server 2019 Installation Requirements
If you want to run virtualization in a secure and efficient way, Hyper-V server also has specific hardware requirements.
64-bit processor with second-level address translation (SLAT).
Prepare enough memory space. It's recommended that you prepare a RAM with at least 4 GB. The larger memory, the more host and virtual machines that you can run at the same time.
BIOS and UEFI are available to support Virtualization.
Assisted Virtualization Technology-Intel Virtualization Technology (Intel VT) or AMD Virtualization (AMD-V) technology.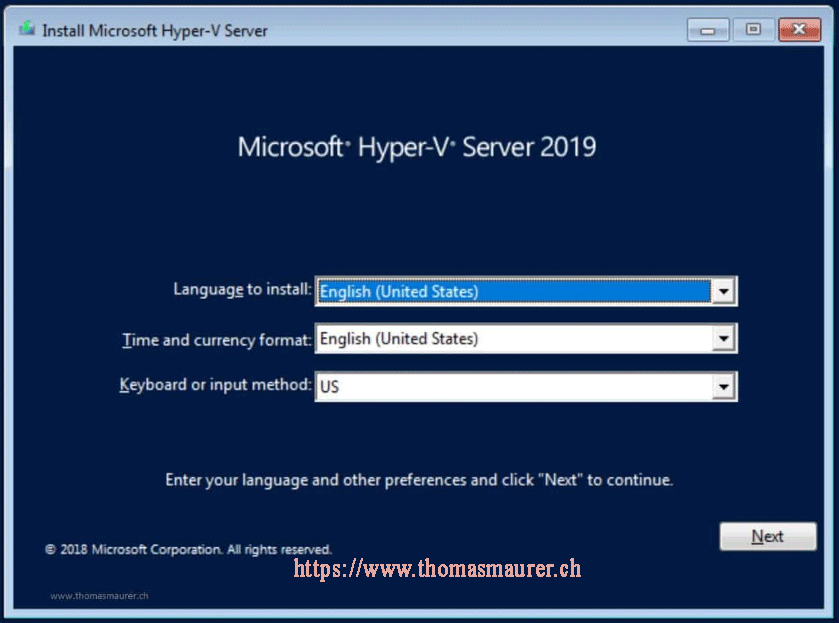 Now, you can download Microsoft Hyper-V server 2019 directly from the Microsoft evaluation center. After downloading the ISO file, you can boot your server from this disc drive. Then you can follow the installation prompts to install this release.