This is the best workaround for you to clone UEFI GPT disk. MiniTool Partition Wizard is the partition manager we highly recommended to help you clone GPT disk. Don't' hesitate to have a try!
UEFI GPT Boot Is Popular
In recent days, computers nearly all come with UEFI boot mode, and Intel is to remove legacy BIOS support by 2020. To boot from UEFI boot mode, hard drives need a GUID partition table (GPT). By default, today's computers will boot from the 64-bit operating system installed on GPT disk which allows the usage of disk space larger than 2TB and enjoy higher data safety.  
See also: MBR VS GPT (Focus on Difference and How to Convert Safely)
Despite that UEFI boot mode is gaining popularity and GPT disk has much more advantages than MBR disk, sometimes you still need to replace the current GPT disk. For instance, the disk capacity is not big enough, or the hard disk drive performance is not satisfying and you want to use an SSD to replace.
In such cases, how can you clone UEFI GPT disk?
In fact, doing such operation is rather easy once you have the assistant of professional disk cloning software.
Here we suggest using MiniTool Partition Wizard to help. Simply put, MiniTool Partition Wizard is specially designed to do some disk partition operations to optimize disk performance. And, if you are to abandon the current UEFI GPT disk drive using another one, its Copy Disk feature is the best option.
It is worth mentioning that the Free Edition of MiniTool Partition Wizard is capable of doing this job. Get the freeware now!
MiniTool Partition Wizard FreeClick to Download100%Clean & Safe
How to Clone UEFI Disk Easily and Safely
Here are the detailed steps on how to copy GPT disk.
Step 1. Run MiniTool Partition Wizard to obtain its main interface, where you are able to view all your disks and partitions in the disk map area.
Step 2. Now select the GPT boot disk and choose Copy Disk from the action panel or context menu. You will see a disk copy wizard then.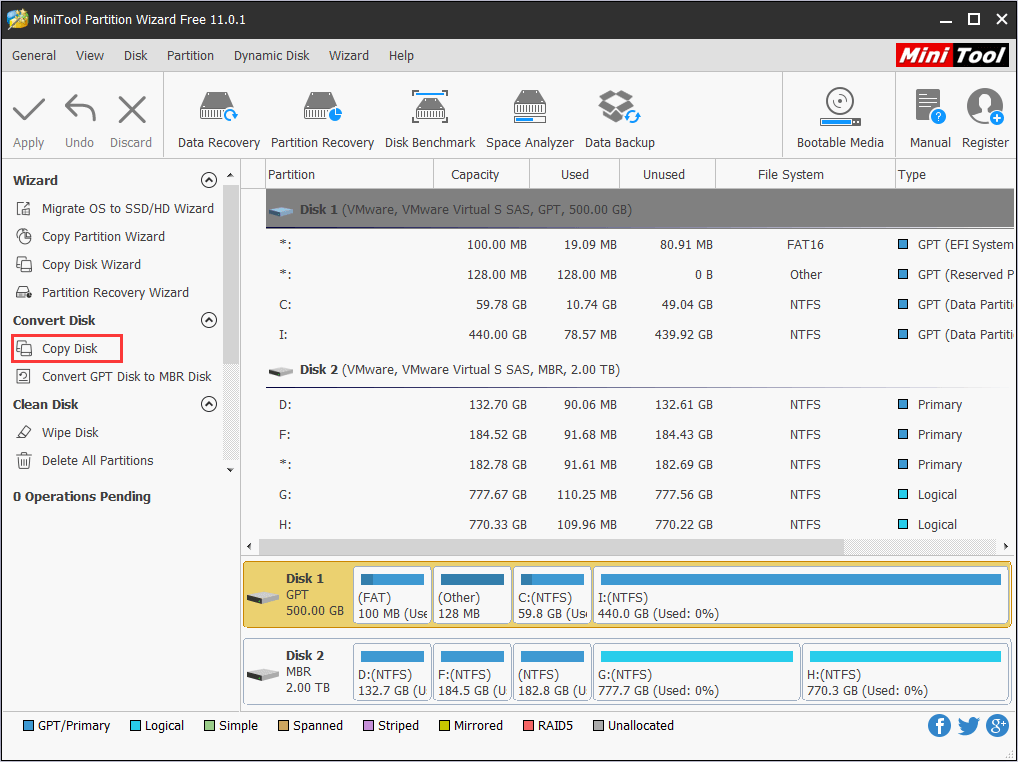 Step 2. In the next window, choose a target disk and then click Next to continue. Note that all data on the target disk will be cleaned. If there are some significant files, make a backup before you continue will the copy process.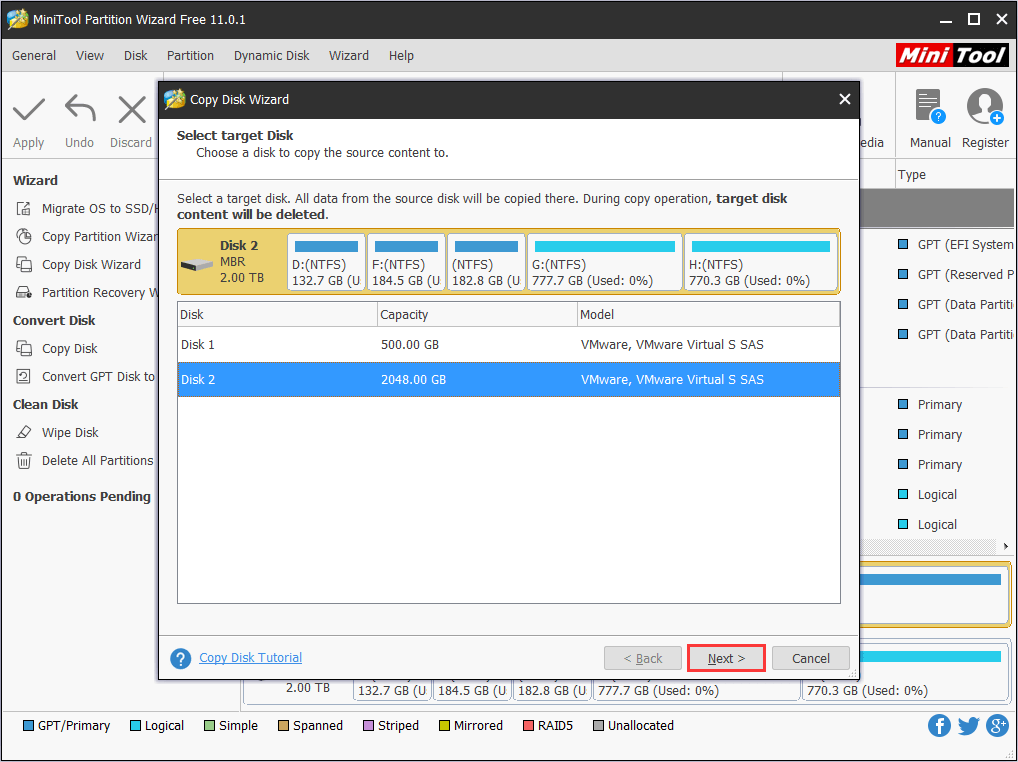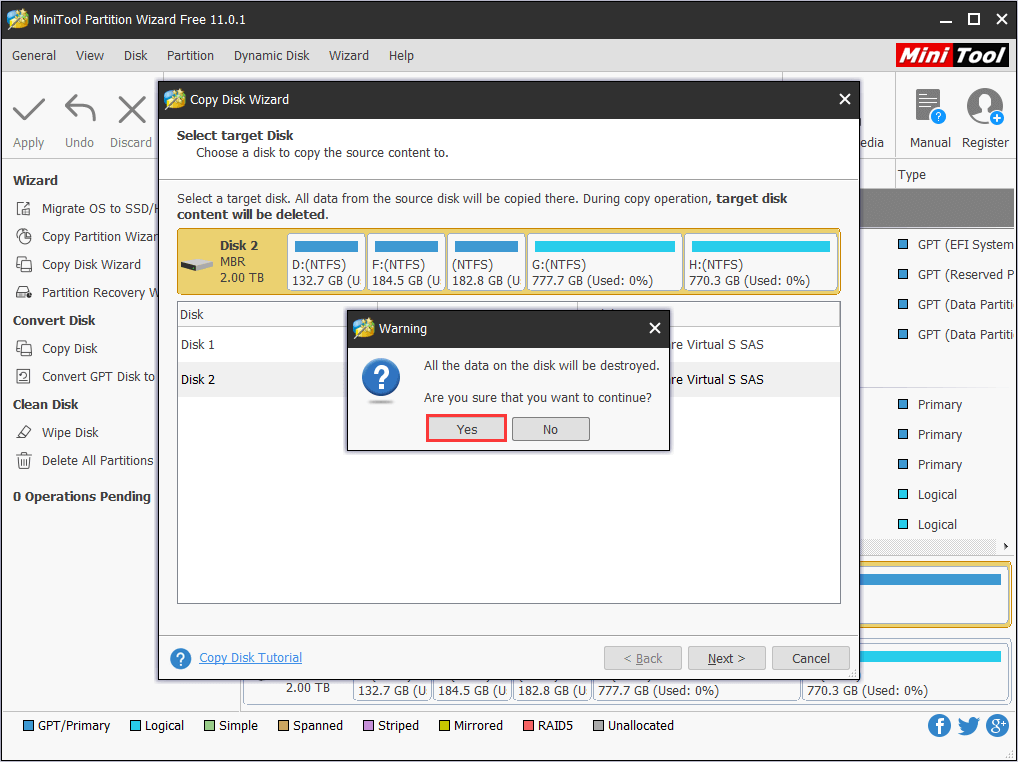 Step 3. Here you can see 2 options for you to clone GPT disk. The former one makes the target disk full occupied by all partitions cloned from the source disk, and the latter one helps to keep the original partition size. No matter which one you choose, you can adjust each partition size further by dragging the slider bar in the lower position. Then click Next to go on.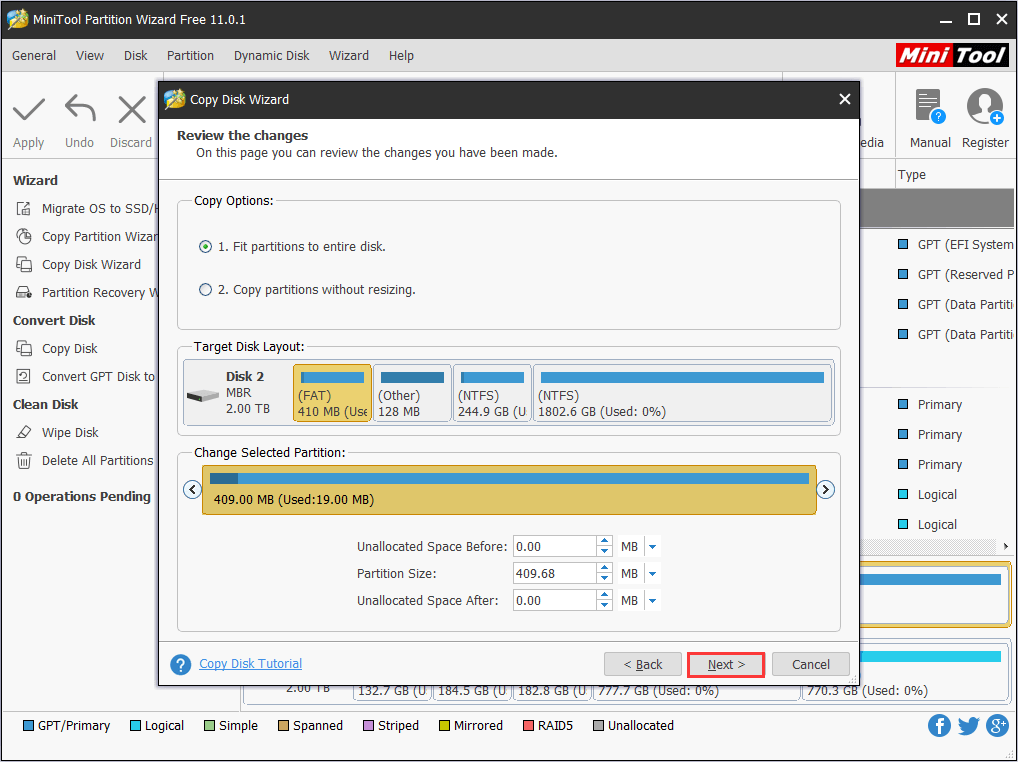 Step 4. You will see information telling how to boot from the target disk. Please remember to set the target disk as the default boot disk after you clone GPT disk. Now click the Finish button.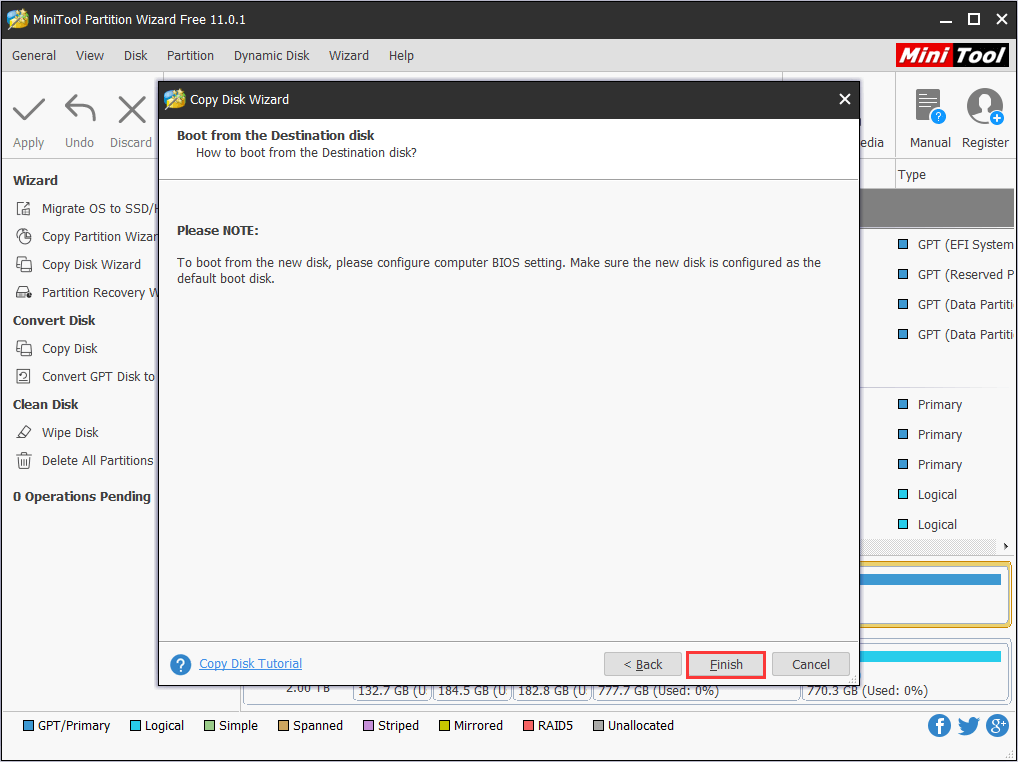 Step 5. Finally, when you are back to the main interface, you can see that the target disk has the partitions copied from the original EFI GPT disk. At this time, you can press the Apply button to let MiniTool Partition Wizard execute.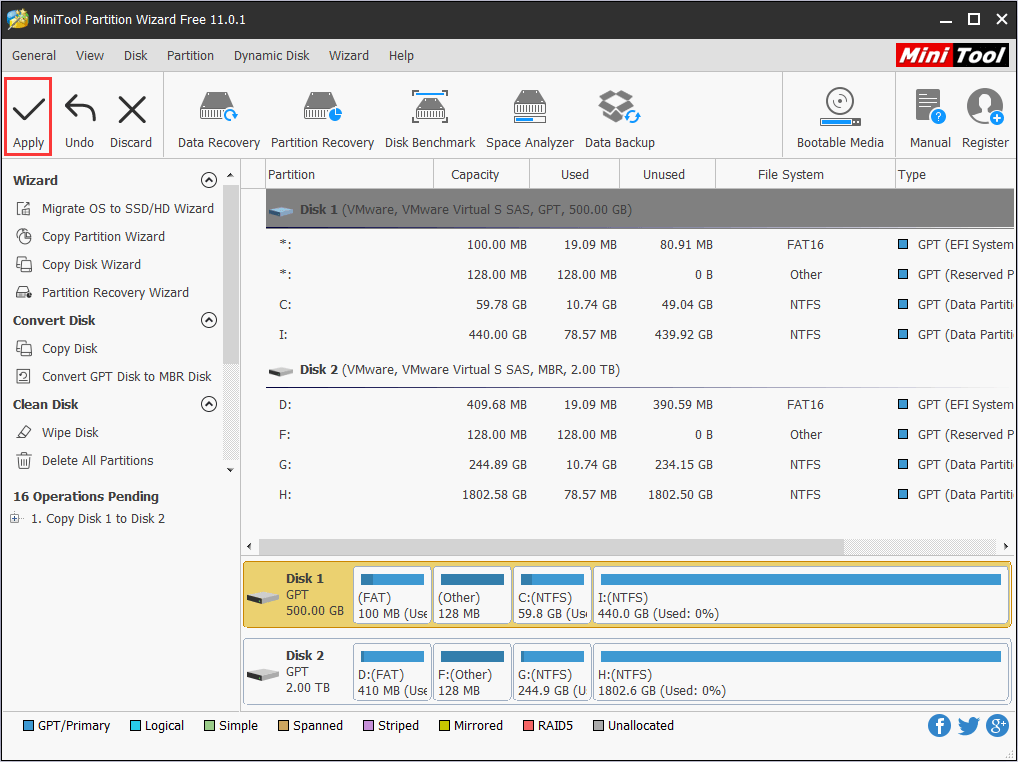 Last but not least, do you still remember how to boot from the target GPT disk? Be assured that you have set the target disk as the new boot disk and then your computer should boot normally.
See also: Cloned Drive Won't Boot | How to Make Cloned Drive Bootable?
"Hi, all! I got a good tool to clone UEFI GPT disk. If you are looking for a tool to do GPT disk cloning, I strongly recommend this tool."Click to Tweet
Now It Is Your Turn
At this time, it is your turn to have a try on MiniTool Partition Wizard to clone UEFI GPT disk. And we want to hear your voice. Does MiniTool Partition Wizard help you clone GPT disk successfully? Or do you have a better suggestion?
Please share your thoughts with us in the below comment zone. We really concern.