Can you upgrade a prebuilt PC? A lot of people are discussing it online to obtain better performance or extend the lifespan of the device. If you are wondering about it too, you come to the right place. MiniTool provides you with a complete guide.
What Is a Prebuilt PC
The prebuilt PC refers to a full desktop PC that is fully assembled by the time it comes to your hands. It means that the prebuilt gaming PCs have all the necessary parts to run. Given that fact, they are usually ready for immediate use.
The prebuilt PC is mainly divided into 3 categories. You can get a quick view from the content below.
Standard prebuilt: Like a regular PC, it consists of standard market parts. It can be bought at retail.
Factory prebuilt: A factory-manufactured prebuilt PC may include exclusive versions of CPUs, GPUs, or even unconventional case form factors. It's also purchased at retail.
Boutique prebuilt: This sort of prebuilt PC includes unique or expensive custom cases or cooling setups. They are usually shipped to the end-user without an in-between retailer.
Why Do You Need to Upgrade the Prebuilt PC
The first reason for upgrading the prebuilt PC is to improve its performance. If your device is running slowly, has long load times, or displays screen tearing/lags or other artifacts, it's time to upgrade it. Secondly, the prebuilt PC is about to reach its lifespan, or certain components of the PC start malfunctioning.
For instance, the hard drive may work improperly if it has bad sectors, file system errors, or bit rot. Other components like CPU, GPU, and RAM may get outdated after some time. Then you won't obtain a smooth game experience.
In cases in above, you need to upgrade the prebuilt PC. Here comes the question: can you upgrade a prebuilt PC. Explore this question in the section below.
To learn more details about the lifespan of a gaming PC, please read this post: Fixed: How Long Do Gaming PCs Last & How to Extend Their Lifespan
Can You Upgrade a Prebuilt PC
The answer to this question is for sure. You can upgrade a prebuilt PC like normal PCs. However, you need to pay attention to some problems that you probably encounter during the PC upgrades. Here are some possible issues and their corresponding fix tips.
No sufficient power supply wattage: You may encounter system instability and crashes If your computer doesn't have the required power supply wattage for the upgrades (especially the GPU upgrade). In this case, replace the power supply with a higher-end one like ATX, Mini ITX, or HTPC.
Non-standard power supply form factor: As it is hard to find any compatible options for the non-standard PSU form factor, you would have difficulty in making PC upgrades. This situation often happens to a factory prebuilt PC from manufacturers like Dell, Toshiba, or Lenovo. Fortunately, you can still identify the form factor by checking the exact model number of the PC to find replacements.
No M.2 or NVMe slots: If so, it would be hard to upgrade storage. If your existing slots are PCIe, you can upgrade the storage with a PCIe M.2 adapter or a PCIe SSD.
No available RAM slots or outdated RAM generation: Even though it is hard to upgrade RAM in this case, there are still some options for you. For instance, you can find the best DDR3, DDR4, or DDR5 RAM for the motherboard or directly replace the computer.
Insufficient space on the PC: Without enough space inside the prebuilt PC for the desired upgrades, options for potential upgrades would be very limited. This situation is especially common for slim desktop towers and older prebuilt PCs with unconventional form factors.
CPU bottlenecks: This affects a lot in gaming and heavy-duty rendering or editing tasks. If you would like to use a high refresh rate display or have pretty aged PC hardware, you need to use high-end CPUs with good single-core performance.
What Can You Upgrade in a Prebuilt PC
As learned from the above, you can upgrade a prebuilt PC. What components can you upgrade in a prebuilt PC? According to our experience, components like CPU, GPU, RAM, storage drives, PSU, motherboard, and fans can be upgraded. Depending on your needs, you can upgrade your prebuilt gaming PC by installing a new SSD or switching out a CPU cooler, power supply, or graphics card.
As prebuilt computers mostly come from one brand, you need to check if the new parts support existing parts before upgrading. To be specific, you should perform expertise and compatibility checks. Then you may get fewer part options in a prebuilt PC compared with an assembled PC.
Upgrade the component of your prebuilt PC using offered guides below.
Tip: This post only shows you upgrades related to CPU, GPU, Storage, RAM, and PSU that can improve performance greatly. If you want to upgrade other components, please look for a guide online.
Kindly remind:
If you have a limited budget and want to upgrade as little as possible, you are recommended to upgrade the CPU or GPU (if they are outdated). It will make an obvious difference. If the PC handles current games pretty well, you'd better upgrade RAM rather than GPU/CPU. RAM is much cheaper than both CPU and GPU. Besides, it makes your game experience smoother a lot.
CPU
Upgrading the processor is a good way to improve the overall efficiency of your prebuilt PC. However, this operation involves a lot of things. For instance, you need to make sure that your motherboard and memory are compatible with the new processor.
Tip: Many third-party benchmark tests can help you know if a processor upgrade is helpful for your PC. For example, they will indicate if your CPU is underpowered.
Otherwise, you have to replace all other components accordingly after upgrading the CPU. You should also check if the current cooling system accommodates the upgraded CPU. Choosing a suitable CPU also matters.
The new CPU should support the motherboard. If you have a 9th Gen. Intel Core i3 CPU, it is likely that the motherboard is Z370. To upgrade the CPU to 10th Gen. Core i5/i7/i9, you need a Z490 motherboard. On the same motherboard, you can't install different Intel CPU generations.  Different motherboards support different CPU gens.
The situation is different when it comes to the AMD CPU. The motherboard won't be an issue during the upgrade process as most AMD CPUs support the same chipset and socket. You can even install them on old motherboards.
Tip: If you completely change the CPU brand (move from Intel to AMD or vice versa), you are also required to change the motherboard.
You might be interested in this: How to Upgrade Motherboard and CPU without Reinstalling Windows
GPU
Can you upgrade prebuilt PCs? Yes, you can. GPU, one of the most important components in a PC, is allowed to upgrade. When to upgrade it? It's time to upgrade GPU if you encounter issues like screen tearing, freezing, or lagging. Generally speaking, manufacturers will put in a low-end graphics card unless the PC is built for gaming. If other parts of the computer perform well, a graphics upgrade will boost your gaming experience surely.
To upgrade a GPU, you need to check two things. Firstly, check if the motherboard PCIe slots support it. Then check if PSU can offer enough power to the GPU.
At present, all the modern GPUs need PCIe 3.0 slots at least. Some GPUs require PCIe 4.0 to get optimal performance. Therefore, if your motherboard has a PCIe slot under 3.0 and you attempt to upgrade to the latest GPU, it might not work.
You also need to know that powerful GPUs consume a huge amount of power ranging from 650W to 750W or even more. If the PSU of the prebuilt PC doesn't have enough power, you will receive various errors including sudden power off after the upgrade. So, it is vital to make sure the motherboard compatibility and there's enough power before upgrading GPU.
Related article: How to Install a Graphics Card in Your Computer? See a Guide!
Storage
It is recommended to upgrade the storage drive if it is almost full or too slow. You can also upgrade it if you keep experiencing freezing or hangs. SSD vs HDD: which one to choose for gaming?  An SSD is recommended as it usually starts up faster and is more reliable and durable than HDDs.
Besides, SSDs run at a higher speed, allowing the entire system to run more efficiently as other components are not waiting for data like they do when an HDD runs. You should check what storage types your prebuilt PC supports before the storage upgrade.
If the prebuilt PC supports NVMe and you want high-speed storage, you can choose it. In other cases, a SATA SSD is an ideal option for you. As all the motherboards from almost ten years ago have SATA ports, you don't have to check the supported storage type.
How to upgrade the storage drive without data loss or reinstalling OS? Both Migrate OS to SSD/HD Wizard and Copy Disk features of MiniTool Partition Wizard can help you do that with ease. The following steps will walk you through the whole storage upgrade process.
Step 1: Buy a compatible hard drive in advanced and then connect it to your computer.
Step 2: Download and install MiniTool Partition Wizard by clicking the button below and following on-screen instructions.
MiniTool Partition Wizard DemoClick to Download100%Clean & Safe
Step 3: Launch MiniTool Partition Wizard to enter its main interface.
Step 4: Click on Migrate OS to SSD/HD Wizard in the action panel.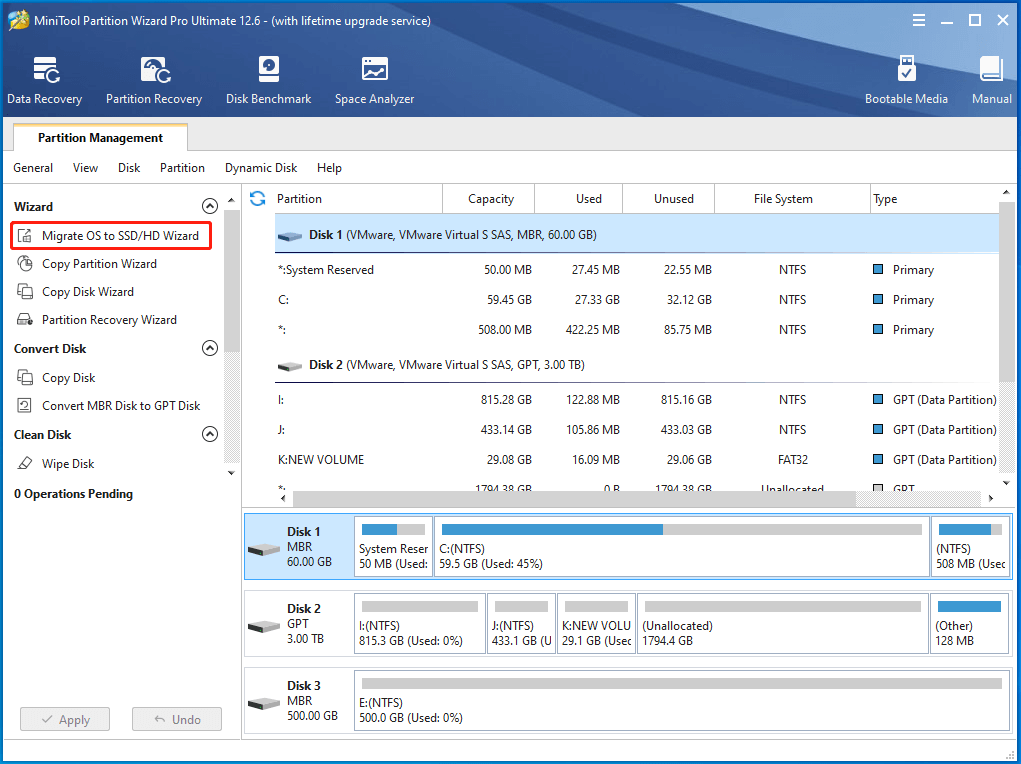 Step 5: In the next window, you need to select a migration option. As you would like to replace the current disk in the prebuilt PC with the new one, you should choose Option A. After that, tap Next.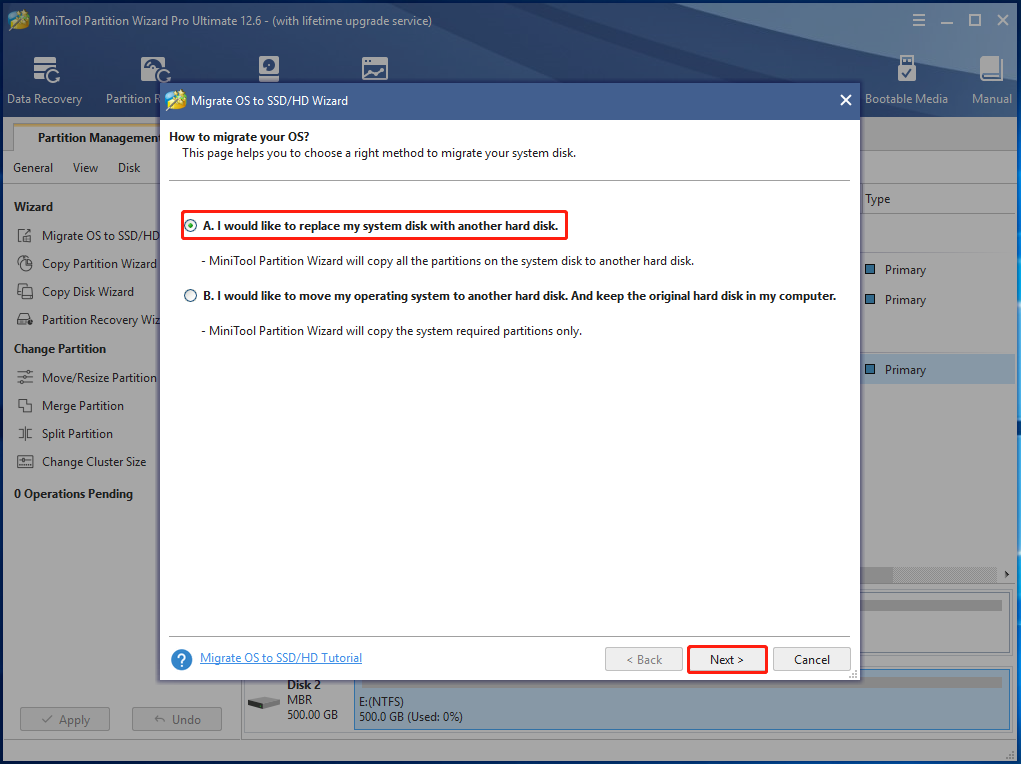 Step 6: You need to choose the destination disk in the pop-up window. After clicking Next, you will receive a warning window stating that all the data on the selected disk would be destroyed. Here, you can directly click Yes without any concern as it is a new disk.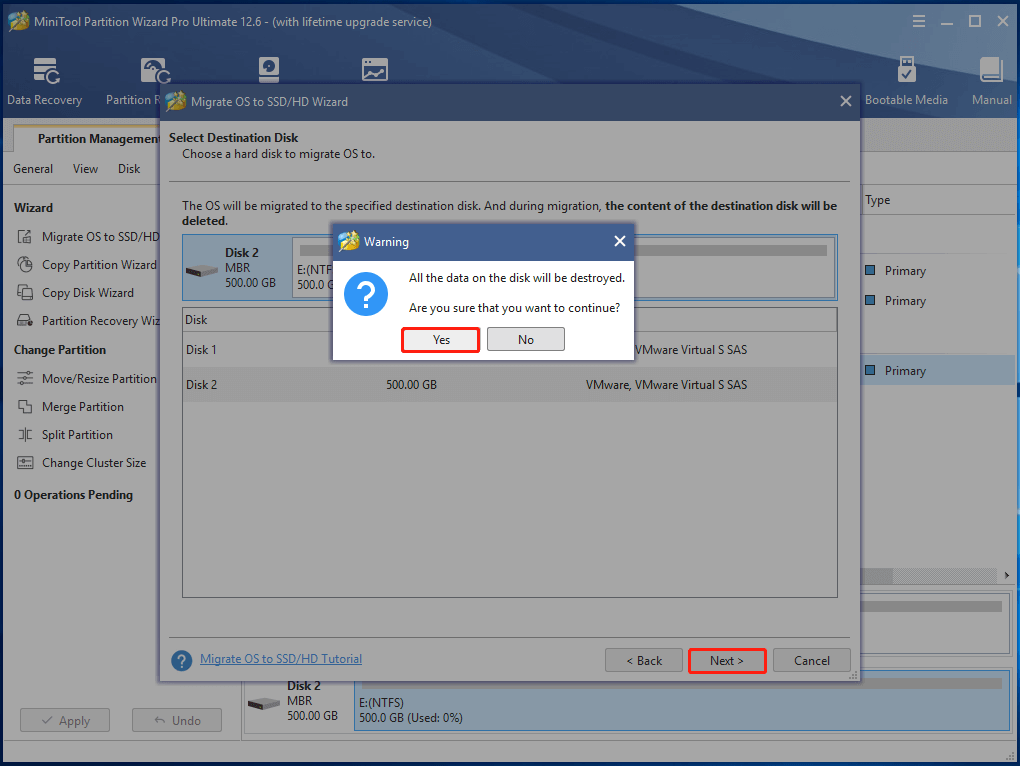 Step 7: Choose copy options based on your need in the Review the changes window. Since the new disk is SSD, you are recommended to choose Align partitions to 1MB. By selecting this option, the performance of the SSD would be improved. You can also change the location and size of the selected partition in the bottom part. After that, click Next to move on.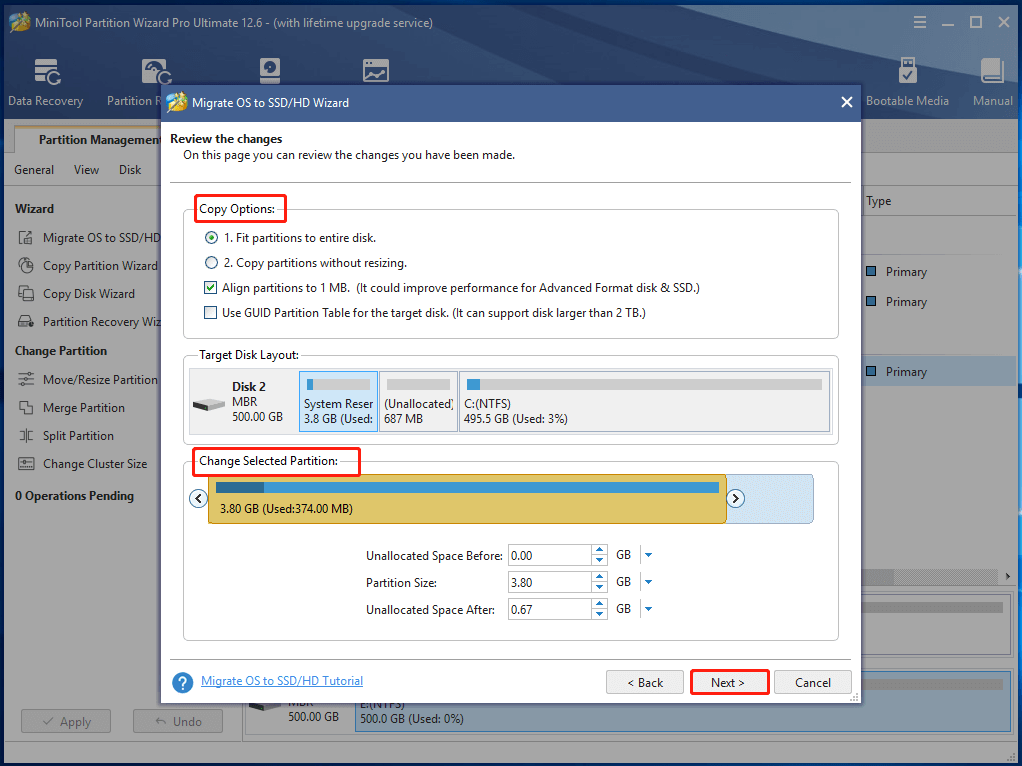 Step 8: Read the note content in the final window and click Finish to save changes you've made. At last, click Apply to execute the operation.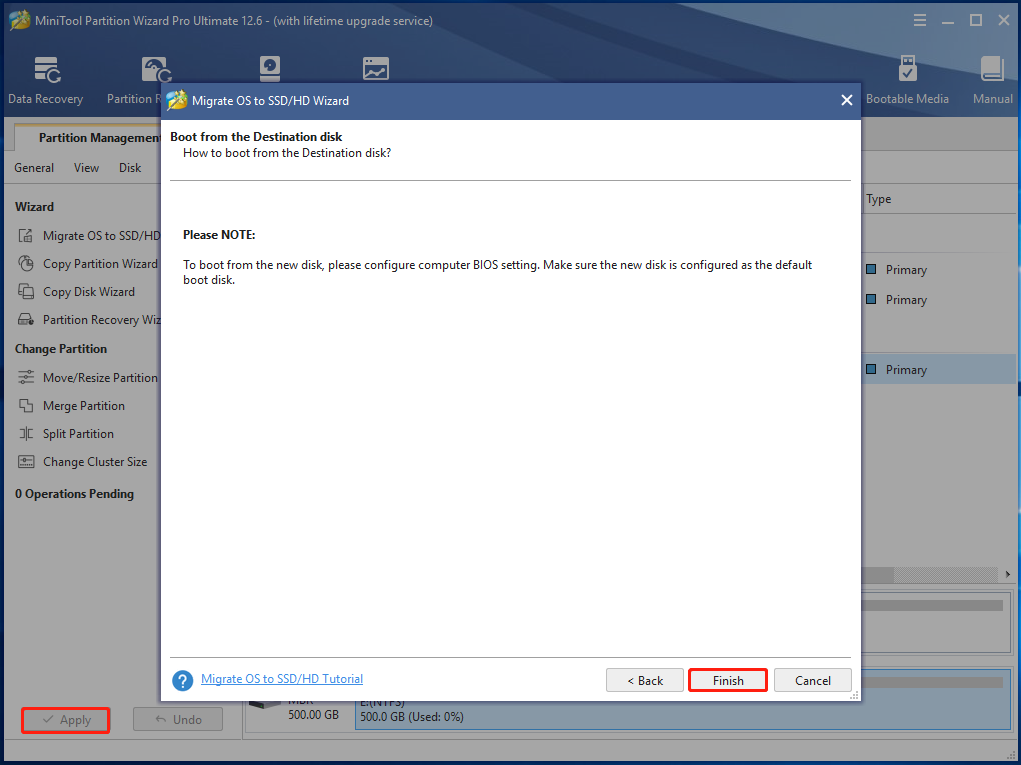 RAM
You need to increase or replace RAM when your system gets slow each time you browse different pages, switch between different applications, or play live streaming. In most cases, computers come with an extra slot to add memory. Simply add another module in parallel with another one.
Tip: RAM stores data that is being used currently. For instance, many games store textures and maps in RAM.
What if your prebuilt computer doesn't have any extra memory slots? Well, you can add RAM by replacing it with a larger one. If you don't know which memory modules are compatible with your computer, check that through the System Scanner tool or other similar utilities.
Can you upgrade prebuilt PCs? As you see, the answer is for sure. 
PSU
As one of the most important components of a computer, PSU (power supply unit) can also be upgraded. It offers electric power to all the components to start operating. If it malfunctions, it could damage costly components in your PC like the CPU and GPU. 
Therefore, you have to pay attention to the performance of the PSU when upgrading a prebuilt PC. Then choose a suitable PSU based on the power requirements of your system's components. The good news is that you can find some useful online calculators to calculate the minimum required power. Then pick a power supply with a larger capacity than the calculated one.
Can you upgrade a prebuilt PC? How to upgrade a prebuilt PC? Well, this post shows you all the details about the prebuilt PC upgrades. You can upgrade your PC with this full guide. Click to Tweet
Conclusion
To sum up, this post mainly focuses on prebuilt PC upgrades, including their possibility, reasons, specific components, and detailed steps. Can you upgrade a prebuilt gaming PC? As you can see from the post, the answer is definitely. If you are going to do that, refer to the guide on how to upgrade a prebuilt PC.
If you have other questions while upgrading prebuilt PCs, leave your words in the following comment area. We will try our best to help you. For any doubts about MiniTool Partition Wizard, contact us via [email protected].