Merging partition is one way to extend partition size and it also helps you to reduce redundant partitions. This article tells you how to merge partitions Windows Server 2003 quickly and safely with the assistance of MiniTool Partition Wizard Server Edition. 
About MiniTool Partition Wizard Server Edition
Under Windows Server 2003, we often meet some partition problems: system partition is too small to install more software, or merge partitions due to redundant partitions, so how to address these problems? Is there a professional partition management tool to solve these problems easily?
MiniTool Partition Wizard Server Edition is a professional server partition manager software, which can create, format, move and resize partitions as well as convert NTFS to FAT partition and merge partition. With Partition Wizard Server Edition, you can merge two partitions for Windows server 2003 without data loss.
MiniTool Partition Wizard Server Edition can support Windows 32 bit or 64 bit Windows 10/8.1/8/7 and Windows Server 2019/2016/2012/2008/2003, no matter it is a common household operating system, personal professional OS or company server OS.
You may read the following contents to learn how to merge partitions with the professional server partition manager.
How to Merge Partitions Windows Server 2003 with MiniTool Partition Wizard?
When a drive is running out of space, especially for system C drive, many users wonder whether it is possible to merge partition C with the partition next to it. So the free space in the adjacent partition will be added to new C drive. Here I will show you how to merge C drive with the adjacent partition to extend C drive.
Note: If you want to merge to partitions successfully, both of the selected partitions should be NTFS partitions. If you like to merger a FAT partition, you can convert FAT to NTFS directly by using MiniTool Partition Wizard. In addition, the two partitions should be adjacent partitions. If not, you may move the volumes to get them adjacent.
Step 1. Click the following button to buy MiniTool Partition Wizard Server Edition. Install it on your computer and launch it to get its main interface.
Step 2. Right-click the partition that you want to merge and select Merge. Or choose Merge Partition from the left action panel directly.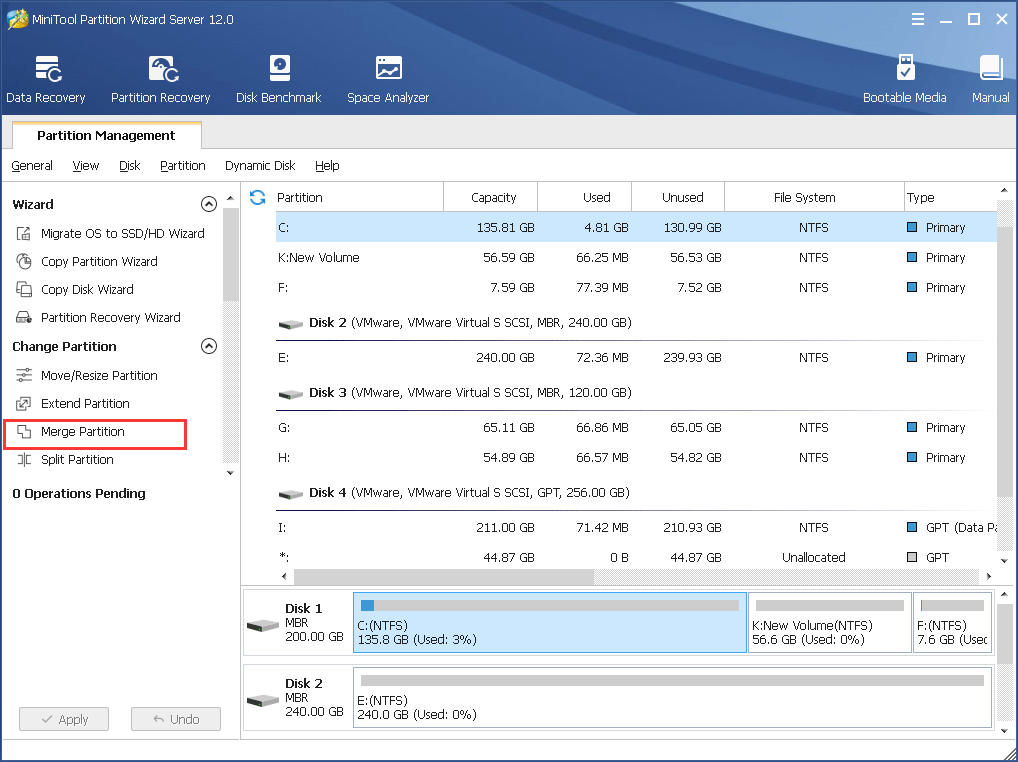 Step 3. Select the partition you like to expand. And click Next to continue.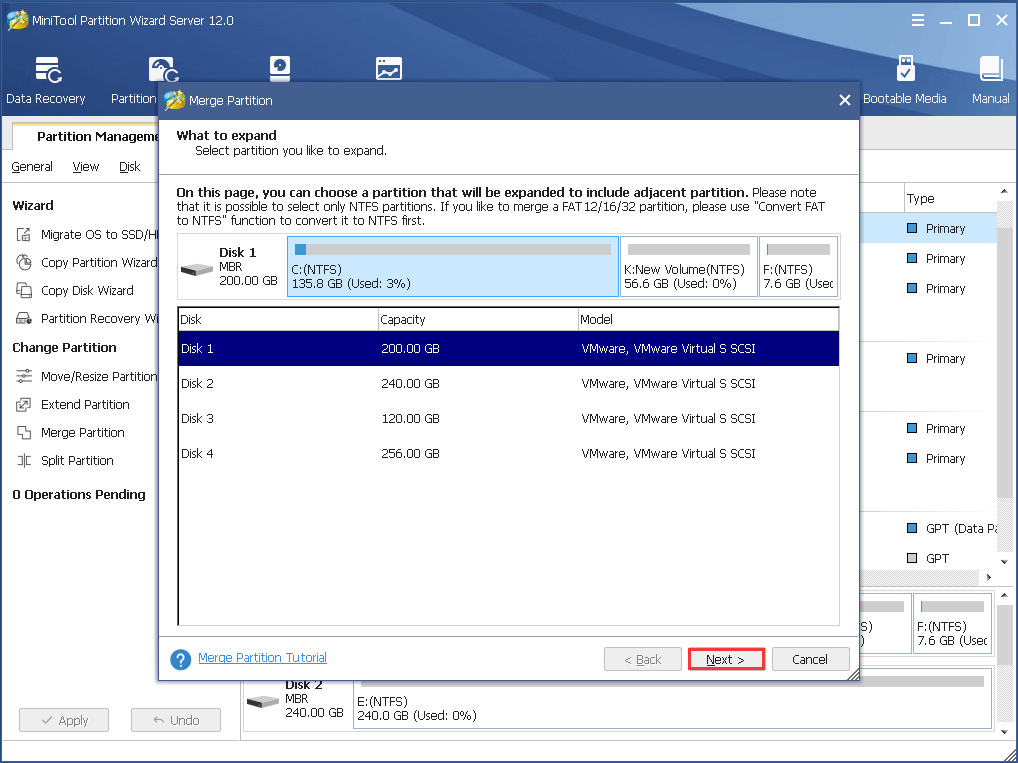 Step 4. Select a partition that will be merged to the one that you have selected on the previous page and click Finish. Because the merged partitions must be adjacent, you can only choose partition E here. Then you can extend C drive by merging two adjacent partitions into a bigger one.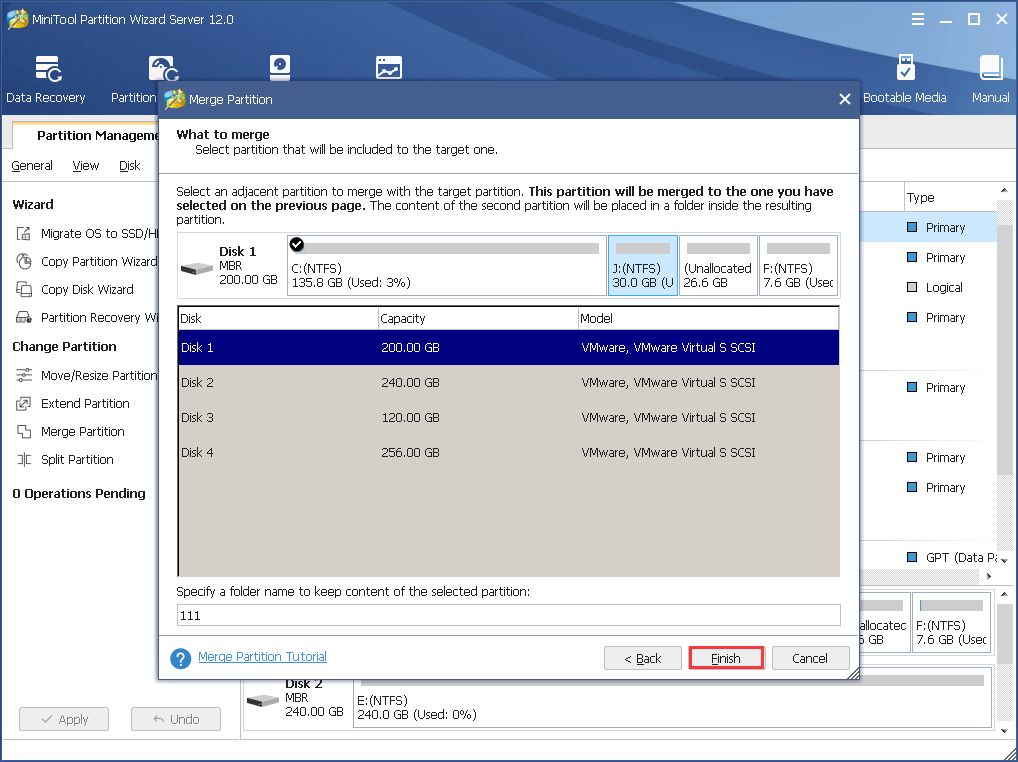 Step 5. When you turn to the main interface, you can preview the new size of system partition C drive. Click Apply to allow changes.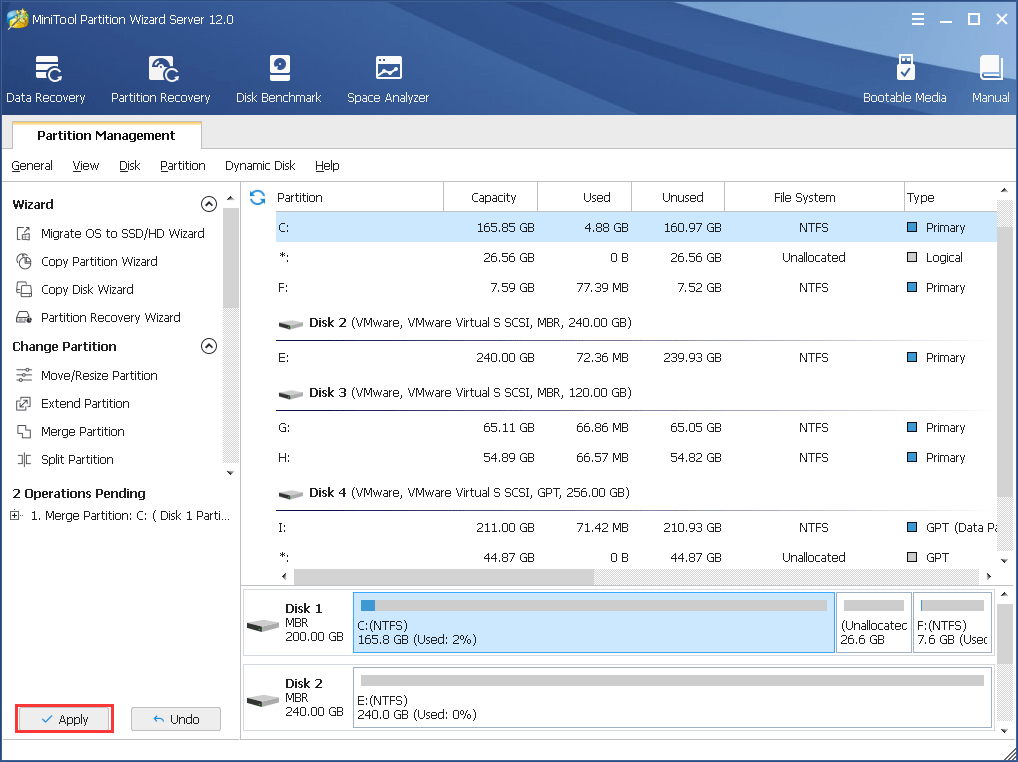 Step 6. When performing operations, MiniTool Partition Wizard will require restarting the computer as C drive is being used. Click Restart Now.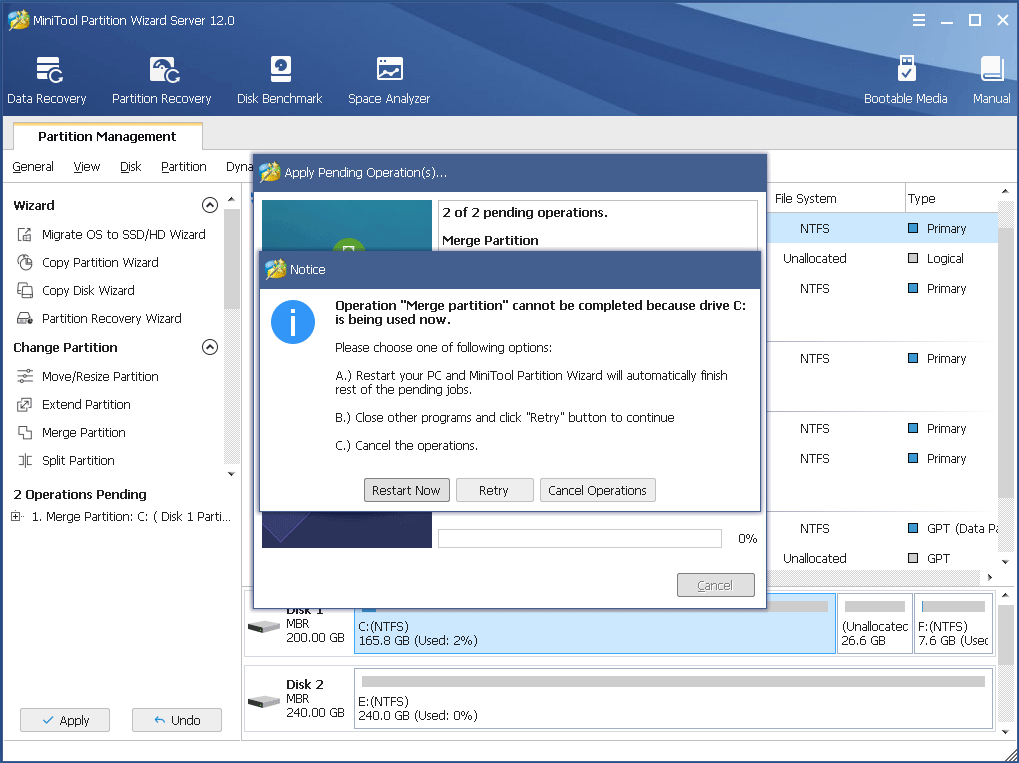 With its clear interface, all can be done only by mouse clicks. Repeat tests prove its reliable function and performance. It only costs half the time of other similar software to merge and resize partitions without losing data, thus saving a lot of costs and time for users. Try this server partition manager to merge partitions now!
"With the help of MiniTool Partition Wizard Server Edition, I successfully merged two partitions. I'd like to share this post with more friends who have trouble in merging partitions on Windows Server."Click to Tweet
Bottom Line
After reading this post, you may find how simple it is to merge partitions Windows Server 2003 with the help of MiniTool Partition Wizard Server Edition. If you have encountered any issue when merging partitions with MiniTool Partition Server Edition, you can leave a message on the following comment zone. We will reply as soon as possible. If you need any help when using MiniTool software, you can contact us via [email protected].