Kenshi is an open world role-playing video game favored by many people. However, this game is not well optimized and may be buggy. Some people report that Kenshi keeps crashing on their PCs. Have you encountered this issue? In this post, MiniTool Partition Wizard offers 7 ways to relieve the Kenshi crashing problem.
Kenshi Keeps Crashing
Officially released on December 6, 2018, Kenshi is an open world role-playing video game developed and published by Lo-Fi Games for Windows. The game focuses on providing sandbox gameplay features that give players freedom to do what they want in its world instead of focusing on a linear story.
Kenshi takes place in a post-apocalyptic setting, but there is no shotgun or power armor. Instead, everyone carries a katana, maces, or bows and arrows, and the battles are mostly hand-to-hand combats. Players named this peculiar post-apocalyptic style "Sword Punk".
In the game, players control a team of characters to adventure in a vast wilderness of apocalyptic wasteland. Your characters are allowed to be a thief, a trader, or a myriad of other options. The game's basic core goal is to survive, and build a place (or town) you can call your home.
In Kenshi, players are completely free, but at the same time, players also lose their status as the "game protagonist" in Kenshi. Kenshi's official introduction clearly pointed out: You are not the chosen person.
Player-controlled characters and NPCs have the same attribute growth and skill tree. After being driven out of the team, these characters are no different from any NPC. After all, you are just a regular guy.
This game is very popular. But if you play this game, sometimes, you may encounter Kenshi crashing issue.
How to Fix Kenshi Crashing Issue
Kenshi keeps crashing. It wasn't like this a couple of days ago, I have no idea what happened. I just started to explore the map and the game started to crash every 10 min. for no apparent reason. I checked the steam files and everything looks fine. What might cause this issue? — steamcommunity.com
How to Solve the Kenshi Crashing Problem?
Check Whether Your PC Meets the Kenshi Requirements
Try Installing a Few Different Graphics Driver Versions
Increase Virtual Memory
Verify Game Files
Change In-Game Settings
Install Kenshi CTD Fix Patch
Upgrade to SSD
Fix 1. Check Whether Your PC Meets the Kenshi Requirements
Kenshi minimum requirements are as follows:
OS: 64-bit Windows
Processor: Dual-core 64-bit
Memory: 6 GB RAM
Graphics: Pixel shader 5.0 capable card
DirectX: 11
Hard Drive: 14GB HD space
Kenshi recommended requirements are as follows:
OS: Windows 7 64-bit
Processor: Quad-core 64-bit
Memory: 16 GB RAM
DirectX: 11
Hard Drive: 14GB HD space
These requirements are listed on the Steam Kenshi page. If your PC doesn't meet these requirements, you should upgrade it. If you want to upgrade your computer, please refer to the following posts:
But if only the hard drive space doesn't meet the requirements, you don't need to upgrade the PC, and you just need to expand the drive. In this case, MiniTool Partition Wizard can help you do that more easily. Here is the guide:
MiniTool Partition Wizard DemoClick to Download100%Clean & Safe
Step 1: Launch MiniTool Partition Wizard and go to its main interface. Right-click the partition on which Kenshi is installed and choose the Extend option from the context menu.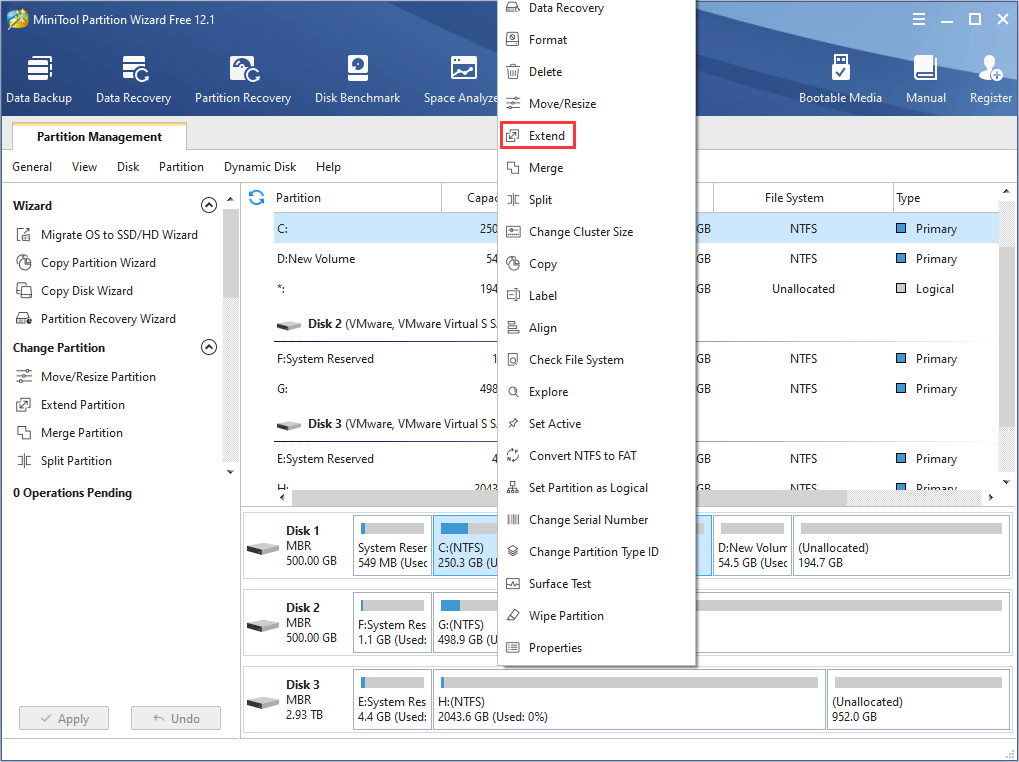 Step 2: Choose the drive or unallocated space you want to take space from and drag the sliding block to determine how much free space you want to take. Then, click the OK button.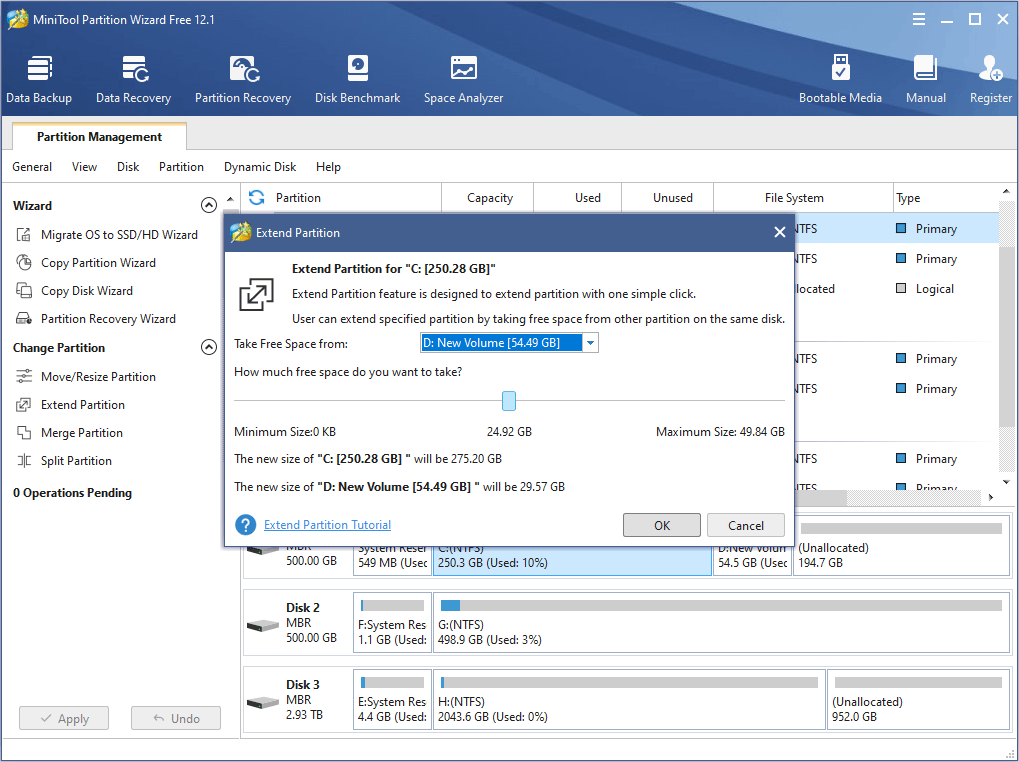 Step 3: Click the Apply button to execute pending operations.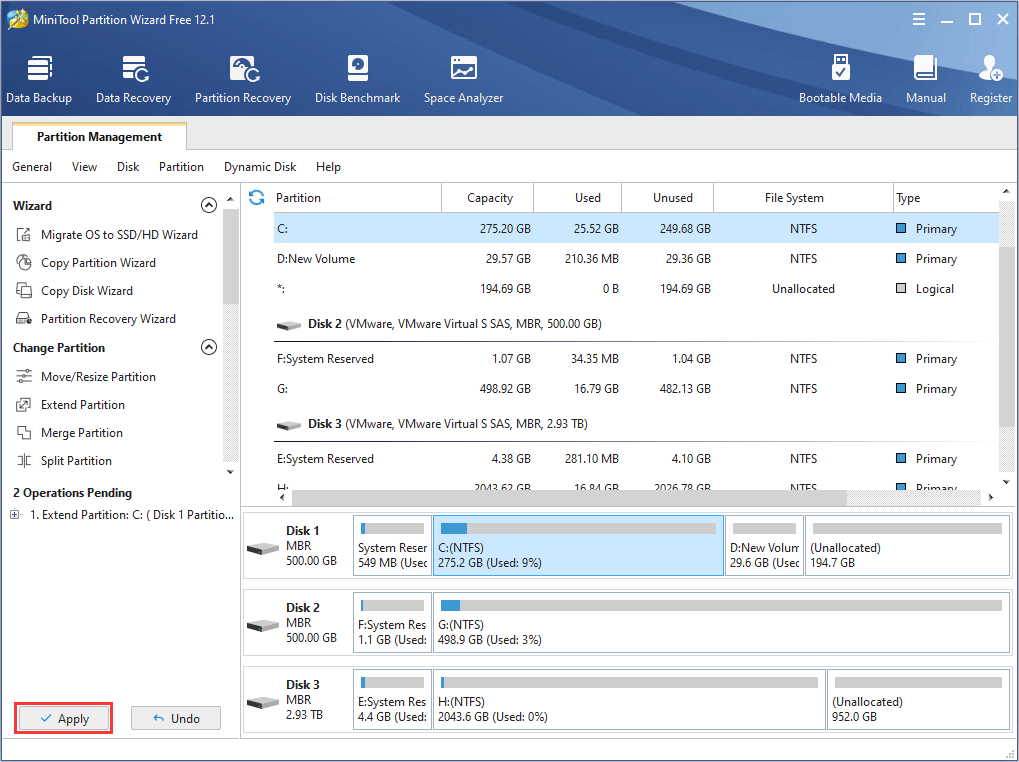 Fix 2. Try Installing a Few Different Graphics Driver Versions
Certain nVidia driver versions (possibly mixed with certain windows 10 updates) are causing crashes. For example, Nvidia's GeForce driver 397.31 and 397.64 have been reported to cause Kenshi crashes. In this case, you can try installing a few different graphics driver versions. This may solve the problem. Here is the guide:
Step 1: Press Windows key + X key and then select Device Manager from the context menu.
Step 2: In the Device Manager window, find the graphics driver under Display adapter and then you can try updating or rolling back it.
To update the driver: Right-click the driver and select Update driver. Then, select Search automatically for updated driver software in the pop-up window.
To roll back the driver: Right-click the driver and select Properties. Then, skip to the Driver tab and click Roll Back Driver. After that, choose a reason and click Yes.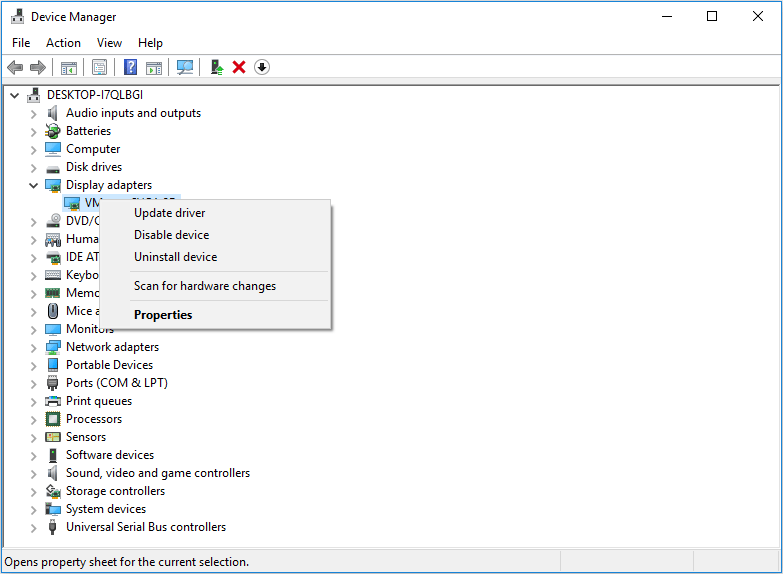 If the above methods can't find suitable graphics drivers for your GPU, you can find one manually. According to the name of the GPU, find its manufacturer website, and then download the latest graphics driver version or the suitable driver version.
After that, in Device Manager, uninstall the original graphics driver by right-clicking it and choosing Uninstall device. Finally, open the new graphics driver folder and double-click the setup file to install it.
Fix 3. Increase Virtual Memory
Another cause for Kenshi crashing problem is RAM. Computer memory is one of the most important parts of a computer. When you run Kenshi, the computer will load the game into RAM for operating, thus enabling CPU (Central Processing Unit) to process data quickly. In a word, RAM has a great influence on computer's stable operation.
In PC, every running program will eat your RAM. Therefore, if the physical RAM in your PC just meets the Kenshi minimum RAM requirements, you can try upgrading it or increasing the virtual memory.
The virtual memory is actually a big file on hard disk named PageFile.sys, which uses a technology to make a part of disk space serve as memory to relieve memory stress. Therefore, this method is simpler than upgrading GPU and it is free. Here is the guide:
Open File Explorer, right-click This PC, and then select Properties.
In the pop-up window, select Advanced system settings.
In System Properties window, under the Advanced tab, click Settingsin Performance
In the Performance Options window, skip to Advanced tab, and then click Changebutton in Virtual memory
Uncheck Automatically manage paging file size for all drives.
Select partition C, check No paging file, and then click Setto save it. Then, click Yes in the pop-up warning window.
Select a non-system partition and then check Custom size.
Set the same value in Initial size and Maximum size to avoid system frequently requesting page files of different sizes, which can reduce the consumption of system resource and improve operating efficiency. As for the value, it should be 1.5 times or twice that of the physical memory.
Then click Setand OK to save.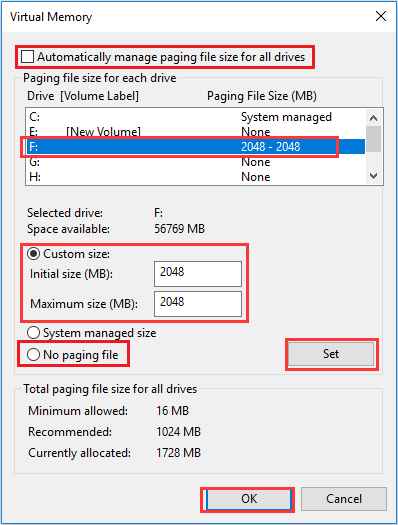 If you are sure the Kenshi crashing problem is caused by limited memory, in addition to increasing virtual memory, you should also close other unnecessary programs in Task Manager when playing Kenshi.
Fix 4. Verify Game Files
If you are using mods and Steam, you might solve the Kenshi crashing problem by verifying game files and moving the mod load order around. Some people say they have solved the Kenshi crashing by this method.
Verifying integrity of game files helps make sure the game is installed correctly, which troubleshoots many game problems. To verify game files on Steam, please follow steps below:
Restart your computer and launch Steam.
From a game's library page, select Manage > Properties.
Select the Local files tab and click the Verify integrity of game files… Then, Steam will verify the game's files.
If you have installed many mods, putting them in a correct order is very important, because sometimes, a mod is the precondition of another mod, or a mod needs to cover the previous mod. If the mod order is wrong, CTD (crash to desktop) may occur. If you don't know how to put them in order correctly, a third-party tool like LOOT may be useful.
Fix 5. Change In-Game Settings
An open world game is very resource intensive. Fortunately, some in-game settings can help you reduce the resource consumption. They may reduce the game picture quality, but can give you more fluent game experience. In addition, they may also help you get rid of the Kenshi crashing issue.
Turn off texture detail, shadows, reflections, civilians in towns, and other options.
Set all the view distances to max.
Turn off V-sync.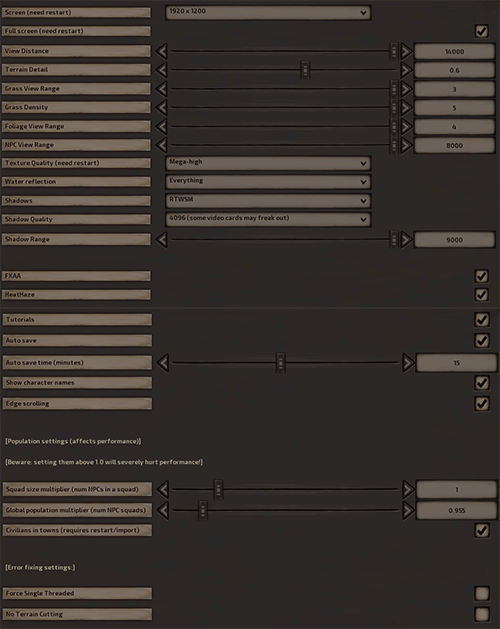 These settings will relieve the stress on both RAM and GPU, avoiding Kenshi freezing and crashing issues.
If you can't find V-sync option in game, you can also turn off it in the computer GPU software. Please refer to the following post:
Fix 6. Install Kenshi CTD Fix Patch
On Nexus Mods website, there is a Kenshi CTD fix patch created and uploaded by Kapaer. This MOD fixed some crashes and will alert broken save-file. Some people report that this mod fixes their problems indeed. If the above methods don't work for, you can try this mod.
But before installing this mod, please make sure it is safe enough or you should back up your computer first.
Fix 7. Upgrade to SSD
Whether you are using a hard drive disk or a solid state drive, this is not related to the Kenshi crashing. However, upgrading to SSD can relieve game freezing issue and shorter map loading time greatly, especially if the game is resource intensive and open world (an open world games usually means that it has a mass of maps to load).
As for the SSD upgrade steps, please refer to the following post:
Here is a post talk about how to solve the Kenshi crashing issue. If the Kenshi keeps crashing on your PC, you can try these solutions.Click to Tweet
Bottom Line
Are the above methods useful to you? Do you have other methods to solve the Kenshi crashing problem? Please leave a comment in the following zone. In addition, if you have difficulty in extending partitions, please contact us via [email protected]. We will get back to you as soon as possible.