Windows Server 2003 extended support has stopped and what can you do? It would be a big pity for Server users. This post gives you brief introduction for the Windows Server2003 and tells you what you should do when the Windows Server 2003 extended support ended.
Windows Server 2003 extended support ended on July 14, 2015, which means this ever-best server operating system (the equivalent of Windows XP in server world) has finally reached its end-of-life, and no security updates nor technical support will be provided by Microsoft. This would be a pity for the entire server world and also make users who are still running Server 2003 fearful. But before deeply talking about the action, let's trace back to the simple development history of this classical Server operating system for a while.
Development History of Windows Server 2003
Windows Server 2003 is the first server operating system launched after the Trustworthy Computing Initiative was announced, and it introduced server roles.
2003.4.24, Windows Server 2003 was released officially.
2005.3.30, Microsoft released Service Pack 1 for Windows Server 2003.
2005.12.6, an updated version, namely Windows Server 2003 R2, was released to manufacturing.
2007.3.13, Service Pack 2 for Windows Server 2003 was released.
2010.7.13, Mainstream support for Windows Server 2003 family ended.
2015.7.14, Extended support for Windows Server 2003 family ended.
Once extended support for a Windows operating system ends, Microsoft will no longer provide both security updates and technical support. That is to say since the end-of-life date (July 14 of 2015) Windows Server 2003 will be much more vulnerable, and users have to take corresponding countermeasures.
What Are Your Plans after Server 2003 Extended Support Ended
Undoubtedly, most people have upgraded or plan to upgrade Server 2003 to advanced ones such as Server 2008, Server 2012, and Server 2012 R2 (highly recommended), because they don't want to suffer or cannot afford losses brought by running a vulnerable server.
But there is still a part of users who are continuing with Windows Server 2003 since they clearly know difficulties in upgrading or migrating a server. And any migration should contain the following 4 steps: discover the existing environment, assess workloads, determine where those workloads can be moved to, as well as the actual migration of the workloads.
Users having different plans should do different things, and next we will show some tips and suggestions on this issue, hoping they are useful.
Important Things You Need to Do If You Still Use Server 2003
Industry experts estimate that there are more than 10 million machines that are still running Windows Server 2003, with many of them using mission-critical services. For this part of people, they should pay much more attention to data and system security since Server 2003 is easy to be attacked by virus, hacker, or spyware now.
In addition, computers running Windows Server 2003 are always using old hardware, which increases the possibility of data loss and system crash. Here we give the following 4 suggestions which may make your Server less vulnerable.
Install or Update Security Apps Regularly (The Most Basic Protection)
Both anti-virus software and anti-spyware should be installed since they give the first layer of protection to our server. If installed already, update them once receiving a prompt, making sure it is the latest version.
However, if no upgrade message is sent, check your programs or view manufacturer's website to get the latest information. In addition, keep the Firewall enabled and make sure it is up-to-date by installing the latest version, as long as the server is working.
Nevertheless, security programs are not always workable, and you may disable them by mistake or some strong viruses bypass the protection of such programs. Therefore, it is very necessary to take the second measure – Backup.
Backup Server Regularly
Sometimes, our security programs may fail to prevent viruses or spyware, and this may lead to data loss or system crash. Under this situation, if there is a backup for system and user data, it can be easy and safe to restore the server to one of previous states when it can be running normally. Well then, how can we create such a kind of backup? Server 2003 built-in Backup or Restore feature can help do this.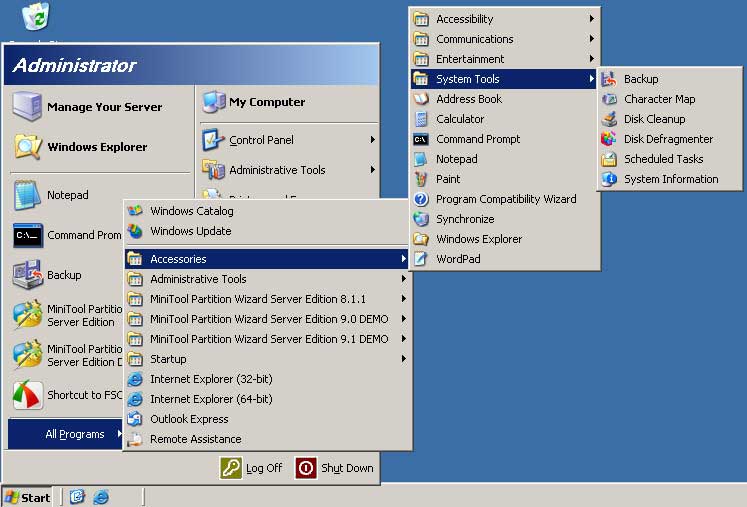 Detailed instructions are provided during the whole backup process, so it would be not difficult to complete the backup, but a lot of time is needed.
Besides Windows snap-in tool, you can also use the professional backup software. Thus, the professional Windows Server backup - MiniTool ShadowMaker is strongly recommended. It can help you to back up the OS, file, disk, partitions.
In addition, the Trial edition can also be used on Windows server. And its operation methods are pretty easy even for that inexperienced person.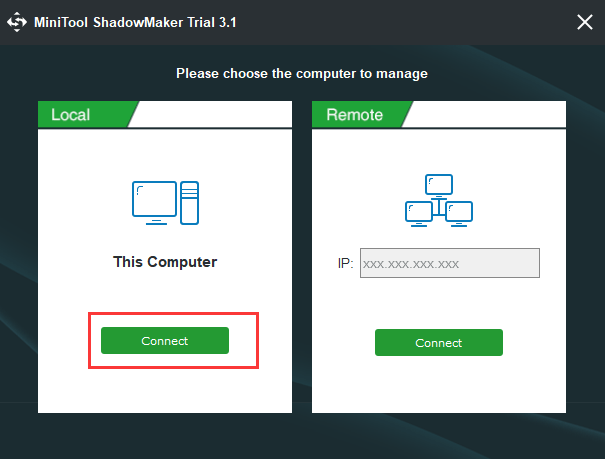 Check Logs Frequently
As we know, Windows Server 2003 uses security and system logs to store collected security events, and the security and system logs are repositories for all events recorded on the Web server. If you are still using Windows Server 2003, it is very necessary to check logs regularly. The faster a problem is detected, the faster it can be fixed.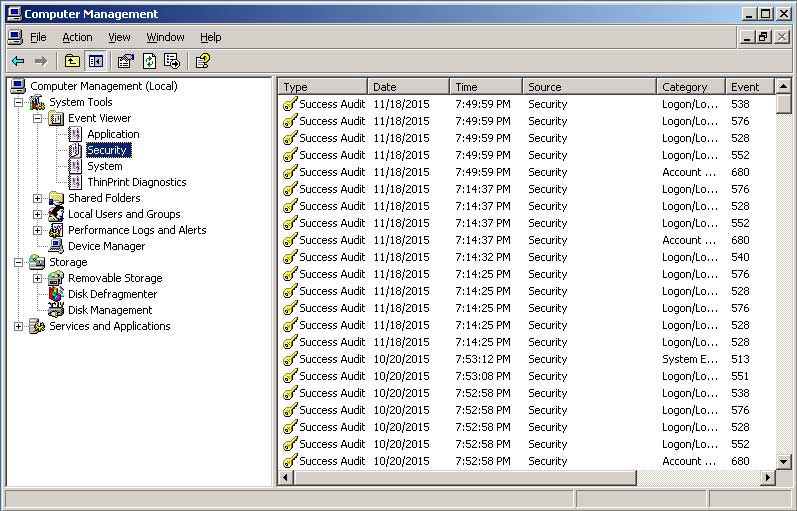 Actually, apart from security issues, Server 2003 users should pay some attention to server running speed. After all, servers using old hardware equipment are always with lower speed, and running speed is one of the most important factors that affect server performance. See the following part to get more details.
Clear All Factors That Can Slow down Your Server
A server which is running slow will bring you much trouble. For example, it takes more time to respond to a request; it's easy to make mistakes when the slow performance makes you irritable. Well then, how can we clear all factors that can slow down the server? In the previous post My Computer Runs Slow we have shown details, so please see this article to get useful information.
Now, suggestions related to server security and performance have been given. But actually, no matter how careful and cautious we are, Server 2003 isn't 100% safe, and we may encounter different types of security issues, some of which are even tough to deal with. For example:
Important data get lost without a backup available.
System Crashes due to system file damage/corruption or even MBR damage.
Therefore, it is very necessary to give the last suggestion.
Prepare Partitioning Tool and Data Recovery Tool
Partitioning tool is a kind of computer software that can help complete different types of disk and partition management operations, such as rebuild MBR (once this boot code is damaged by virus, our server will be unbootable), recover lost partition, and set correct partition active.
Thus, MiniTool Partition Wizard Server edition is highly recommended. It is a Server partition manager, helping you to optimize the partition and disk use without data loss. And you can see this post: Partition Manager Windows Server 2003.
Just as the name implies, data recovery tool is a kind of computer software that is capable of recovering lost data. If there is no backup or the existing backup is finally proved to be useless, data recovery software will do users a great favor.
At the same time, MiniTool Partition Wizard provides the Data Recovery feature which can be used to help you recover the lost data.
So far, all our suggestions for users who are still running Server 2003 have been given. But actually, most people would prefer to upgrade their system from Server 2003 to Server 2008 (R2) or Server 2012 (R2). And this part of users may get some useful information from the following section.
Need to Do 3 Things If You Want to Upgrade Server 2003 Fluently
1. Choose an Appropriate Way to Upgrade Server 2003
Here we mainly introduce 2 ways to complete the upgrade, including:
Upgrade Server 2003 to Server 2008 or R2
If you're not running critical business applications on your Windows Server 2003 and your business can withstand losses caused by downtime or lost performance, this is an available choice. In addition, if you are unwilling to upgrade hardware and software to run Windows Server 2012 R2, this way is also recommended, because hardware configurations for Server 2003 are always available in Windows Server 2008, and applications running on Server 2003 are always supported by Server 2008. Here is a post showing How to Upgrade Server 2003 to Server 2008.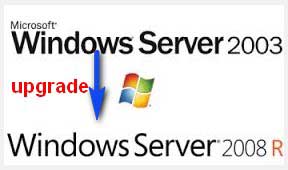 Nevertheless, users choosing to upgrade Server 2003 to Server 2008 have to consider 3 issues. Firstly, compared with Server 2012, Server 2008 is inferior in lots of aspects, such as Active Directory Domain Services, Dynamic Host Configuration Protocol, Hyper-V Network Virtualization, and Remote Access. Secondly, you may suffer great losses (both physical and economic) when upgrading. At last, Windows Server 2008 mainstream support has ended since 13 January 2015, and extended support will end on 14 January 2020.
Migrate Server 2003 to Server 2012 R2

Windows Server 2012 R2 is the latest Windows Server operating system, so naturally it still enjoys the longest security and technical support from Microsoft. In addition, lots of new functions and improvements have been added to this newest server operating system, which has been said just now. In this case, it's a wise choice to migrate Server 2003 to Server 2012 R2, and you can find detailed steps from Microsoft official website.
However, migrating system from Server 2003 to Server 2012 R2 would cost users so much time if there are a huge number of applications and workloads, such as server roles, file server, web server, and active directory, to migrate. Steve Brennan, the Microsoft Business Development Manager at QA, shows the average migration for Windows Server takes 200 days.
In addition, programs successfully running on Server 2003 may be not supported by Windows Server 2012 R2, so users had better view their software developers' website to see whether they give support for Server 2012 R2. If not, delete and uninstall all incompatible programs in case of migration failure. At last, you may suffer different types of losses during the migration process even if any a slight failure is generated.
From content above we can see both upgrade and migration may bring risks, so it is quite important to create a backup in advance.
Backup Server 2003
In the section of Important Things You Need to Do If You Still Use Server 2003 we have introduced the way to backup server, so users who are planning to upgrade or migrate Server 2003 can refer to that part to create a backup for their server.
Upgrade or Migrate Server 2003 by Following Instructions
In the part of Choose An Appropriate Way to Upgrade Server 2003 we have given tutorial on how to upgrade or migrate Server 2003, so users only need to do the upgrade or migration by considering this part of content.
Actually, we also have a suggestion for users who have been running Windows Server 2008 or Windows Server 2012 R2, and it is shown below.
Install 2 Special Programs to Protect Your Server If You Have Completed Server Upgrade
It is believed that lots of applications and programs have been installed on your server, but you may feel unfamiliar with these 2 ones: professional backup software and partition management software.
Actually, when introducing tools for Server 2003, we have shown some basic information about these 2 kinds of programs and also give recommendations. In a word, they are requisite applications for Server 2008 and Server 2012 R2, since partitions for every server should be managed, and data loss cannot be avoided completely on every server.
All our suggestions and tips have been given no matter which Server operating system you are running now, Windows Server 2003, Windows Server 2008, or Windows Server 2012 R2. And we just hope they are useful for you.
Bottom Line
In conclusion, this post has given you the development of Window Server and has shown some suggestion of Windows Server 2003 Extended support ended.
If you have any better suggestion, you can share it on the comment zone. And if you have any problem with MiniTool programs, you can contact us via the email [email protected].
Windows Server 2003 End of Life FAQ
Is Windows Server 2003 still supported?
Windows Server 2003 ended support on July 14, 2015.
Is Windows Server 2008 still supported?
Windows Server 2008 ended support on January 13, 2015.
Is Windows Server 2000 still by supported by Microsoft?
Windows Server 2000 ended its support on July 13, 2010. After that, Windows Server 2000 would no longer receive assisted supported or security updates from Microsoft.
What is the end of life for Windows Server 2012?
Windows Server 2012 will end its support on Oct.10, 2023, accoring to the Microsoft's newly updated product lifecycle page.