For server, the most important part is data. As we all know server is generally used as network service side and offers us various kinds of software service. Server is the heart of the whole network, and data is the heart of server. But sometimes server data can be lost. This post shows you how to back up server with a professional server backup software.
Data backup server is vital for most users. It goes without saying that how important a role data plays for server. However, unsafe network factors and the defects of server itself may cause server data to be lost. When server data are lost, the whole server will be in paralyzed. In order to avoid this situation, it is very necessary to back up server with a reliable server backup software.
When selecting server backup software, we should be quite cautious. If users use inferior server backup software carelessly, it may make data irreparable, let alone back up server.
Therefore, data security is the first factor we should consider in the process of software selection. At this time, the partition magic server MiniTool Partition Wizard which has the function of backing up data is suggested. This partition magic server will bring you much pleasure.
Reasons for Server Data Loss
Before backing up server, we should know reasons for server backup. The most important reason is to prevent server data from being lost. And there are many reasons for server data loss. Next, let's analyze these reasons in detail.
1. Hardware failure: hardware failure is a big reason for server data loss, because server runs unceasingly every day, bringing much pressure on server hardware. At the same time, server data will exchange continuously, which brings serious depletion to server hard disk. So, server disk damage is far more serious than PC.
2. Software fault: software fault is likely to result in server data loss. For example, some data management software or partition magic which may result in endless loop or has leak resulting from undemanding development may lead to server data loss. Besides, sudden break is also likely to cause server data to be lost.
3. The problem of operating system: operating system failure will also lead to server data loss, like disk management mechanism failure and disk recognition failure. Actually, the biggest factor for server data loss is operating system leaks. Although leak itself brings little influence on server data, it can attract hacker to attack server, bringing serious server data loss.
4. Personal factors: we just said the main reason for server data loss is hacker attack, but personal mistaken operation is also a nonnegligible factor.
After knowing these reasons, do you think your server data are safe? To avoid serious consequence brought by server data loss, MiniTool Partition Wizard is an indispensable tool.
Windows Server Backup with MiniTool Partition Wizard
The partition magic server MiniTool Partition Wizard is undoubtedly an excellent server backup software. It provides users with 2 different modes to back up server, namely Copy Partition/Volumeand Copy Disk. The first one is for single partition backup, and the second one is to back up the whole disk. So we can select corresponding mode according to practical situation, which will promote working efficiency and work quality largely.
Here I will show you how do I back up server with Copy Volume feature.
Step 1. Get MiniTool Partition Wizard Server Edition, install it on your computer and get it registered.
Step 2. In this interface, right-click the volume which needs to be backed up. And then select Copy Volume.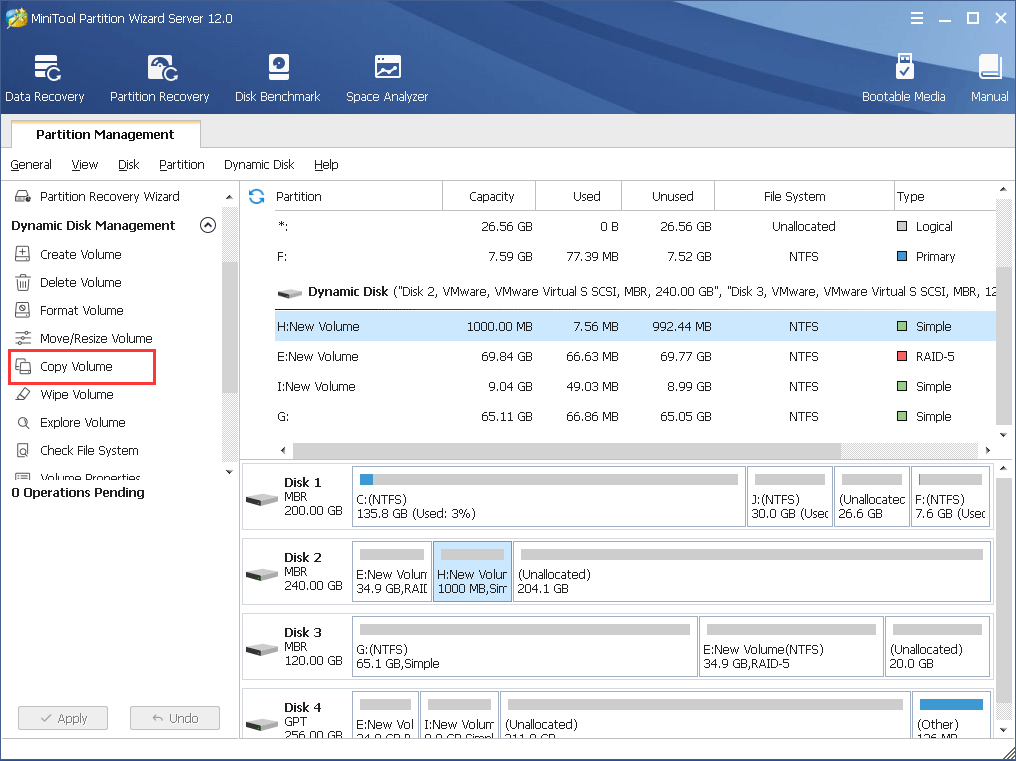 Step 3. Choose a volume or partition to create the copy of the selected volume. Then click Next to continue.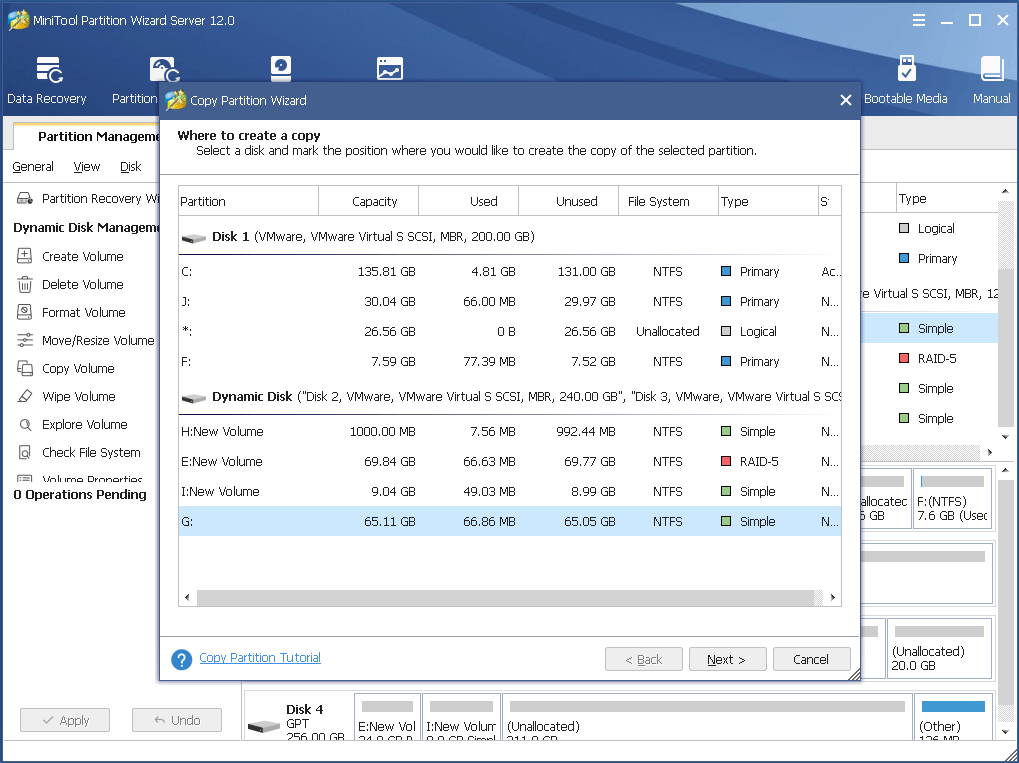 Step 4. Please note that all the data on the selected destination volume will be destroyed. You may back up files beforehand if there are important files and data on the volume. Then click Yes.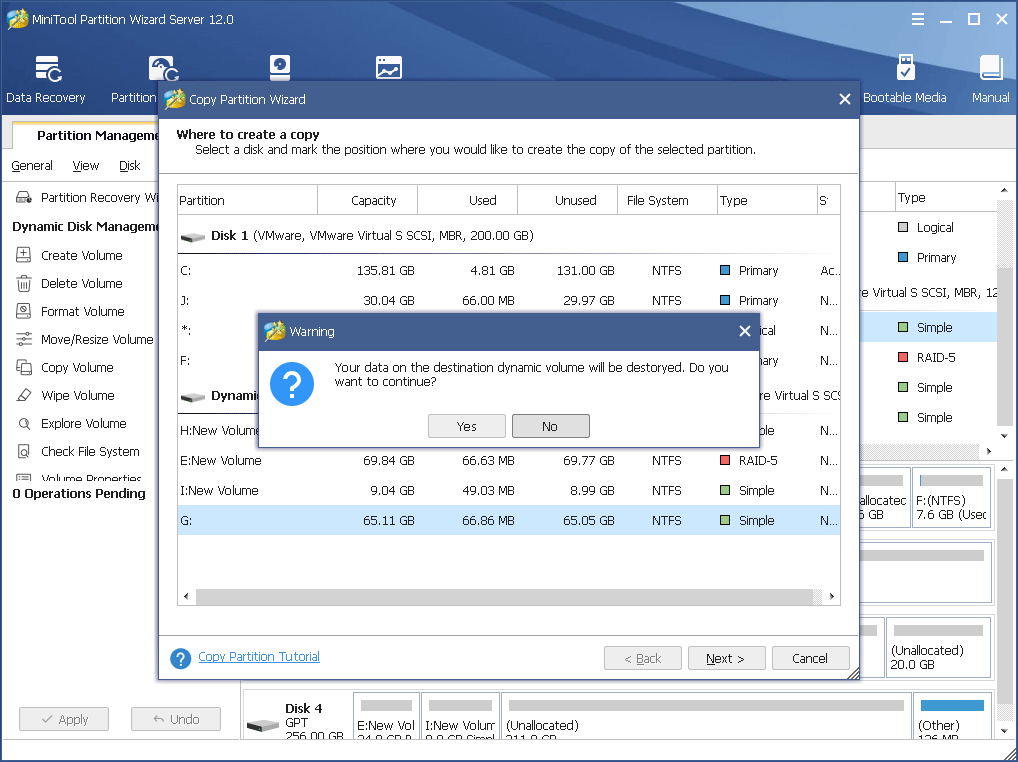 Step 5. Specify the new partition size and location. You may drag the partition handle border rightwards to extend the new partition. And click Finish.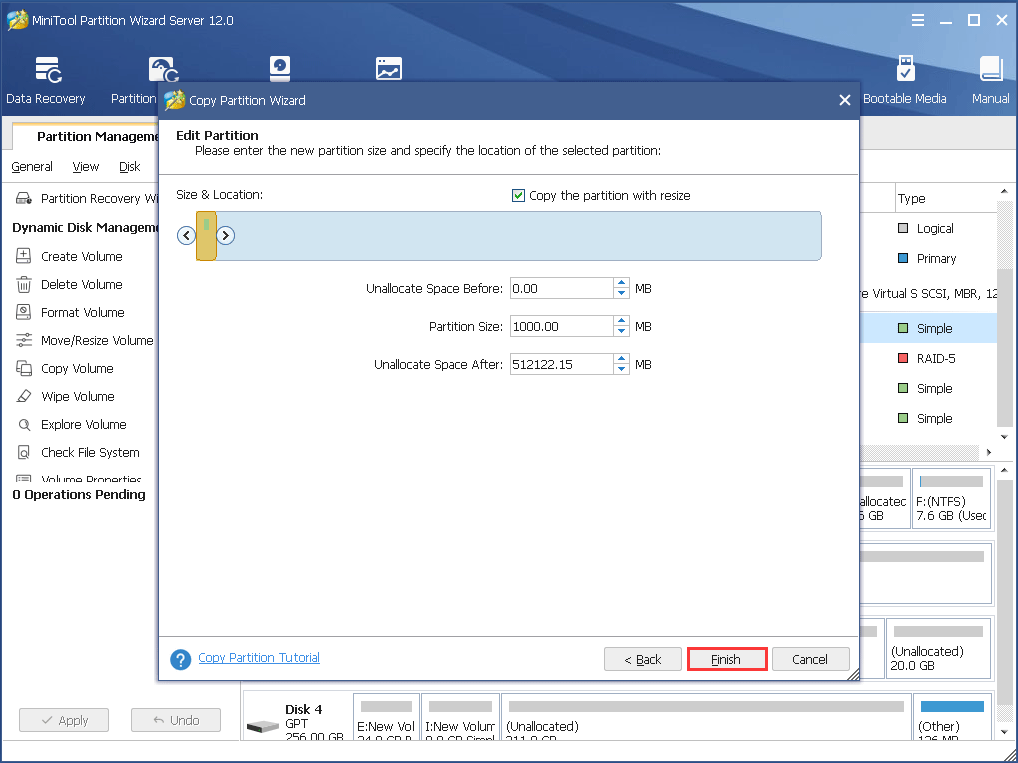 Step 6. Click Apply on the upper left corner at last.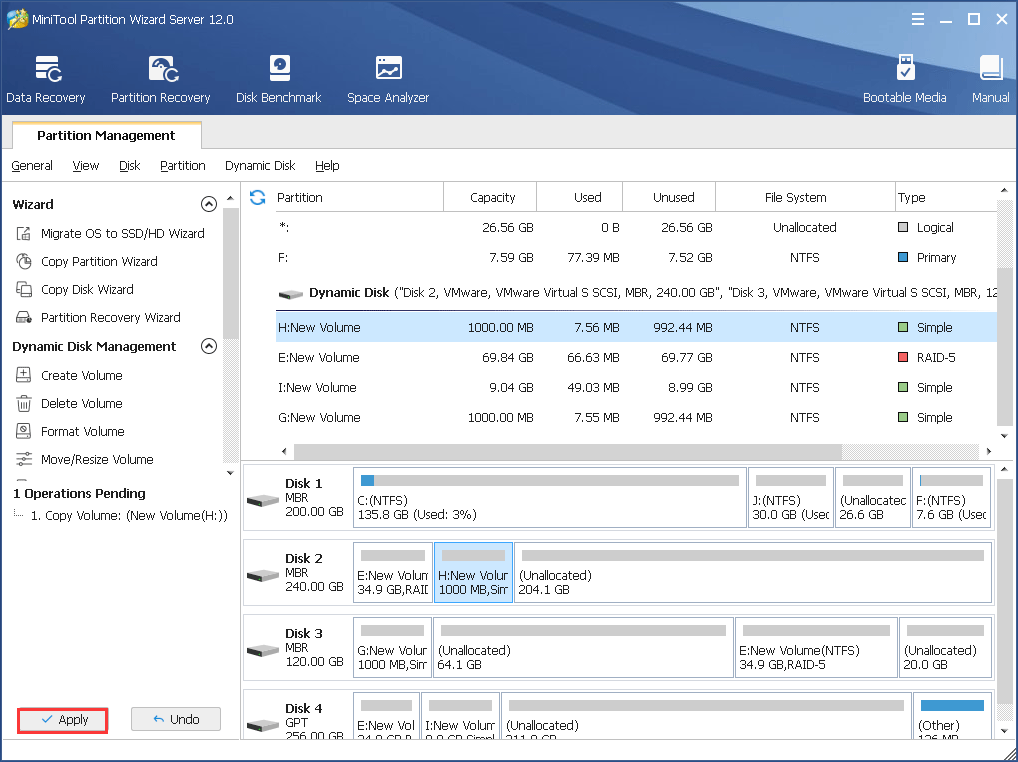 Step 7. MiniTool Partition Wizard will ask for a restart as the volume is being used. Click Restart Now.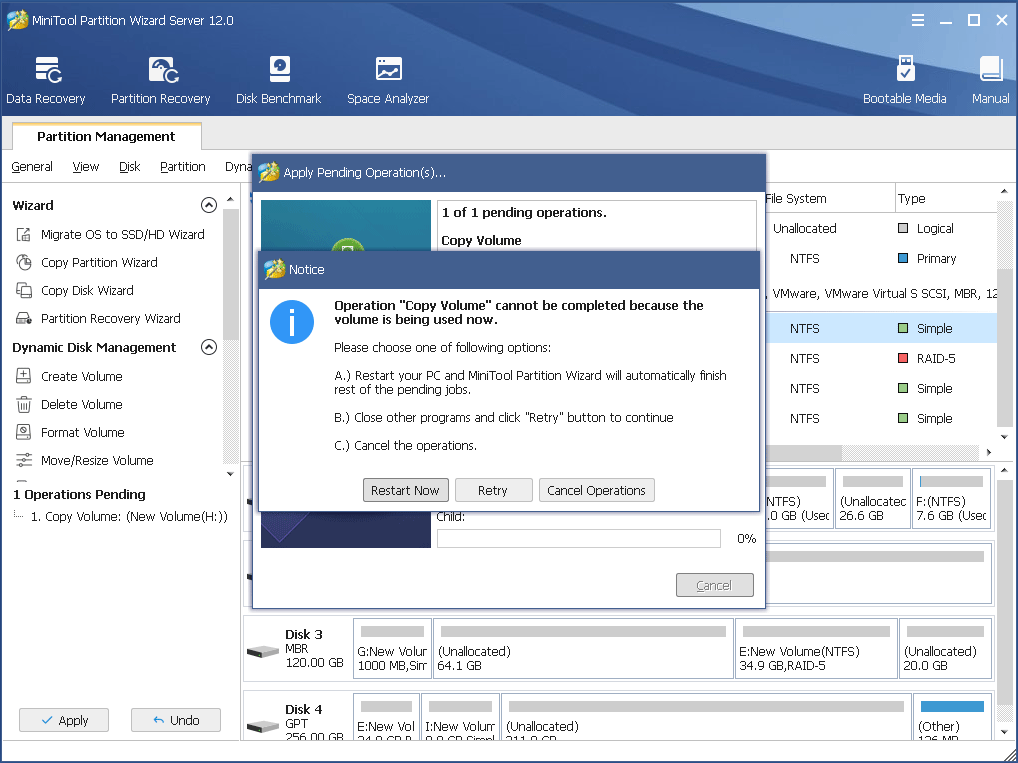 If you want to copy the whole disk, you may also choose the Copy Disk feature, which can help you save much time.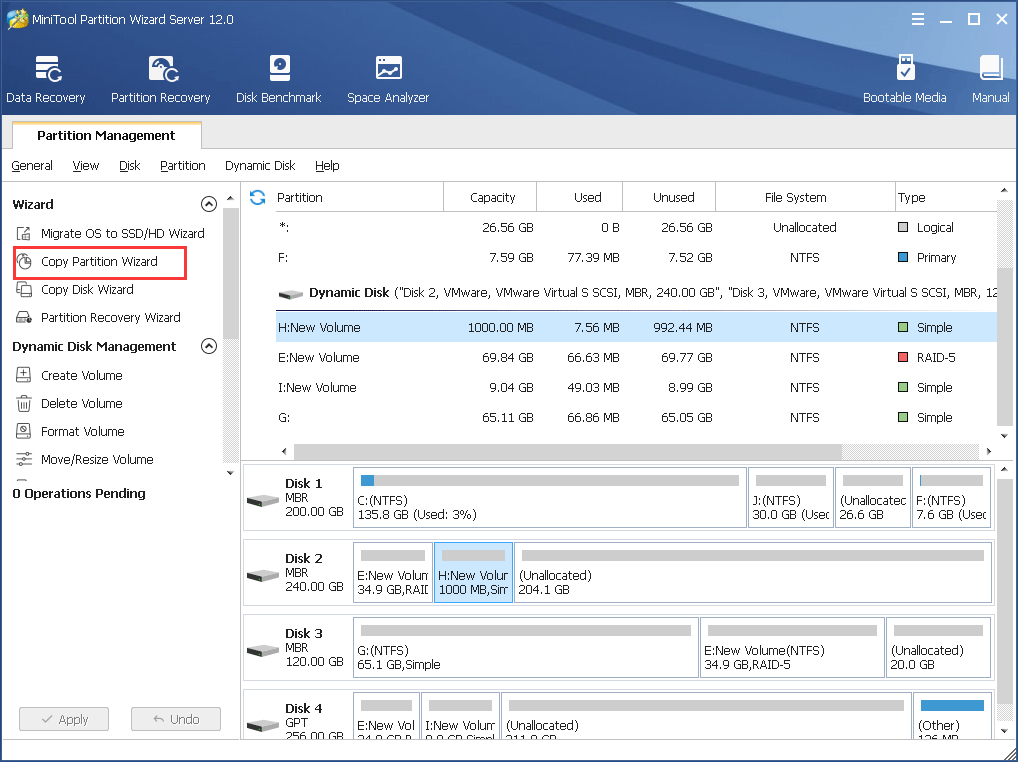 "With the Copy Volume feature of MiniTool Partition Wizard, I successfully backed up server. I would like to share this post with more friends who are seeking for a right method to back up server."Click to Tweet
Verdict
As a professional partition magic server, MiniTool Partition Wizard not only has the function of backing up server, but has many other functions like resizing volume, which has being frequently used. And using MiniTool Partition Wizard to back up server could be your best choice, as it is trusted by millions of people. If you are afraid of server data loss, try this one!
If you have encountered any issue when backing up server, you can leave a message on the following comment zone and we will reply as soon as possible. If you need any help when using MiniTool software, you may contact us via [email protected].