Windows 11 has changed a lot compared with previous Windows versions. Recently, Microsoft shows a new design – Windows 11's new colorful Task Manager. It will come in the future. Check this post from MiniTool Partition Wizard for more details.
Windows 11 is a new operating system designed as the successor to Windows 10 by Microsoft. This new operating system was officially released on October 5, 2021. And Windows 10 users can upgrade to Windows 11 easily via Windows Update for free. Windows 11 ISO files are also available on the official website.
Compared with previous Windows versions such as Windows 10/8/7, Windows 11 has been changed a lot in the outlook and features, such as a new taskbar, File Explorer, Settings, etc. Click to see what's new in Windows 11.
Task Manager: Windows 10 vs. Windows 11
However, Windows 11's current Task Manager looks similar to that of Windows 10. They have the same tabs, similar interface layouts, and detailed information marked by yellow.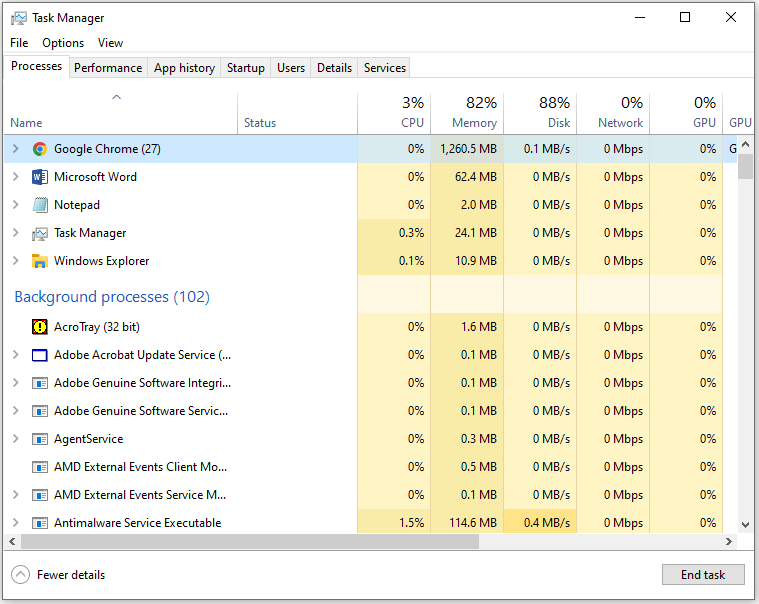 The difference is that Windows 11's Task Manager is designed with rounded corners, a focus on simplification, and pastel shades.
You might be interested: How to Open Task Manager in Windows 11? (3 Methods)
In the Windows Insider Program webcast, Microsoft showed that Windows 11 Task Manager is getting more colorful.
Windows 11's New Colorful Task Manager
Considering that some users don't like the yellow pane of Windows 11 Task Manager, Microsoft is planning a new design for the Task Manager, which was discussed in the Windows Insider Program webcast yesterday.
Tip:
You can
click here
to watch the streaming webcast.
According to Microsoft, Windows 11's new colorful Task Manager allows users to customize the color displayed according to their preferences. And they just need to go to Settings > Personalization > Colors and change the accent color. It supports various colors, such as purple, orange, red, blue, grey, etc. You can choose any of them.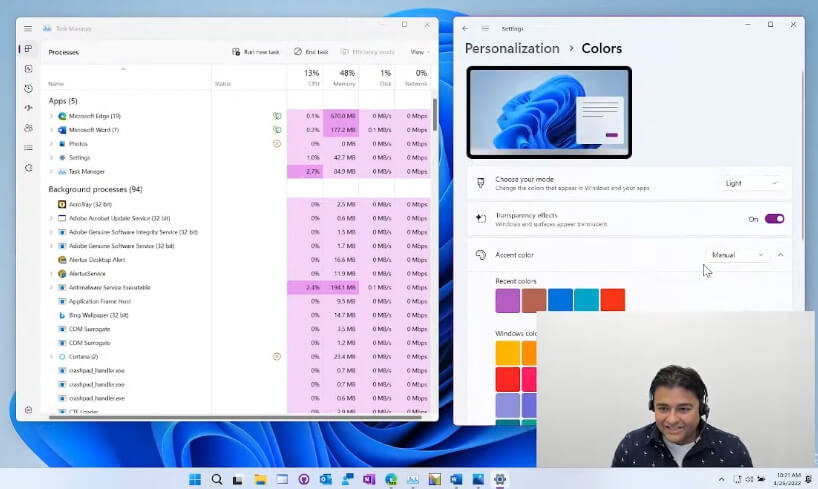 In addition to Windows 11's new colorful Task Manager, a dark mode will be available for the new Task Manager, too. And the top tabs will be moved to the left side of Task Manager. You can choose to collapse or expand them.
How to Get Windows 11's new colorful Task Manager
Do you like Windows 11's new colorful Task Manager? You might wonder how to get it. Unfortunately, Microsoft hasn't added it to any Windows Insider Build for a test yet. Therefore, you need to wait until it is released in the future.
Stay tuned for the latest news from our website or Microsoft. When the Windows Insider Build that includes the new colorful Task Manager is released, just go to Windows Update and install it on your PC.
What's your opinion on Windows 11's new colorful Task Manager? Share with us in the following comment zone.
By the way, if you are looking for a reliable tool to manage your disks or partitions on Windows 11, MiniTool Partition Wizard is worth trying. It can help you create, move, resize, delete, and wipe partitions. When your disk is running out of space, it can help you analyze what's taking up space. And if you lose important files, MiniTool Partition Wizard can help you get them back easily.
Just click the following button to have a try!
MiniTool Partition Wizard FreeClick to Download100%Clean & Safe