A large number of people are trying to figure out the Wii U Homebrew. Now, you come to the right place. This post of MiniTool will illustrate how to hack Wii U Homebrew and run games on Wii U.
What Is Wii U
Like PS4 and Xbox One, Wii U is also a home video game console. It was developed by Nintendo and released in 2012. It is the first Nintendo console that supports up to 1080P high-definition output and has a brand-new touch screen controller.
The console only has 2GB of RAM, which is less than other consoles. The storage package option of Wii U is also limited – the standard package with 8GB flash memory and the deluxe package with 32GB flash memory. That's why so many people want to expand Wii U storage with an external hard drive.
Due to a weak lineup of games and limited third-party support, Nintendo has announced the official discontinuation of Wii U in 2017. However, a lot of fans still use Wii U to play games. In order to play GameCube games on Wii U smoothly, you need to hack Wii U and utilize a Homebrew application.
What Is Homebrew
Homebrew is a program that can be used to expand the restricted hardware devices such as Wii U hacks. Since the Wii U is incompatible with the GameCube disc and its accessories, you need the Homebrew software to enable the GameCube hardware on Wii U.
In addition, this program boasts many practical features like memory card emulation, custom games, and mod games. With this Homebrew installed, you can even run backups of games from an external hard drive on Wii U.
Now, you may have an overall understanding of the Wii U console and Homebrew software. More importantly, we will show you how to Homebrew Wii U and run its games. Let's keep reading carefully.
What You Need to Prepare for Wii U Homebrew
Before you hack Wii U, make sure that you already have prepared some hardware and tools. Here we will list them separately as follows:
Hardware:
Windows PC
The latest Wii U system (5.5.3 or later)
An SDHC Micro SD card with 32GB at least
A USB drive or external USB hard drive
Software:
Homebrew
Haxchi
Wii U USB helper
How to Hack Wii U with Homebrew
In order to play games smoothly, you need to hack Wii U with Homebrew first. This process is relatively long and complex, please read the following context carefully.
#1. Set Up Your SD Card
As mentioned above, we need a FAT32 SD card to install Homebrew and Haxchi. If you have an SD card of more than 32GB, then you may have to utilize a professional formatter. MiniTool Partition Wizard is a trusted program that can help you format SD card easily.
MiniTool Partition Wizard FreeClick to Download100%Clean & Safe
Step 1. Connect the prepared SD card to your computer via a card reader.
Step 2. Launch the software to enter its main interface, and then select the SD partition in the disk map and click on Format Partition from the left pane.
Step 3. Select FAT32 from the File System drop-down menu and click on OK to save changes. Here you can change the Partition Label to Homebrew.
Note:
Since the formatting will destroy all data on the drive, it's highly recommended that you
make a backup
beforehand if there are any important data.
Step 4. Click on the Apply button to execute this formatting.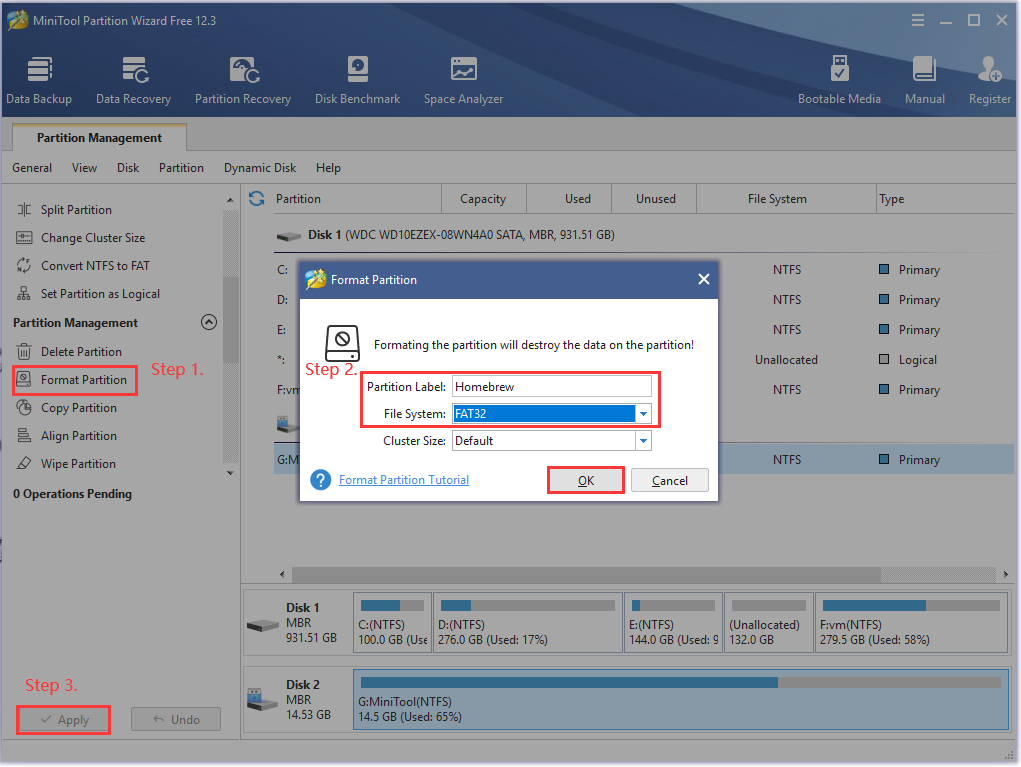 Step 5. Create 2 empty folders in the SD card so that you can put the Homebrew files into them. Here you can name the folders to Install and WiiU separately.
Step 6. Create a folder named hbc under the Install directory, and then create another folder named apps under the WiiU directory. The Install folder is used to install custom Homebrew Channels on Wii U, and the WiiU/apps folder is used to save Homebrew apps, which should look like this:
Once you have set up an SD card, you can proceed with the following steps to hack Wii U Homebrew.
#2. Download Necessary Files for Wii U Homebrew
There are some necessary zip files for Wii U hacks that you need to download and unzip. Open a browser and download all the following Wii U Homebrew-related files to your computer.
Once you have downloaded all these zip files, you need to unzip them and remove the .zip files. Then you should get the folders paths that look like this: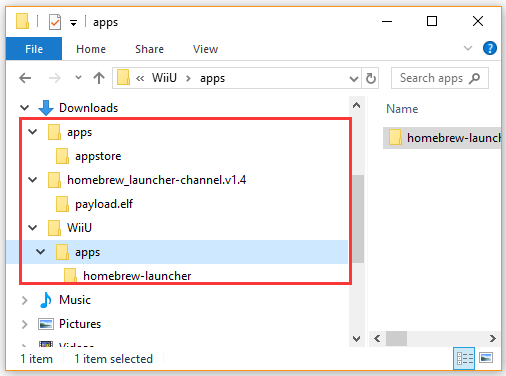 #3. Transfer the Homebrew Wii U Files to Your SD Card
In this part, you need to transfer all downloaded Homebrew Wii U files from your computer to your SD card. You can follow this simple guide:
Step 1. Make sure you connect the SD card to your computer.
Step 2. Select the appstore and homebrew-launcher folders on your computer, right-click them and select Copy. Open the WiiU/apps directory in the SD card, and then right-click the empty area in the folder and select Paste.
Step 3. Select the payload.elf file, and then copy it to the WiiU folder (not the apps folder inside it).
Step 4. Open the homebrew_launcher_channel.v1.4 folder, and then press Ctrl + A keys to select all its content and copy them to the Install/hbc directory. After that, all the Wii U Homebrew hack files should have the following structure:
Install/hbc/homebrew_launcher_channel.v1.4
WiiU/apps/appstore/meta.xml (also including the png and hbas.elf files)
WiiU/apps/homebrew_launcher.rpx
WiiU/payload.elf
Now, you can download games and apps more easily on Wii U once the Homebrew Launcher is loaded. If all the above files match your SD card, continue with the following parts.
Tip: Sometimes many users may receive an error while copying the files to the SD card. At this time, you need to check if your SD card is in the FAT32 file system.
#4. Load the Homebrew Launcher on Your Wii U
After you have copied all Homebrew Wii U files to the SD card, you can load the Homebrew Launcher on Wii U. The initial exploit is loaded via the browser, so you need to make sure that your Wii U system is connected to the Internet. To do so, follow the detailed steps below:
Step 1. Connect the SD card to your Wii U console.
Step 2. Open the Internet browser on your Wii U, and navigate to the wiiuexploit.xyz site and add it to bookmark.
Step 3. On the pop-up page, click on the Run Homebrew Launcher button to load the launcher.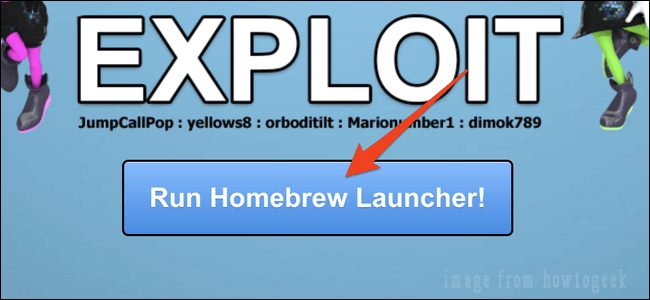 Step 4. If it loads successfully, your Wii U console should reboot into the Homebrew Launcher app from the SD card. If it freezes, you can hold the Power button to turn off your console and follow the above steps to try again.
Tip: The freezing is completely random, especially on the latest system firmware. So, this process may take quite a while.
#5. Install the Homebrew Launcher Channel 
The Homebrew Channel is an important loader for the Homebrew Launcher. It can help you load in and out of games and apps directly. With this app, you don't have to run the long internet exploit to access the Homebrew features. Here's how to do that:
Step 1. Open the Home screen of the Homebrew launcher and open the Homebrew app store from the SD card.
Step 2. In the app store, find the Mocha CFW and WUP Installer G2X apps and install them both.
Step 3. Log out of the Homebrew app store and load Mocha CFW. After that, your Wii U will reboot and the Mocha splash screen will display.
Step 4. When you arrive on the custom firmware screen, you can install the Homebrew channel permanently. To do so, run the Internet browser exploit again, and then open the WUP Installer G2X and select it and click on Install.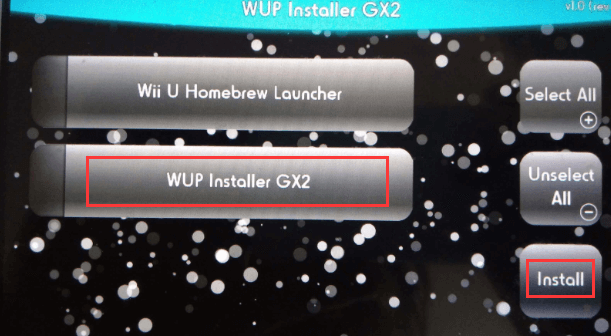 –image from youtube
Step 5. Then it will ask you to install NAND or USB, choose NAND. It will install the Homebrew Channel Launcher from the install/hbc folder on the SD card. Once it is installed successfully, you will see a new Homebrew Launcher icon on the Home screen of Wii U.
How to Homebrew Wii U? All detailed steps are illustrated to you. Now, it's your turn to have a try.
How to Run Games on Wii U
Now, the Wii U hack should be complete. How to run games on Wii U? This section will walk you through a full guide.
Step 1. Install the Wii U USB helper on your Windows PC.
Click here to download the Wii U USB helper on your PC.
Once downloaded, run the installer and follow the on-screen prompts to complete the installation.=
Step 2. Download games from the Wii U USB Helper.
1. Open the Wii U USB helper and search for games that you want to play from the top left corner.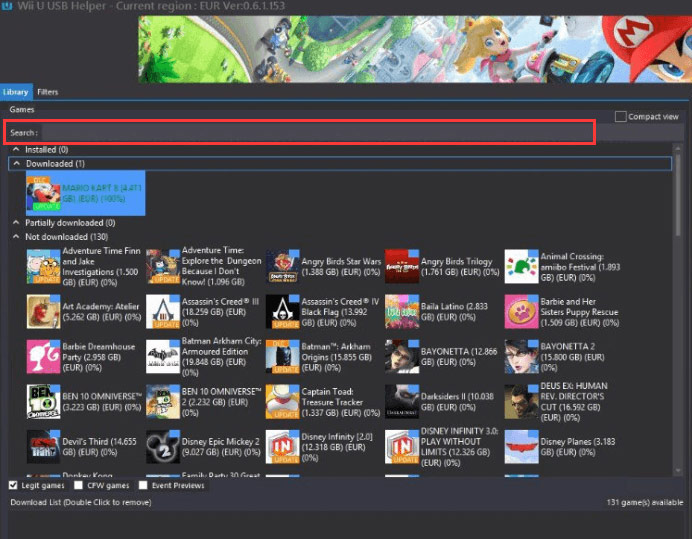 2. Right-click the search result, and then select Download Game(S) and follow the on-screen prompts to complete. Once you download the games, you can copy them into the SD card.
Step 3. Copy the games to your SD card.
1. Keep the Wii U USB Helper running and insert your SD card into the PC.
2. Click on the Copy to SD button at the bottom right corner.

–images from https://gbatemp.net/
3. Select the game that you want to copy and click on OK.
4. Confirm what you want to copy, and then click on Copy to SD button and select the drive letter of your SD card. After that, the Helper will use File Explorer to start copying the game files to your SD card.
Step 4. Install games from the SD card to USB drive. If you want to play the games from an external drive like USB, you can download them to the USB, and then insert it into your Wii U while playing the games. Of course, you can skip this step.
Boot up your Wii U and insert both the SD card and USB drive into it.
In the WUP Installer window, your installed games will show up. Select the game that you want to install and click on Install.
Select the USB to install the game. After that, the WUP Installer will start copying the game files. You need to repeat this step to install all the games from the SD card. Once done, exit the WUP Installer. Now, you can play the games from your Wii U home screen.
I want to hack my Wii U with Homebrew. How to Homebrew Wii U? What need to prepare for the Wii U hack? Fortunately, this article provides detailed steps to hack Wii U. You may need such a post. Click to Tweet
Bottom Line
Right here, I guess you have known how to hack Wii U with Homebrew and play games on Wii U. Now it's your turn to have a try. Should you have any suggestions on this subject, you can leave them in the comment area. For any difficulty in using MiniTool software, you can contact us by sending an email via [email protected].