Do you want to play Wii games on PCs or mobile devices? If so, you need a Wii emulator. This post from MiniTool Partition Wizard recommends Dolphin to you. It is the best Wii emulator Android and Wii emulator PC. In addition, it is completely free.
The Wii is a home video game console developed and marketed by Nintendo. It is Nintendo's fifth major home game console, following the GameCube and competing with Microsoft's Xbox 360 and Sony's PlayStation 3.
Its flagship games include Wii Sports, Super Mario, Legend of Zelda, Pokémon, and Metroid series.
You may want to play these Wii games on other devices. Then, you can the following Wii emulators for PC and Android.
#1. Dolphin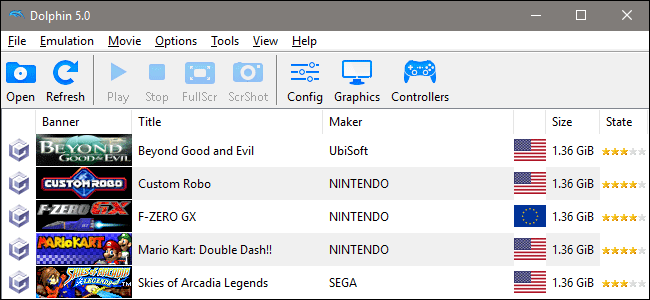 Platforms: Windows, Linux, MacOS, Android, Xbox One, and Xbox Series X/S
Dolphin is a free and open-source video game console emulator for GameCube and Wii. For many people, it is the best Wii emulator PC and Android. It allows PC gamers to enjoy games for these two consoles in full HD (1080p) with several enhancements: compatibility with all PC controllers, turbo speed, networked multiplayer, and even more.
However, it requires high-end smartphones if you want to play Wii games on your phone via the Dolphin emulator.
#2. Other Emulators
In terms of GameCube emulators and Wii emulators, no emulator can match Dolphin. Its excellence has forced many similar emulators to stop developing and updating.
In many posts about Wii emulators, Cemu, SuperGCube, etc. are recommended. However, these emulators are for GameCube or Wii.
Although these emulators can run some Wii games, they don't emulate the hardware of Wii. In addition, if you play Wii games using these emulators, you may need to download the game files corresponding to these consoles.
Dolphin Emulator Download
Go to the Dolphin emulator download page. You can get the Dolphin download for Windows, macOS, and Android. If you want to install Dolphin on Linux, you can download the Dolphin 4.0 Ubuntu version.
Of course, if you want to play Wii games on your Android phone, you can download the Dolphin emulator from Google Play directly. However, Dolphin is not available on iPhone. If you want to play Wii games on your iPhone, you can try DolphoniOS.
As for how to use the Dolphin emulator on your PC, you can refer to this post:
Dolphin Emulator Features
The Dolphin emulator has the following features:
The use of cheat codes with Action Replay and Gecko.
It allows you to play the GameCube or Wii games via GameCube controllers, Wii Remotes, keyboard and mouse, and other controllers including the Wii MotionPlus adapter, Wii Nunchuk, Classic controller, Guitar, Drums, and Turntable.
It supports local multiplayer mode and Nintendo Wi-Fi Connection mode. The latter mode allows you to play WFC-supported online Wii games with other Dolphin users as well as real Wii users.
In conjunction with an integrated Game Boy Advance emulator, Dolphin supports linking GameCube and Game Boy Advance titles.
It has many additional features to help you enhance the graphics quality, such as spatial anti-aliasing, anisotropic filtering, post-processing pixel shaders, etc.
Bottom Line
MiniTool Partition Wizard can help you clone the system, manage disks better, and recover data. If you have this need, you can download it from the official website.