Most people know what SD card is, but how about Wi-Fi SD card? What is it? Is it an SD card with a wireless chip? The detailed introduction of this card will be given by MiniTool. Furthermore, MiniTool also recommends 3 best Wi-Fi SD cards in this post if you want to have one.
What Is a Wi-Fi SD Card?
Nowadays, we live in a fast-growing era where we enjoy the convenience brought by the ever-evolving technology. In this post, I focus on the technology ­­­­­– Wi-Fi SD card.
You know an SD card is a small-sized card, but what a Wi-Fi SD card is? It is an SD card with Wi-Fi networking technology built-in. To be more specific, the Wi-Fi SD card features a shrunk memory chip – leaving room in the plastic housing for additional chips, like a Wi-Fi chip.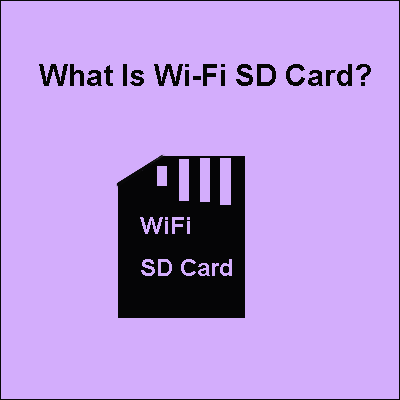 Moreover, this SD card can broadcast its network to which mobile devices and Wi-Fi equipped computer can connect. In other words, you can transfer files from this SD card to your phone or computer during the situation that the SD card does not be inserted into one of the devices. This is quite convenient.
Another shine of this card is that it has a backup system for photos and videos. This indicates that there is no fear of losing your media files and it is more expensive than the regular SD cards.
Tip:
Do you know how to retrieve the lost data from the SD card? If you don't know, read
SD card data loss
.
The typical Wi-Fi SD card comes with a capacity of 8, 16, or 32GB. But note that some versions of Wi-Fi SD card do not have their own storage and you need to add on your own microSD card.
What Is SD Card Wi-Fi Adapter?
We use SD card reader to read and write data and access to the files in SD card. But how about SD card Wi-Fi adapter? It is a product that you can use with your existing SD cards. When you insert one SD card into the adapter, you can use it as a Wi-Fi SD card.
How to Use Wi-Fi SD Card
You can use your Wi-Fi SD card to connect to your smartphone, computer or other devices that you use to view your photos and video.
The connection process varies from product to product and you can refer to the product manual that will help you connect this card to your device.
On the market, you may have noticed some new products that allow you to set everything up through a free app that you can download from the manufacturer.
Best Wi-Fi SD Card in 2022
# 1 Toshiba FlashAir Wi-Fi SD Card
This card is one of the best Wi-Fi SD cards that can are compatible with various devices, even including the 3D printers. With this SD card, you can easily share photos, videos, and other graphics files on the post as its data transfer data of 90Mbps. Furthermore, this card has the Station Mode with Upload and WebDAV ability allows you to easily drag and drop your videos and photos.
According to the feedback from its consumers, I list the main pros and cons.
Pros:
Share photos and videos freely.
Faster than average wireless transfer speeds.
Accessible app for support and instructions.
Cons:
Some consumers had difficulty accessing the support app.
Some consumers ran into software update issues. 
# 2 Eyefi Mobi Wi-Fi SD Card
Eyefi Mobi Wi-Fi SD card is the second recommended Wi-Fi SSD card and you can have a try. With this card, you can transfer your RAW and JPEG images and videos wirelessly.
This card has a simple set up and is quite easy to use. Firstly, install the free Eye-Fi app on your device. Then allow this app to connect the card. Once they are paired, the card will transfer the photos as it detects new content or files.
You can also integrate this card with the cloud as it syncs and upload all the photos seamlessly.
What are the pros and cons of this card? I list t5hem below.
Pros:
Fast speed for both uploading and downloading.
Connect to more than 50 Wi-Fi camera types.
Automatic categorization of photos.
Works with multiple external devices.
Support both RAW and JPEG image format.
Cons:
Limited software support. 
# 3: ez Share Wi-Fi SD Card
This brand is not known as the Toshiba, but it is always in the list of the recommended Wi-Fi SD card. In terms of raw storage, this brand comes in several sizes, including 16, 32, 64 and 128GB. And some newer products have 256GB.
The ez Share Wi-Fi SD enabled SD card comes in the capacities ranging from 4GB to 32GB. Apart from the various sizes, this card has a data transfer speed of up to 1.5Mbps, allowing you to transfer files from SD card to your device seamlessly.
Pros and cons of this wireless SD card are:
Pros:
Support JPG, MP4, RAW, and other media file formats.
Support free and fast downloads of apps, multiple channels and online streaming.
Easy to read and write.
More affordable than other Wi-Fi SD cards.
Enhanced battery conservation.
Cons:
Impedes internet connection while in use,
Wi-Fi authentication and authorization.