Summary :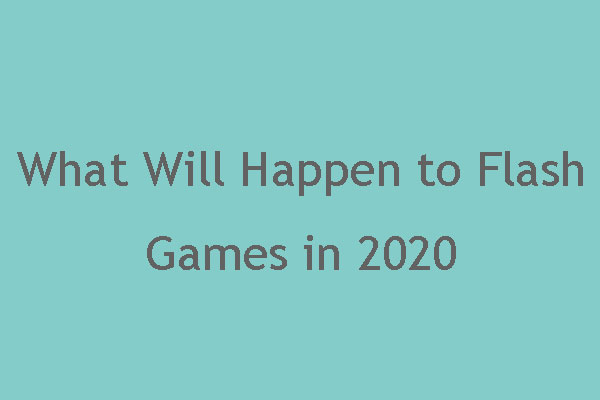 What will happen to Flash games in 2020? Will Flash games still work after 2020? Can you still play Flash games after 2020? More and more people ask these questions. In this post, MiniTool Partition Wizard shows you how to play Flash games after Flash is deprecated.
What Will Happen to Flash Games in 2020?
Due to security vulnerabilities of Flash and advancements of HTML, Adobe Flash has become obsolete. Back in 2017, Adobe Systems announced that it plans to phase out the Flash player plug-in by the end of 2020.
Starting from August 1st, 2019, Flash has been deactivated by default in Chrome and Firefox. But you are still able to use it though, by going into your browser setting and manually activating it. However, by December 31, 2020, it will be completely removed from all major browsers and you won't be able to use it at all anymore.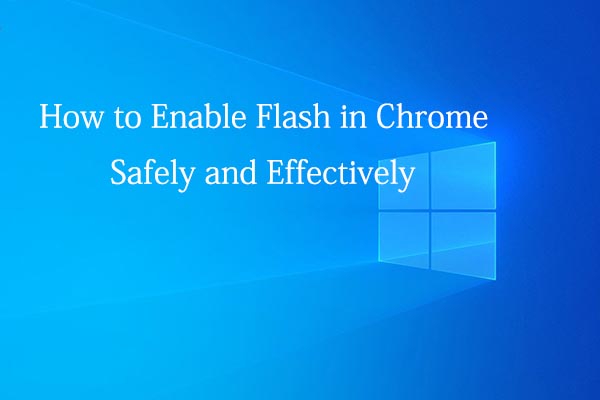 Do you know how to enable Flash in Chrome safely and effectively? If you are not clear about it, please read this post to obtain specific steps.
Then, what will happen to Flash games in 2020? Will Flash games still work after 2020? Can you still play Flash games after 2020? Questions like those are asked by many people. Generally speaking, by December 2020, Flash will be technically dead and all those Flash games website will close, if they don't port to another technology.
Microsoft Adobe Flash End Of Life Will Happen By December 2020
But fortunately, projects like BlueMaxima's Flashpoint have sprung up to try and preserve those games before that shutdown. Flashpoint currently has over 38,000 games squirreled away in a sizable 288 GB collection, and allows the curious to download and play those games with its launcher.
How to Download Flash Games to Play on Your Desktop
To download Flash games to play on your PC, you should download Flashpoint first. This is a free, open-source application for Windows (Mac and Linux versions are in the works). With this tool, you can still play Flash games even after 2020.
If you're on Windows, Flashpoint offers you two versions: Ultimate and Infinity. Ultimate is the exhaustive package. It includes the full archive of Flash content and requires around 300 GB of disk space to install. However, Infinity allows you to download games on-demand as you play them and requires only around 300 MB of free space.
Here is the tutorial on how to download and use the Flashpoint:
Step 1: Download Flashpoint tool and then unzip it. Open the folder you extracted it to and then click 'start Flashpoint'.

Step 2: After the Flashpoint is installed, you will get the following picture. Click the "Games" tab and you will get the exhaustive "All Games" list. But if you want to find a proper game to play, I recommend you to use the category menu. You can find games through Title, developer, publisher, etc.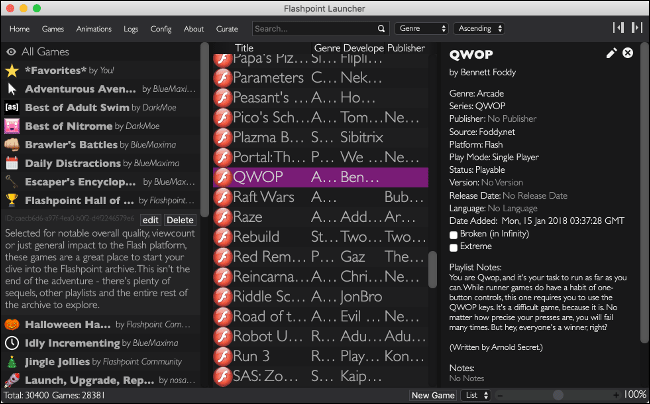 Step 3: After you find the game you want to play, click it and there will be a brief introduction to the game on the right side.

Step 4: Double click the game and you can play it directly. But please note that your computer must also install Adobe Flash to run the game properly.
Apart from Flsahpoint, another project Ruffle also tries to protect Flash products. Ruffle is a "Flash Player Emulator" that allows you to play Flash on browsers that have disabled Flash. The project will also track which Flash games are friendly to touch screens, and will later expand Ruffle to mobile platforms.
Therefore, although Flash has been deprecated, you can still play classic Flash games after 2020.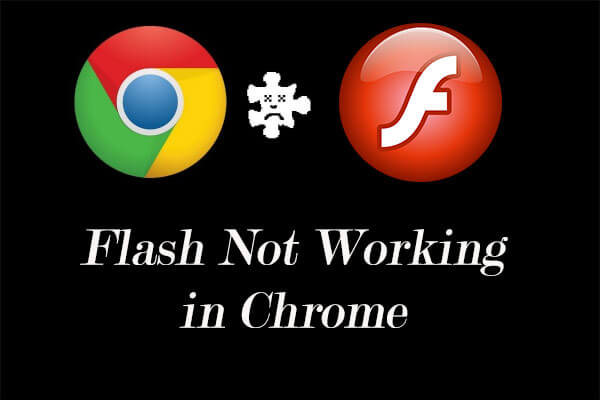 Can't play videos, animations and games on website for Flash not working in Chrome? You will learn about how to fix this issue with simple ways in the post.