Summary :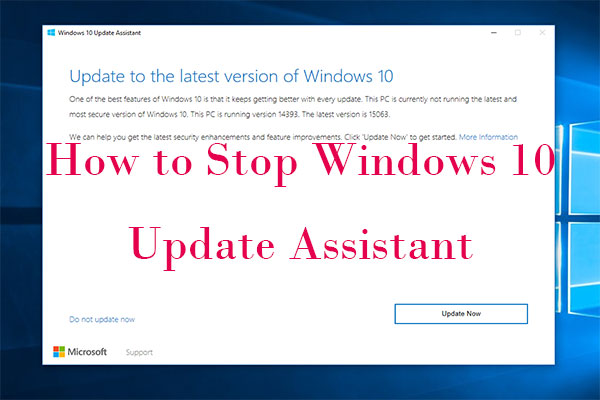 Windows 10 Update Assistant behaves like malware. It always comes back after you uninstall it. Do you want to get rid of it? If so, you can read this post, in which MiniTool offers you 5 methods to block it.
Windows 10 Update Assistant Virus
The Windows 10 Update Assistant is a tool that enables you to upgrade Windows 10 to the latest builds. With it, you can update Windows to the latest version without waiting for an automatic update.
However, some users may don't like this tool and refer to it as Windows 10 Update Assistant virus. The possible reasons are as follows:
It often plagues your system with frequent pop-up messages and unnecessary notifications about new updates. If you keep ignoring notifications about new updates, it'll automatically install them. This often interrupts your important work or games.
No matter how many times you uninstall the Windows 10 Update Assistant, it will come back again.
Certainly, this can be very irritating. Then, how to stop Windows 10 Update Assistant permanently? Please read the following content to get methods.
How to Stop Windows 10 Update Assistant
Method 1. Uninstall Windows 10 Update Assistant
This is not only a way to get rid of the Windows 10 Update Assistant, but also the first step to get rid of it permanently. You should perform this method ahead of others. Please refer to the following steps:
Step 1: Press "Windows + R" keys simultaneously to open Run box. Then, type "appwiz.cpl" in the dialogue and click OK to open Programs and Features window.
Step 2: Right click on Windows 10 Update Assistant and then choose Uninstall to remove it.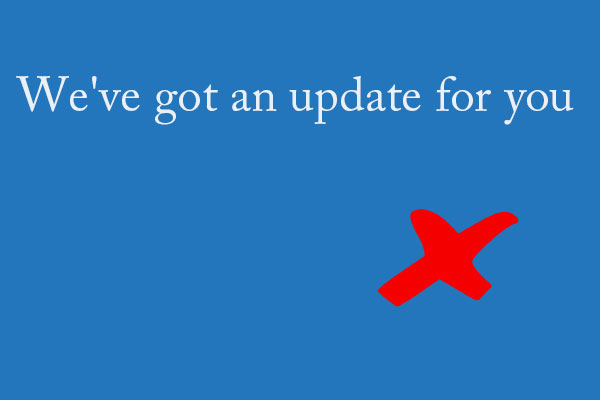 How to disable Windows 10 update? We show you 8 incredible ways to turn off auto update Windows 10 by multiple ways.
Method 2. Set Wi-fi as Metered Connection
Step 1: Open Windows Settings windows and then go to the Network and Internet option.
Step 2: Go to the Wi-fi option and then select the Wi-fi that you are using for your PC.
Step 3: Select the Set as Metered Connection option.
This method may temporarily stop Windows Update service including Update Assistant. Once you change your Wi-fi connection, you might end up with the Windows update service and the Update Assistant.
Method 3. Disable Windows 10 Update Assistant in Task Scheduler
Microsoft has listed Windows 10 Update Assistant as a scheduled task, which is the reason why this virus upgrade runs itself repeatedly. Therefore, you should disable it in Task Scheduler. Please refer to the following steps:
Step 1: Open Cortana and type in "Task Scheduler" in the search box. Then, choose the best-matched result to open it.
Step 2: Navigate to Microsoft > Windows > UpdateOrchestrator.
Step 3: Highlight UpdateOrchestrator and locate the following three tasks on the right pane. Then, right click them to disable or delete them one by one.
UpdateAssistant
UpdateAssistantCalenderRun
UpdateAssistantWakeupRun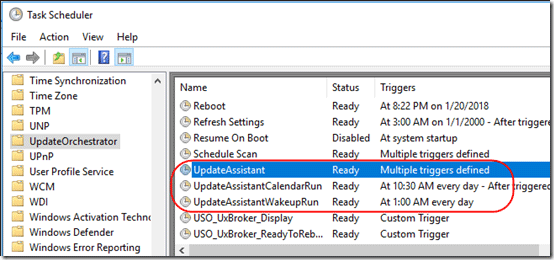 Method 4. Disable Update Orchestrator Service
The Update Orchestrator Service manages Windows Update. If it is stopped, your devices will not be able to download and install the latest updates. You can disable this service only when there is no other way out. Please refer to the following steps:
Step 1: Open Run box and type in "services.msc" in the dialogue. Then, press Enter to open Services window.
Step 2: Scroll to find Update Orchestrator Service. Double click on it and this will trigger a new window. On the new window, click Stop button.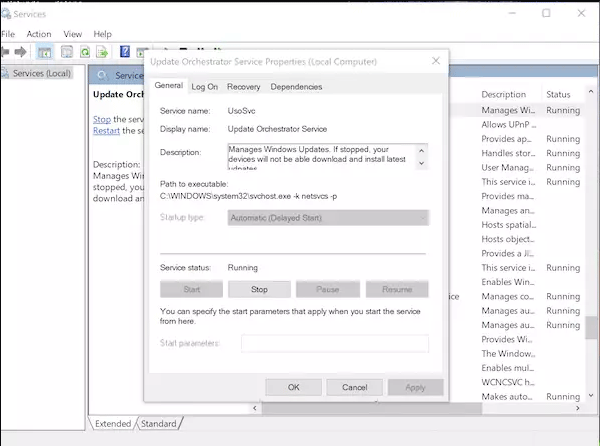 Method 5. Firewall
The last method to stop Windows 10 Update Assistant from downloading any files is to block its connections in your Antivirus Firewall. Please see your antivirus/internet security Firewall help files to learn how to block connections or set rules for applications.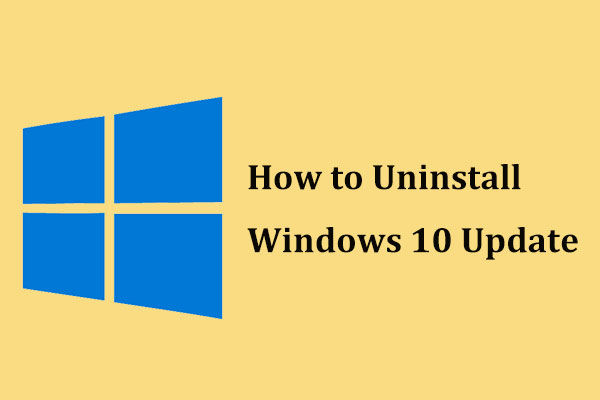 Don't like the new Windows 10 update and want a rollback? This post will show you how to uninstall Windows 10 update with ease.