SteamVR is a Virtual Reality platform developed by Valve. It was released as an extension of Steam in 2015. With SteamVR, you can experience VR content on the hardware of your choice. It supports the Valve Index, HTC Vive, Oculus Rift, Windows Mixed Reality headsets, and other PC VR headsets.
To download SteamVR, you just need to click the Steam icon and select SteamVR or search SteamVR in the Steam Store.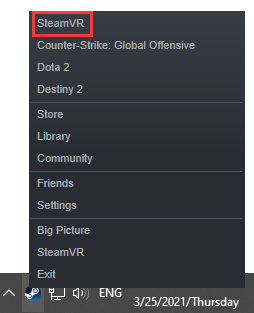 Unfortunately, some users found that their SteamVR won't launch. It is an annoying problem but you can try to solve it. Here are some available solutions. If you are bothered by the same error, follow them to fix the issue.
Solution 1: Run Steam as an Administrator
SteamVR crashing on startup could happen due to the lack of administrative privileges. To solve the problem, you should try running Steam as an administrator. Here are the detailed steps.
Step 1: Double-click the Steam shortcut on the desktop and select Properties.
Step 2: In the Properties window, switch to the Compatibility tab and check Run this program as an administrator.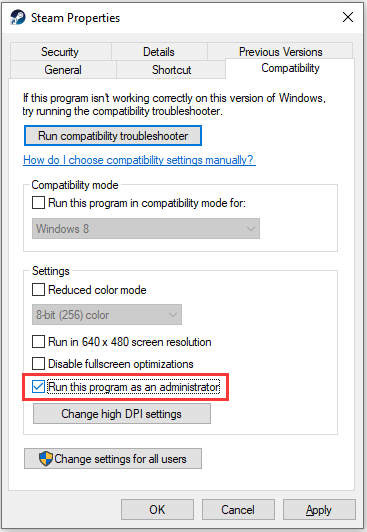 Step 3: Click the Apply and OK button to save the changed settings.
Step 4: Double-click the Steam shortcut to launch Steam and check if it works properly.
Solution 2: Verify the Integrity of SteamVR Tool Files
If there are corrupted or missing files in SteamVR, you could also encounter the problem that SteamVR won't open. Fortunately, Steam client allows you to check and repair files for SteamVR. Let's have a try.
Step 1: In Steam, go to LIBRARY and make sure the TOOLS option is checked in the filter.
Step 2: In the list of tools, find SteamVR and right-click it. Then select Properties.
Step 3: In the pop-up window, select LOCAL FILES. In the right pane, click Verify integrity of tool files.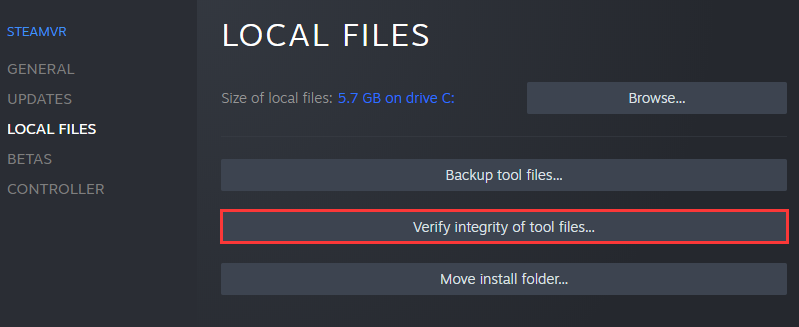 Step 4: Wait until all files are successfully validated. Then click CLOSE.
After repairing the tool files, you can check if the problem of SteamVR crashing on startup disappears.
Solution 3: Disable or Remove Conflicted Software
Conflicted software is another reason why SteamVR won't launch. According to Valve, there is always the potential that applications running on a computer might negatively affect the performance of Steam services. Some common types of such applications are listed below. You need to check if there are any problematic applications on your device. Try closing or uninstalling them to check if it helps to fix the problem that SteamVR won't launch.
Antivirus software
Anti-spyware software
Virtual Private Network software
Firewalls and security applications
Peer-to-peer clients and file-sharing software
IP filtering or blocking programs
Download accelerator and download manager programs
If you are not sure whether you have installed such a program, you can try performing a clean boot to check for software conflicts.
Solution 4: Reinstall SteamVR
You can also try reinstalling SteamVR to solve the problem that SteamVR won't launch.
Step 1: Go to Steam LIBRARY.
Step 2: Right-click SteamVR and select Manage > Uninstall.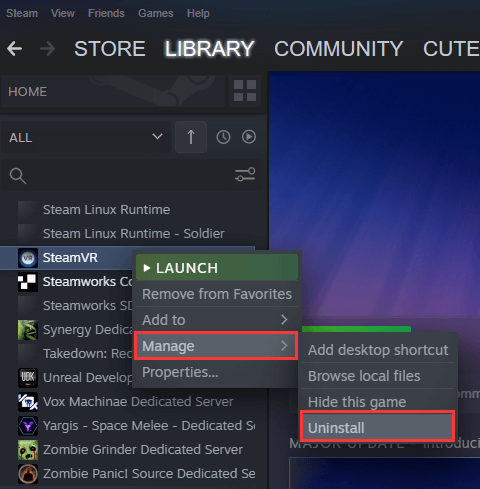 Step 3: In the pop-up window, click Uninstall to remove SteamVR from your computer. Although it will remain in the library after the uninstallation, you need to re-download all the contents to run it in the future.
Step 4: Double-click SteamVR from the library to download and install SteamVR again.
Now, you can run SteamVR and check if the problem has been fixed.