Valve's new powerful handheld gaming PC, the Steam Deck is designed to deliver your favorite Steam games and features. But not all games on Steam will run perfectly on the Steam Deck. Then let's know more information about Steam Deck compatibility.
About Steam Deck Compatibility
Valve has a Deck Verified program, which is essentially a series of tests that verify games for Steam Deck by running scripts and sometimes testing them manually to determine how well they work. The valve then categorizes games into one of four categories: Verified, Playable, Unsupported, or Unknown.
Verified: Games have fully passed Valve's Steam Deck testing, which means they not only run smoothly on Steam Deck but provide an enjoyable gaming experience. If a game passes the test on all four subcategories (input, display, seamlessness, and system support), it gets a checkmark, which means verified. Steam Deck verified games work out of the box.
Playable: The game launches on Steam Deck and should be mostly functional, but you may need to modify or configure the game slightly to make it a better experience. The game fails one of the four prerequisites to earn the Verified Seal: input, display, seamlessness, and system support.
Unsupported: The game either won't run on Steam Deck or won't run at all. Common reasons for getting the Unsupported badge include the game's anti-cheat software not being configured for Steam Deck. For example, Half-Life: Alyx is Valve's own VR game, but it doesn't work on Steam Deck.
Unknown: A game that Valve hasn't tested yet.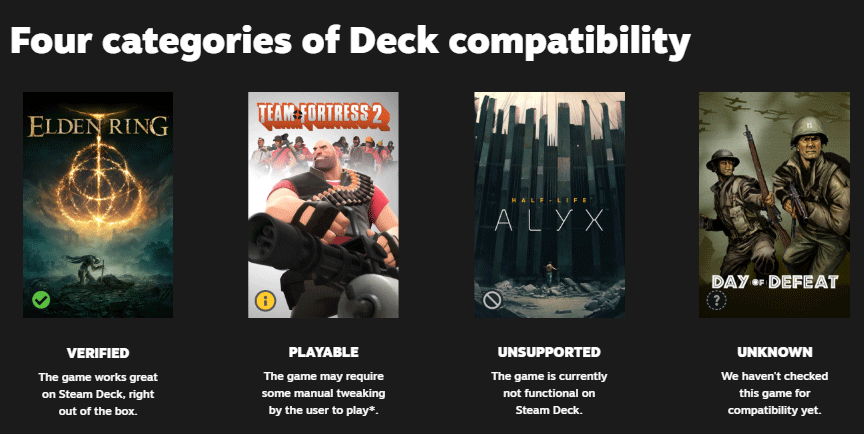 There are already hundreds of verified games on Steam Deck.
How to Check Steam Deck Compatibility
There are a few ways to check which games are compatible with Steam Deck.
Check Steam Deck Game Compatibility via Steam Deck
If you have Steam Deck on hand, you can check the compatibility of games you've purchased by clicking the Steam button on the left side of the console and scrolling to Library. There are two categories here for checking compatibility: Great on Deck and All Games.
For games that haven't received a Verified badge, you can check their compatibility status by hovering over the thumbnails in all games. In the lower right corner of the thumbnail, it displays a symbol representing one of these states. A green checkmark means verified, a blue "i" in a yellow circle means playable, a gray empty symbol means unsupported, and a question mark in a dotted circle means unknown.
If you want to know more details about a game, you can click on it and select Game Info. Here, under Steam Deck Compatibility there will be a text box called Details. Here you'll find more information on why this game received a Deck Compatibility Rating.
If you haven't purchased the game yet but would like to see how it performs on the Deck, you can purchase it through the Steam store.
On the Steam Deck, click the Steam button and select Store. Search for the game you're interested in. Similar to viewing games in your library, hovering over a game thumbnail in the store will display a circular indicator with a description in the upper right corner of the thumbnail.
Once you've landed on a game's store page, you can look in the upper right corner of the page to see its compatibility listed as Verified, Playable, Unsupported, or Unknown. The blue button near the badge brings up a text box with more information about the game's compatibility.
Check Steam Deck Game Compatibility via Computer
If you don't already have a Steam Deck and are considering getting one, you might be wondering which games are verified or playable. You can go to this URL to check out the Steam Deck verified games.
Further reading: If you are looking for a professional partition manager for Windows, you can try MiniTool Partition Wizard. It has multiple functions to manage partitions and disks, suck as format/resize/extend/wipe partitions, migrate OS, recover data, and so on.
MiniTool Partition Wizard FreeClick to Download100%Clean & Safe