Nowadays, it's still hard to get one Steam Deck. At this time, you may consider owning another handheld gaming PC that is similar to Steam Deck. In this post, MiniTool Partition Wizard introduces multiple Steam Deck alternatives. Just keep reading and determine which one to choose.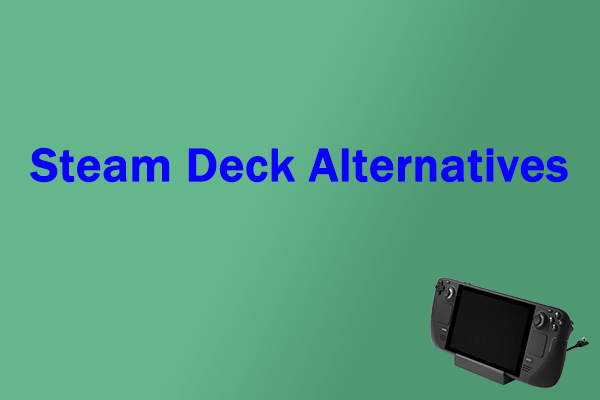 The Steam Deck is a handheld gaming PC that was developed and released by Valve Corporation on February 25, 2022. With this game console, you are able to access and play the PC games in your Steam library wherever you are.
Since Valve's Steam Deck comes out to the market, it has been the most popular portable PC. However, you may find it difficult to get one. Fortunately, there are other options if you are eager to play games in your hands.
To find out the best alternative to Steam Deck, you should pay attention to this post. Here, a couple of the best Steam Deck alternatives currently on the market are listed in the following content.
#1. Nintendo Switch
The Nintendo Switch is a hybrid video game console that was developed by Nintendo and released worldwide in most regions on March 3, 2017. It's the most readily available Steam Deck alternative. It can be used as both a handheld system and a home console due to the detachable wireless Joy-Con controllers and HDMI-outputting dock.
Many games that are available on the Steam Deck can be played on Nintendo Switch. Additionally, Nintendo Switch also includes plenty of exclusive games like Super Mario Odyssey and Kirby and the Forgotten Land. One benefit of the Nintendo Switch that may attract you is it's cheaper than the Steam Deck.
#2. PlayStation Vita
The PlayStation Vita (PS Vita or Vita) is a handheld gaming console that was developed and marketed by Sony Interactive Entertainment. It provides a lot of games. Moreover, the PlayStation Vita is backward compatible with most PlayStation Portable games.
However, there are some drawbacks to the PlayStation Vita. One is that the console cannot access certain exclusive games. In addition, this alternative to the Steam console is no longer on sale. If you want to try this console, you can buy a secondhand one from others.
#3. AYA Neo Next
When it comes to the best Steam Deck alternatives, AYA Neo Next is worth checking out. It enables you to run the Windows operating system and play certain PC games on the handheld gaming console too. Compared with Steam Deck, it's smaller and easier to buy.
Besides, the basic model of AYA Neo Next has a 1TB NVMe SSD and can be upgraded to 2TB; while even the largest Steam Deck model has only 512GB NVMe SSD. So, if you plan to keep more games in the handheld gaming console, you can choose to buy AYA Neo Next rather than the Steam console.
Steam Deck Storage: How to Add Your Steam Deck Storage?
#4. Ayn Odin
The Ayn Odin is an Android-based handheld video game console. It has a 5.98-inch Full HD touchscreen with a 1920×1028 resolution. Its original storage is small, up to 256GB. But you can insert a microSD to extend the storage. In addition, there are several different colors for Ayn Odin to choose from.
Since Ayn Odin runs on Android, you can play Android games on this console. Besides, you are able to install emulators and streaming services for more fun. Furthermore, the Ayn Odin is much more inexpensive than Steam Deck. Hence, if you don't want to spend too much on a handheld gaming console, you can select to buy an Ayn Odin. It's the most affordable alternative to Steam Deck.
#5. GPD WIN 4
Another Steam Deck alternative that should be taken into consideration is GPD WIN 4. This handheld gaming console features 16/32 GB of LPDDR5 RAM and 1TB/2TB M.2 NVMe SSD storage. Like the Steam Deck, this kind of console can also run 64-bit Windows 11 Home. GPD WIN 4 has a 6 inches screen, smaller than Steam Deck and most gaming consoles. What's more, it has a physical keyboard.
#6. OneXPlayer
The OneXPlayer has an 8.4″ high-resolution screen, providing the biggest and highest-resolution display among all the handheld gaming PC. Although it is called a portable console, it may be inconvenient to take it with you. As for storage, OneXPlayer offers three models: 512GB, 1TB, and 2TB MVMe SSD.
If you concern more about the resolution, you can choose OneXPlayer as a Steam Deck alternative.
Hope this post can help you find out the best Steam Deck alternative that meets your needs. If there are other alternatives you prefer, can you share them with us in the comment part below? Thanks in advance!