Are you playing games on Steam? Do you chat with your friends while playing games on Steam? Unfortunately, Steam chat history won't be kept for a long time. If you want to find your old Steam chat history or manage your Steam chat message, this post from the MiniTool Partition Wizard website should be helpful.
Steam is one of the most popular game platforms around the world. It is developed by Valve and available on various operating systems, including Microsoft Windows, macOS, Linux, iOS, and Android.
On Steam, users can download, install, and play a huge number of games. Some of them are free, and some need to be paid. In addition, Steam provides community features like friend lists and groups, cloud storage, and chat. Users can chat with their friends on Steam.
In the following content, you can find tutorials on Steam chat history.
How to View Steam Chat History
If you have chatted with others on Steam, you might find that you cannot retrieve messages once you close the chat window. Then, where can you find the Steam chat history?
Nowadays, Steam stores messages in the last 2 weeks, including personal chats and group chats. To view Steam chat history, you can:
Open a web browser.
Go to the Friend Chat Messages page of the official Steam website.
Sign in with your Steam account. Then you can view your recent Steam chat history by the sender, recipient, and time sent.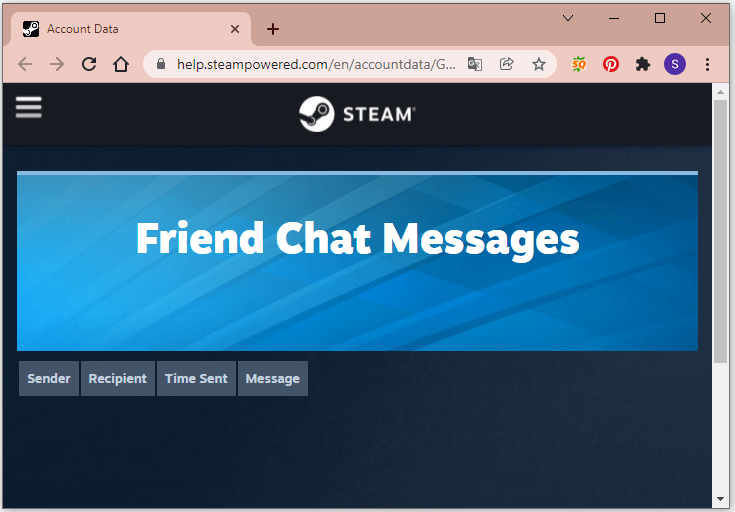 How to Recover Steam Chat History
If you want to get your lost Steam chats back, you can try the following methods. Please note that you cannot recover Steam chats lost for a long time.
Method 1: Recover Steam Chat History via a Mobile Phone
As mentioned, in addition to PC, Steam is also available on mobile phones running iOS or Android. If you had installed the Steam application on your mobile phone before you lose chats, it is possible to view your chats on your Steam application on the mobile phone.
You just need to run the Steam application on your phone and go to the Friends or Group Chat page. Then tap your friend's or group's name and the Steam chat history would appear. You can scroll up to find the messages you need.
Method 2: Recover Steam Chat History via a Third-Party Tool
Besides the Steam application itself, there are some third-party tools that can help you get your missing Steam chat history back, such as ChatLogger.JS, sp0ok3r's ChatLogger, SteamTimeldler, etc.
Please be careful when you choose a third-party tool. If you download one from untrusted websites, your computer might expose to security issues, such as virus or malware attacks.
Here I take SteamTimeldler as an example. SteamTimeldler has a Save Chat Logs feature. It can not only help you view your recent Steam chats but also provide a log of the message history. In addition, you can also view the messages from a Steam user who has been removed from your friend list or been blocked by you.
Kind reminder:
To avoid losing Steam chat history, you'd better keep your Steam account logged in on your PC or mobile.
How to Delete Steam Chat History
Steam doesn't provide an option to clear Steam chat history. As mentioned, Steam can keep the chats history for about 2 weeks. If you want to delete Steam chat history, you can update the chats history with new messages. You can enter a huge number of stickers or other nonsense words until you cannot view your old messages.
Please note that this method only works for the Steam client on PC. The chat history might also be available on the Steam app on mobile devices.