When you are playing Steam games, Steam will share what games you are playing due to its default setting. How to hide game activity on Steam? This post from MiniTool will show you some solutions to hide Steam game activity from friends.
Many people play online games on PC via Steam, but sometimes, people don't want their game activity to be shown to their friends on Steam.
The Steam service is set to share your gameplay activity by default. How to make Steam hide game activity from friends? The following will show three different solutions to make Steam hide game activity. If you don't know how to hide what Steam games you are playing, try the following solutions.
Hide Steam Activity From Privacy Settings
You can hide the Steam game activity by changing the privacy settings. If you don't know how to hide Steam activity via the private settings, you can follow the steps below.
Step 1. Launch the Steam client on your PC and click on your Steam name on the ribbon bar at the top. Then choose Profile from the drop-down menu to access the Profile page of your account.
Step2. On the right section of the screen, click the Edit my Profile to edit your Steam Profile.
Step 3. Then you can see the My Privacy Settings button on the right side of the window. Click on it to change your private settings.
Step 4. In the Privacy Settings window, find the My Profile entry and click the drop-down menu near the Game Details. Then choose Private from the drop-down menu, which will set the Game Activity to Private.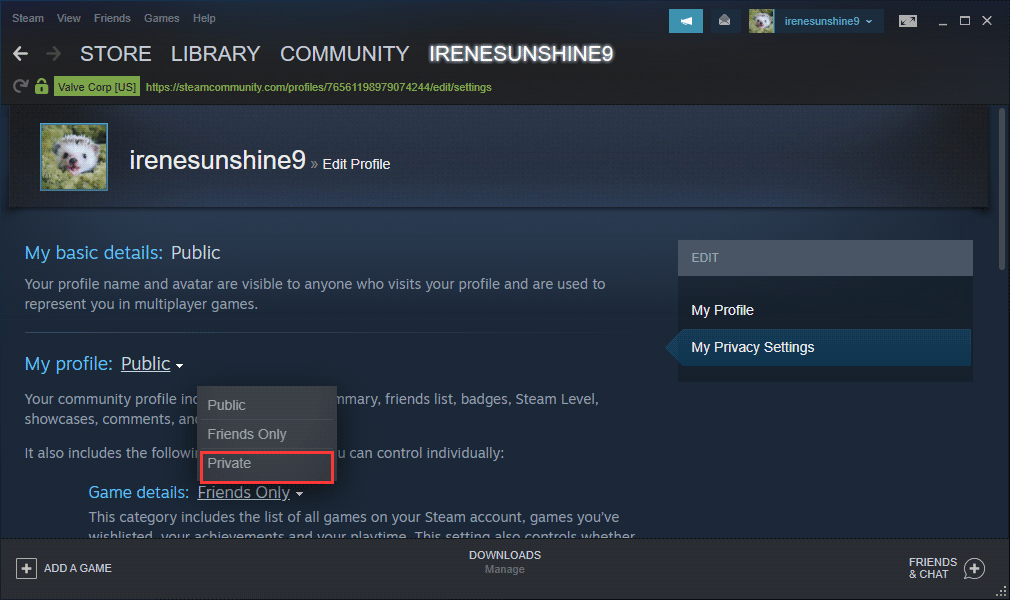 You can check if the above steps successfully hide your Steam activity from private settings. To do this, just right-click on an empty space in Steam, select Copy Page URL from the pop-up window, paste the copied URL to your browser and check if the game activity is hidden.
However, if this method doesn't works for you, you can move down to the next method.
Hide Steam Activity From Steam Chat
If you don't want all your friends getting a notification that you've started playing the game or see that you're playing it on their friends list, you can set to offline or become invisible on Steam chat.
Step 1. Click the Friends and Chat option in steam.
Step 2. Click on your username and choose Offline or Invisible status.
When it is done, the game information would still be visible under your profile page, but your friends won't be able to see what games you're playing right now. Besides, if you set the Game details to Private, you friends will not b able to see the games you're playing even if you're the online status in Steam chat.
Set Your Profile to Private
Another way for Steam hide game activity is to set your profile as private. However, this means that you will be completely isolated from friends and other gamers you meet while playing.
And functions like Friend List, Inventory, Game details and the ability to post comments will be affected while the mode is enabled. If you don't mind these limits, just follow the steps below to set your profile to Private:
Step 1. Follow the steps 1 -3 in Solution 1 to open My Private Settings.
Step 2. In the Privacy Settings window, click the drop-down menu near the My Profile and change the status from Public to Private from the drop-down menu.
The change will be made immediately. Then, you can view your profile and check if Steam hides game activity or not.