Introduction to NAS
NAS (Network Attached Storage) is a device connected to the network and equipped with a data storage function. It is a dedicated data storage server. It is data-centric, completely separating storage devices from servers to centrally manage data, thereby freeing up bandwidth, improving performance, reducing total cost of ownership, and protecting investment.
However, for home users, its biggest advantages are as follows:
Resource sharing and collaboration: NAS allows different people to use different devices (like tablets, computers, mobile phones, etc.) to synchronize data to the NAS, or download files, photos, videos, etc. synchronized by other devices from the NAS.
Storage and backup: NAS allows you to store or backup data to the NAS.
Free offline download: No need to pay, just add the resource to your download list, and the NAS can download the file when you are working or sleeping.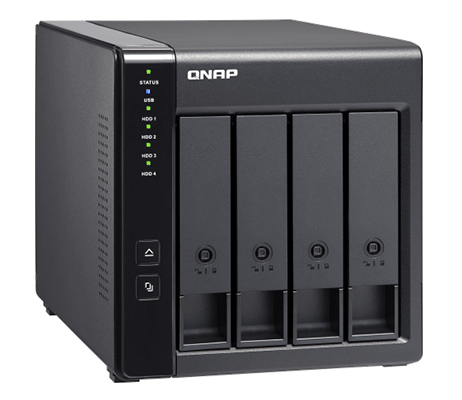 What Is a NAS Drive and How to Do a NAS Backup on Windows 10?
Benefits of SSD NAS
Nowadays, more and more people are using NAS and they want to add SSD to NAS, improving the performance. Can SSDs be put into NAS? The answer is YES. Most NAS drives will accept SSDs as well as mechanical hard drives.
These SSD NAS drives include Synology DS419slim NAS Drive that is compatible with 2.5-inch SSD, Synology DS620slim NAS Hardware that is also compatible with 2.5-inch SSD, QNAP TBS-453DX NASBook Hardware that is compatible with M.2 SSD, etc.
Besides, some hard drive manufacturers have launched NAS SSDs one after another, for example, Seagate IronWolf SSD, WD Red™ SA500 NAS SATA SSD, etc. These SSDs are dedicated to NAS and can work for long time.
The benefits of putting SSDs into NAS are as follows:
Improve read and write speed of NAS drive.
Reduce noise when running.
Reduce power consumption.
Should I Use SSD in NAS?
Although putting SSDs into NAS has various benefits, the higher cost is still a problem. Besides, whether you should put SSDs into NAS depends on what to store and what you are working with. If you use SSD NAS for VM server or storing hot data, etc., putting SSDs into NAS is recommended. But if you use SSD NAS for storing cold data or something like, you are wasting your money.
Besides, some people may like to use SSD + HDD in NAS. In this case, SSDs are used for cache, not for data storage. In this way, the read or read-write speed (this depends on the RAID model you use) will be improved. Certainly, if your budget is limited, it's also OK not to add SSDs.
Notes on Setting up an SSD NAS
When you decide to construct an SSD NAS, you should note that the transmission speed of NAS is affected by the following factors: the data processing speed of the CPU and memory on the NAS server, the transmission speed of the network connection, server-side disk write speed, the client's disk read speed, and RAID types.
Therefore, to take full advantage of SSD NAS, you should make sure other factors will not limit the performance of SSDs.