Spotify Free users will listen to ads every few songs. Do you want to block ads on Spotify for free? This post from MiniTool Partition Wizard recommends 8 free Spotify ad blockers to you. You can have a try.
Does Spotify Have Ads?
Spotify is one of the largest music streaming service providers, with over 456 million monthly active users as of September 2022. It offers digital copyright-restricted recorded music and podcasts, including more than 82 million songs, from record labels and media companies.
Does Spotify have ads? Yes, it has, but the ads are just for free users. Spotify has a free version and a premium version. The premium version offers full features and has no ads, while the free version doesn't include additional features, such as offline listening and commercial-free listening, and has ads.  
Why does Spotify have so many ads? In general, free users will listen to an ad or two between every 2-5 songs, contributing to Spotify revenue.
Why am I getting ads after every song on Spotify? Some Spotify app users may complain about this issue. This issue is a bug. Users can solve the problem by logging out and logging in twice. If this method doesn't work, try clearing the Spotify app's cache or performing a re-install.
How to Block Spotify Ads
You may want to make Spotify no ads even if you are a free user. How to block Spotify ads? If you play Spotify on web browsers, you need to use extensions to adblock Spotify. If you use the Spotify app, you need to use Spotify ad blockers.
In this part, I will recommend several free Spotify ad blockers to you. With them, you can block ads on Spotify without upgrading to premium.
Extensions
If you are using Google Chrome, you can use SpotiAds or Spotify Ad Remover. If you are a Firefox user, you can use the Spotify ad blocker extension.
EZBlocker
EZBlocker can help you adblock Spotify on Windows. It will attempt to block ads on Spotify from loading. If an ad does load, EZBlocker will mute Spotify until the ad is over. When Spotify is muted, no other sounds will be affected.
EZBlocker doesn't require installation. You just need to launch the executable file and select the checkbox next to Start EZBlocker on Login and Start Spotify with EZBlocker. Then, it will remove ads from Spotify in the background.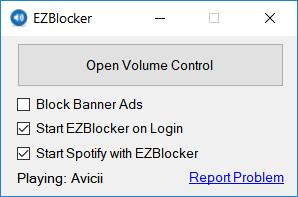 BlockTheSpot
BlockTheSpot is one of the best Spotify ad blockers on Windows. It will remove audio, video, and banner ads from Spotify's app. Spotify updates might stop the ad-blocking but you can just run the .bat file from BlockTheSpot's folder, and it should start working again. 
Spotify Ad Blockers for Other Platforms
How to make Spotify no ads on macOS, Linux, Android, and iOS platforms? Here are some tools.
spotify-adblock (Linux): It blocks requests to domains that are not on the allowlist, as well as URLs that are on the denylist.
SpotifyAdBlocker-macOS: Install the Spotify app and follow the instructions on the GitHub page before opening the app.
Mutify (Android & iOS): It will turn down the volume of the ads automatically when an ad is detected on Spotify. But please remember to enable "Device Broadcast Status" in Spotify settings for Mutify to work.
How to Clear Recently Played on Spotify (Desktop/Web/Mobile)
Bottom Line
MiniTool Partition Wizard can help you clone the operating system, manage disks, and recover data. If you have this need, you can download it from the official website.