Have you heard that the new Windows 11 Security feature will require a PC reset? This feature is Smart App Control. In this post, MiniTool Partition Wizard introduces Smart App Control to you and shows you how to turn it on or off.
New Windows Security Feature Will Require PC Reset
On March 2, 2022, Microsoft released Windows 11 Insider Preview Build 22567 to the Dev Channel. In this update, one of the notable changes is the Smart App Control feature. It is a new security feature for Windows 11 that blocks untrusted or potentially dangerous applications.
When you try to run an app on Windows, Smart App Control will check whether it is a safe process, on the basis of Microsoft's intelligent cloud-powered security service and signature. If Smart App Control predicts an app is not safe, it will prevent the app from running.  
It may sound like a regular antivirus, but it's a bit more advanced than that. Antivirus programs run on top of the operating system, while Smart App Control will be embedded within Windows 11 itself.
How to get this feature? You need to reset your PC or reinstall Windows 11 on your PC to get this feature because this feature requires a clean installation of Windows 11. In addition, if you have turned this feature on and then off, you cannot turn on it again unless you reset Windows 11. 
This feature is also more strict than regular antivirus software. There is no interface or means to allow specific applications to pass through Smart App Control. It is either on or off. Therefore, it's worth carefully thinking about whether to turn on this feature.
Tips:
Microsoft recommends using Smart App Control and antivirus software at the same time, but not replacing antivirus software with Smart App Control.
How to Turn on or off Smart App Control
Open Windows Security by clicking the shield icon on the low-right corner.
Click App & browser control on the left.
Under the Smart App Control section, click on Smart App Control settings. In there, you can turn on or off Smart App Control.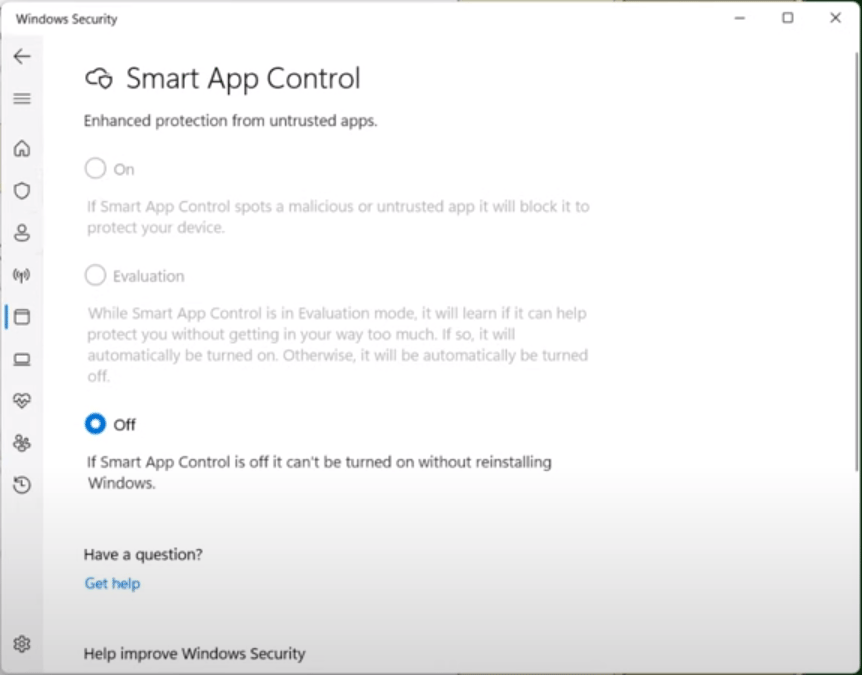 Smart App Control has three modes: On, Evaluation, and Off. Some people may don't know what is the Evaluation mode. This mode is enabled first by default. In this mode, Smart App Control will not block anything, but evaluate if it is going to get in your way too often.
If it is, it will automatically be turned off. If it is not, it will be turned on. Once the evaluation is complete, or if you manually switch Smart App Control on or off, you won't be able to return to evaluation mode unless you reinstall or reset Windows.
Bottom Line
In this post, I have introduced Smart App Control. This new Windows 11 Security feature will require a PC reset to turn it on. In addition, it may also block some open-source apps that have no signature. Therefore, it's worth thinking about whether to turn on the feature. 
Are you interested in MiniTool Partition Wizard? This software can help you back up PC, manage disks better, and recover data. If you have this need, you can download it from the official website.