Is your Roblox account hacked? This post from MiniTool Partition Wizard offers you 3 ways to get back the hacked Roblox account. It also shows you how to enable 2-step verification to prevent such things happening again.
Roblox Account Hacked Issue
Roblox is a massively multiplayer online game creation platform developed by Roblox. The platform allows users to design their own games, items, T-shirts and clothes, and play various different types of games created by themselves and other developers.
Roblox has millions of players and its popularity is growing daily. There are some people who want to get something for nothing and they may hack Roblox accounts to steal Robux, currently the only currency in Roblox.
With no doubt, hacking games or compromising accounts is a violation of Roblox's Terms of Use. Any account caught hacking games or accessing accounts they don't own will be moderated, including possible account deletion.
But there are still many people searching online how to hack a Roblox account or how to hack in Roblox. They may use the skill learnt from somewhere to hack your Roblox account. If you find your Roblox account has been hacked, you can try the following methods to recover your account.
How to Get Your Roblox Account Back
Before proceeding Roblox account recovery, please get rid of any malware first. Otherwise, the hacker will get your account and password again.
1. Change the Password
If you can log into your account still, you can change the password prevent the hacker from logging into your account again. Here is the guide:
Log into your account.
Go to account Settings. In browser, you should find the gear-icon located at the upper-right corner of the site. In Mobile apps, you should find the three dots icon for More.
Select the Account Info tab. 
Select the Change Password button.
Enter your current Roblox password and the new password.
2. Recover the Password Through Email or Phone Number
If the hacker has changed your password, you can use this method. Here are steps:
Go to Roblox login page.
Click Forgot Password or Username. If you want to use phone number to recover your account, please click Use phone number to reset password.
Enter your email and click Submit. Then, open the email from Roblox and click Reset Password.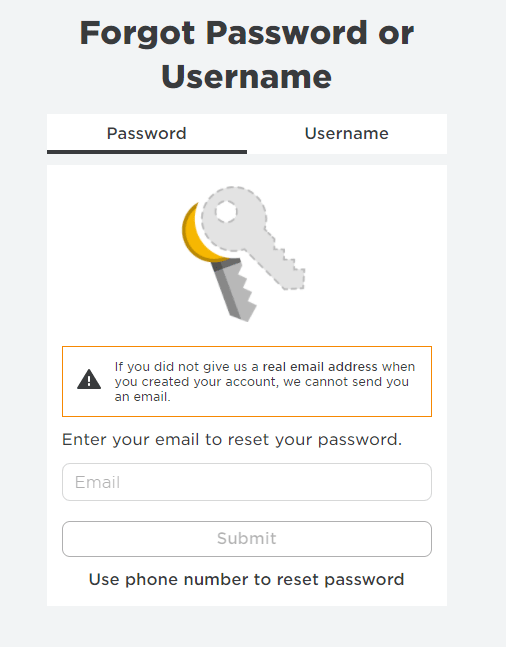 3. Contact Customer Service
If the above two ways fail to help you get back the Roblox account, you can try this method. But you need to prove that you are the original account owner. For example, you can contact them from the first email address added to the account, or from the billing email address that was used for the very first payment made on the account.
If your account did not have an email address or a credit card/PayPal purchase, you can provide other information to prove that you are the original account owner.
Enable 2-Step Verification
After recovering your account, to prevent Roblox account hacked issue from happen again, you can enable 2-step verification. Here is the guide:
Log into your account.
Verify your email address. To do this, please go to account Settings > Account Info tab, and then select the Verify Email An email will be sent to your email address. Find that email in your inbox, and follow the instructions in the email.
Go to account Settings > Security tab to turn on Two Step Verification.