If you have tried, you might find that there is no option to delete the account in your Roblox. How to delete Roblox accounts? Don't worry. In this post, MiniTool Partition Wizard provides you with a detailed tutorial.
Roblox is a global game platform that brings people together through play developed by Roblox Corporation. It allows users to program games and play games created by others. This service is quite popular among children.
If you are bored with it or you don't need to play it anymore, you might want to completely delete the Roblox account. However, Roblox doesn't provide straightforward access to deleting an account. To delete Roblox accounts, you can try one of the following methods.
Tip: Please note that you will be unable to get your account back once it is deleted completely, whatever methods you use. If you think that you might need to use your account in the future, do not delete it.
Method 1: Contact Roblox Support Online
As for how to delete Roblox account, you can contact Roblox customer support online to ask them to delete your account.
You just need to:
Step 1: Open your favorite web browser and visit the official Roblox support page.
Step 2: Fill the online support form, including your email address, account name, and issue details.
Under the Type of help category section, select Billing & Payments > Cancel Membership.
Under the Description of issue section, politely ask the support team to delete your account. For instance, you can type "Please delete my account completely. Thank you".
Step 3: Then click Submit to confirm the operation.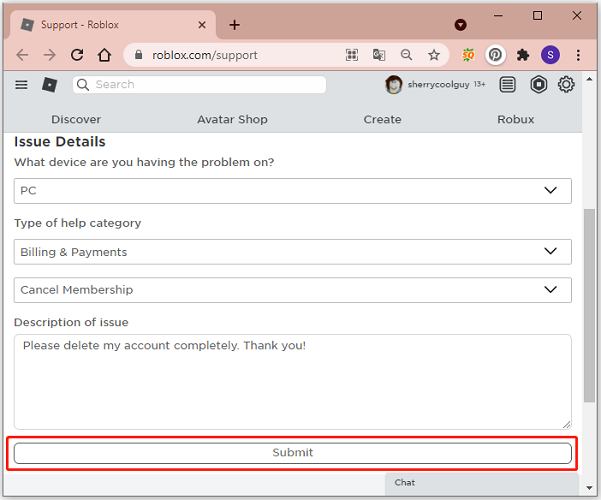 After that, you will be contacted to verify your identity before the support team deletes your account. And you might need to wait for several days before your account is completely deleted.
Method 2: Send an Email to Roblox Account
This is an alternative way to the first method. You can send an email to Roblox support via  "[email protected]" and request to delete your account. Also, you'd better add your email, phone number, address, account name, and other required information for successful verification.
Method 3: Call Roblox Support
How to delete Roblox account if you don't want to cost time to wait for email responses? You can call 888-5-858-BLOX for help. Some information for verification is also required. And you just need to speak to the help center and follow their instruction to delete Roblox Support.
Method 4: Don't Use Your Account
Roblox deletes inactive accounts so that it can free up space on the servers for new players. If you don't log in to your account for more than one year, your account will be deleted automatically.
Another way to delete your Roblox account is to break the terms and conditions. It is not recommended, but if your account has been banned three times, it will be ultimately deleted by Roblox automatically. This is not a normal option, but it also works.
Further Tip: How to Uninstall Roblox
After knowing how to delete a Roblox account, you might also need to uninstall the application, since you won't use it anymore.
On a Windows PC, you just need to go to the Control Panel and find the option "Uninstall a program". Then right-click your Roblox and select Uninstall. Follow the on-screen instructions to finish the operation. Alternatively, you can use a third-party uninstaller to remove your Roblox.