Raspberry Pi is a Linux-based single-chip computer, only the size of a credit card. Its purpose is to promote basic computer science education in schools with low-cost hardware and free software. However, with the release of Windows 10 IoT, we will also be able to use Raspberry Pi running Windows.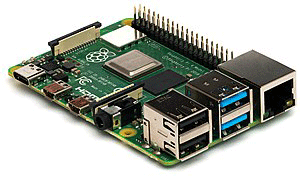 Raspberry Pi is not the only one choice for the single board computer. There are many excellent Raspberry Pi alternatives. In the following content, 5 Raspberry Pi alternatives are listed. If you don't want use Raspberry Pi, you can try them.
1. Onion Omega2+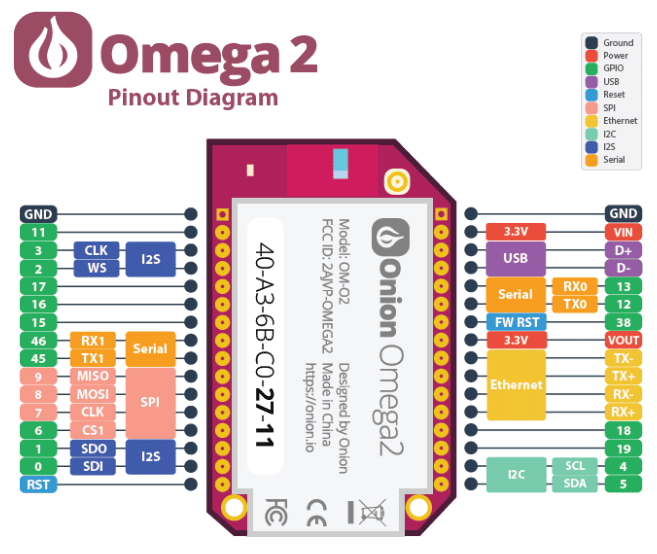 CPU: 580MHz MIPS CPU
Memory: 128MB Memory
Storage: 32MB Storage
USB: USB 2.0
MicroSD Slot: Yes
WiFi adapter: b/g/n Wi-Fi
GPIOs: 18
PWM: 2
UART: 2
I2C: 1
SPI: 1
I2S: 1
The Omega2+ runs on LEDE (Linux Embedded Development Environment) Linux OS – a distribution based on OpenWRT. Its outstanding character is its cheap price, making it ideal for Internet of Things projects. On the other hand, its defects are the lack of a mini HDMI port.
2. NVIDIA Jetson Nano Developer Kit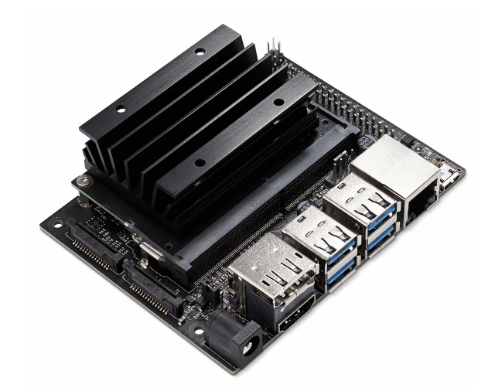 CPU: Quad-core ARM A57 @ 1.43 GHz
Memory: 4 GB 64-bit LPDDR4 25.6 GB/s
GPU: 128-core Maxwell
Storage: microSD (not included)
USB: 4x USB 3.0, USB 2.0 Micro-B
Video Encode: 4K @ 30 | 4x 1080p @ 30 | 9x 720p @ 30 (H.264/H.265)
Video Decode: 4K @ 60 | 2x 4K @ 30 | 8x 1080p @ 30 | 18x 720p @ 30 (H.264/H.265)
Camera: 2x MIPI CSI-2 DPHY lanes
Connectivity: Gigabit Ethernet, M.2 Key E
Display: HDMI and display port
Others: GPIO, I2C, I2S, SPI, UART
Mechanical: 69 mm x 45 mm, 260-pin edge connector
NVIDIA Jetson Nano Developer Kit is a small, powerful computer that lets you run multiple neural networks in parallel for applications like image classification, object detection, segmentation, and speech processing. It also comes with support for many popular AI frameworks, like TensorFlow, PyTorch, Caffe, and MXNet.
However, it's not a hobbyist tinker board and its price is not very cheap.
3. Banana Pi M3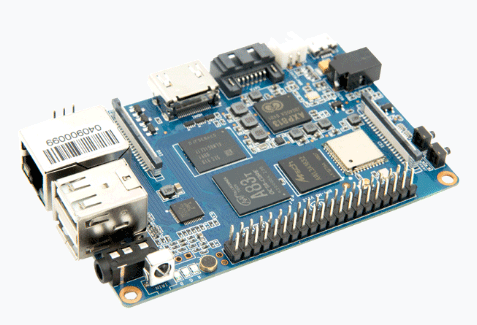 CPU: Allwinner A83T ARM Cortex-A7 Octa-Core 1.8 GHz
GPU: PowerVR SGX544MP1
Memory: 2 GB LPDDR3
Storage: 8G eMMC flash onboard; MicroSD slot; SATA 2.0 Port (USB-to-SATA bridge)
Network: 10/100/1000 Mbit/s Ethernet; Wi-Fi 802.11 b/g/n; Bluetooth 4.0
Video Output: HDMI port and multi-channel audio output/MIPI DSI for LCD
Video Input: CSI Camera interface
Audio Output:5mm jack and HDMI
USB ports: 2 x USB 2.0 ports; 1 x USB OTG
Audion input: onboard Mic
GPIO: GPIO (x28); Power (+5V, +3.3V and GND); UART, I2C, SPI or PWM
Power Input: 5 volt @2A
Size&Weight: 92x60mm, 48g
OS: Android and Linux
Banana PI M3 has strong compatibility and can run on Android system, Debian linux, Ubuntu linux, Raspberry Pi system and cubieboard system. In addition, it can easily run games like Quake III: Arena, and support 2K HD video output.
4. Odroid-XU4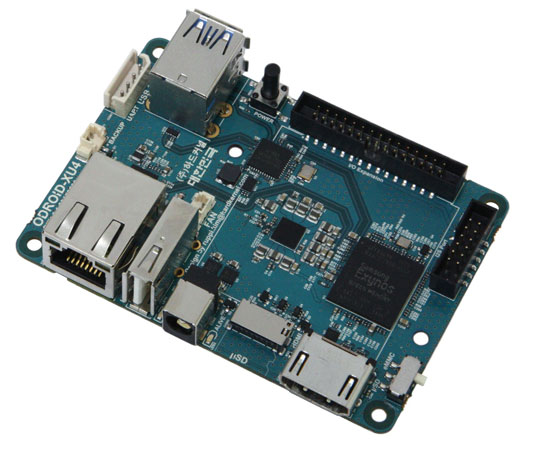 CPU: Samsung Exynos5422 Cortex-A15 2Ghz and Cortex-A7 Octa core CPUs
GPU: Mali-T628 MP6(OpenGL ES 3.1/2.0/1.1 and OpenCL 1.2 Full profile)
Memory: 2Gbyte LPDDR3 RAM PoP stacked
Storage:0 HS400 Flash Storage
USB: 2 x USB 3.0 Host, 1 x USB 2.0 Host
Connectivity: Gigabit Ethernet port; HDMI 1.4a for display
Size: 83 x 58 x 20 mm approx.(excluding cooler)
Power: 5V/4A input
OS: Linux Kernel 4.14 LTS
Odroid-XU4 is a new generation of computing device with more powerful, more energy-efficient hardware and a smaller form factor. It offers open source support and can run various flavors of Linux, including the latest Ubuntu 16.04 and Android 4.4 KitKat, 5.0 Lollipop and 7.1 Nougat.
With amazing data transfer speeds, it allows users to experience faster booting, web browsing, networking, and 3D games.
5. Asus Tinker Board S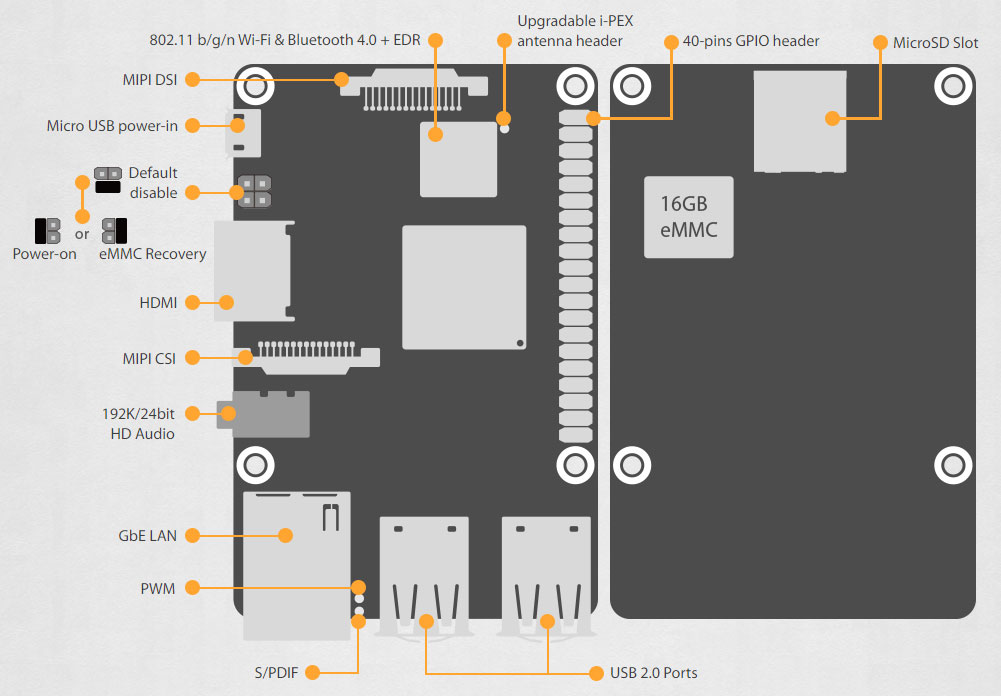 CPU: Cortex-A17 Quad-core 1.8GHz
Display: 1 x 15-pin MIPI DSI supports up to HD; 1 x HDMI up to 4K/30fps; HDMI CEC Hardware Ready
Memory: Dual-CH LPDDR3 2GB
Storage: Onboard 16GB eMMC; Micro SD(TF) card slot
Connectivity: 1 x GB LAN; 1 x wireless 802.11 b/g/n & BT 4.0 + EDR
Audio: RTL HD Codec with 1 x 3.5mm audio jack; Supports Plug-in Detection and Auto-Switch
USB: 4 x USB 2.0 ports
Internal Headers: 1 x 40-pin GPIO header w/ enhanced I2S; 1 x 2-pin eMMC recovery header; 1 x 2-pin Power-on header
Power Connector: Micro USB (5V/2~3A); Supports low voltage input detection
OS Support: Debian 9 / Android 6
The Tinker Board S is the second iteration of a single board computer by Asus, a major PC manufacturer. It offers greater durability, better stability and an overall improved user experience for DIY enthusiasts and makers everywhere.
The onboard 16GB eMMC storage enhances performance and stability; the microSD slot offers greater flexibility. The HDMI-CEC-ready for complete video entertainment allows users to command both Tinker Board S and a TV with a single remote control.