As mass storage medium, RAID is widely used in server and has become the indispensable storage device of highly reliable network solution. Many people assume that RAID management is complicated for ordinary user. In fact, it is very simple as long as you use a professional RAID Partition Manager.
What Is RAID?
We heard about RAID partition frequently but actually many people don't know what is RAID, let's see how Wikipedia explain.
RAID (Redundant Array of Independent Disks, originally Redundant Array of Inexpensive Disks) is a data storage virtualization technology that combines multiple physical disk drive components into one or more logical units for the purposes of data redundancy, performance improvement, or both.
Data is distributed across the drives in one of several ways, referred to as RAID levels, depending on the required level of redundancy and performance. The different schemes, or data distribution layouts, are named by the word "RAID" followed by a number, for example RAID 0 or RAID 1. Each scheme, or RAID level, provides a different balance among the key goals: reliability, availability, performance, and capacity. RAID levels greater than RAID 0 provide protection against unrecoverable sector read errors, as well as against failures of whole physical drives.From Wikipedia
From the above introduction, we can see that RAID is made up by several disks that have similar performance by certain order and Disk Array Controller. RAID has features of high speed, large capacity, and high security, etc. With redundancy error check technique, mirrored data, data segmentation and parity check technique, etc, it keeps its reliability of device and data. It is the intelligent disk array that also has high fault-tolerant function.
Now, with the development of RAID technique, we have 7 levels from RAID 0 to RAID 6, and other RAID forms such as RAID 10 and RAID 50. Different levels of RAID represent different storage performance, data security, and storage cost. Users can choose from them according to different conditions. RAID has become the first choice of enterprises' servers.
Choose a Right RAID Partition Manager
For better RAID management, you need a great RAID partition manager. RAID uses more than two physical disks, but RAID partition manager takes all disks as a whole. Not all disk management software supports dynamic disk management and RAID partition management. Windows built-in disk management is a free RAID management software. When you right-click a RAID partition, you can see the features that Disk Management can provide.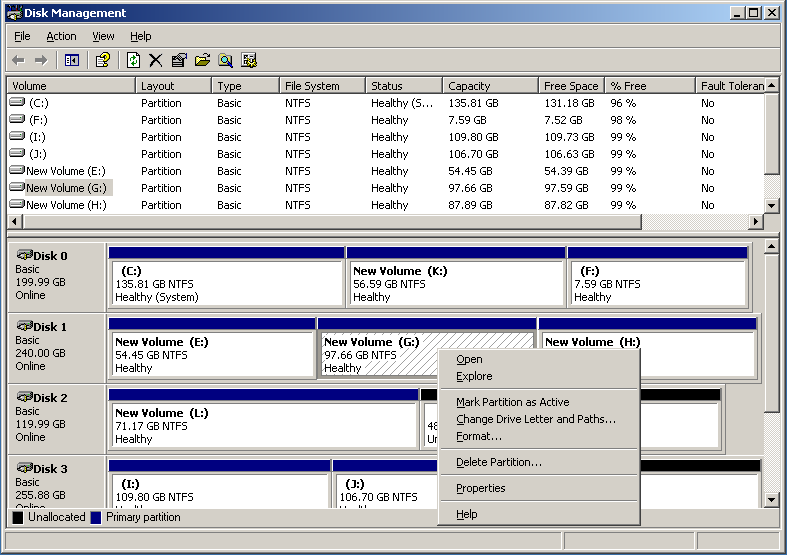 Although Disk Management is a free RAID Partition management software, it has a lot functions unavailable, like resizing volume in some situations and extending volume, as you can see from the above picture. In this case, I will recommend you another RAID Partition management software – MiniTool Partition Wizard.
MiniTool Partition Wizard Server Edition is a professional RAID management tool trusted by millions of people. This professional RAID partition manager supports basic type from RAID 0 to RAID 6, and other forms like RAID 10 and RAID 50. It provides users with the best solution of management. Let's see what MiniTool Partition Wizard can do for us to manage RAID.
Firstly, you need to get the RAID partition manager by clicking the following button. Then install it on your computer, get it registered and launch it to get its main interface.
This is main interface of MiniTool Partition Wizard Server Edition. Selecting partition or selecting disk, it will show different management functions.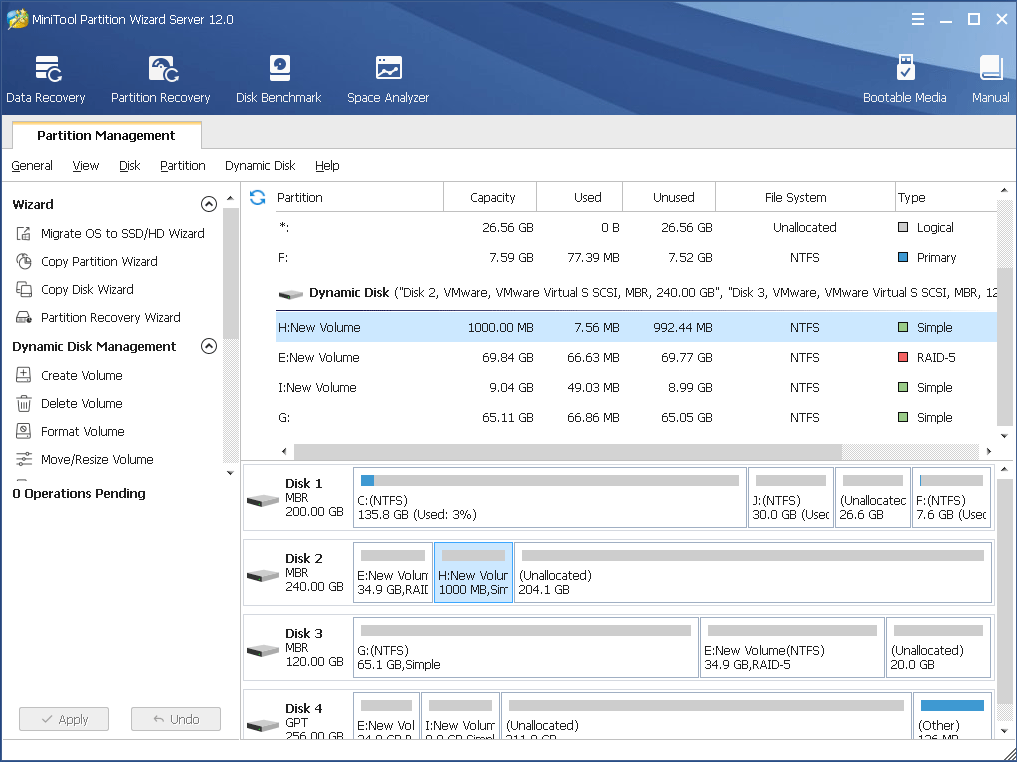 As you can see, when you select one partition in RAID, the Dynamic disk Management area will show various partition management functions. For different types of volumes and disks, MiniTool Partition Wizard will provide different functions. Here I will show you a few of frequently used functions of the RAID partition software.
Move/Resize Volume
With this function, you can resize volume or change volume position easily. See detailed steps as below.
Step 1. Select the RAID volume and choose Move/Resize volume on the left action panel.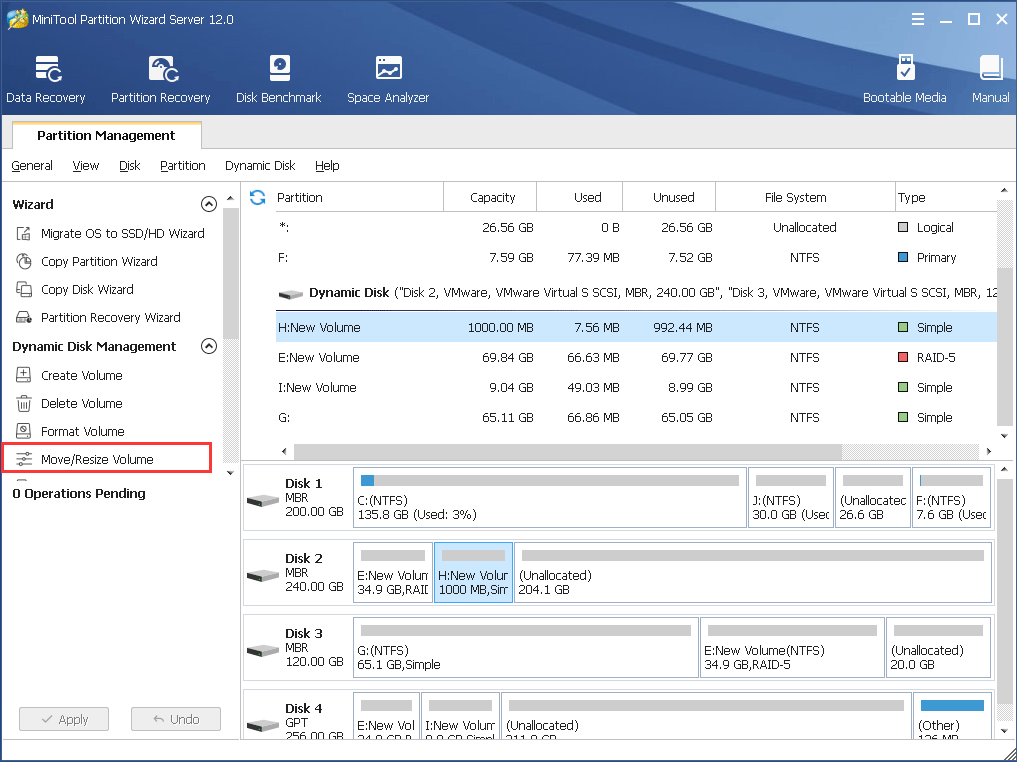 Step 2. Specify the size and location of the volume. MiniTool Partition Wizard provides users with two ways to resize: dragging the partition handle or inputting values in textboxes. Besides, remember to check the Using Enhanced Data Protecting Mode to ensure data security.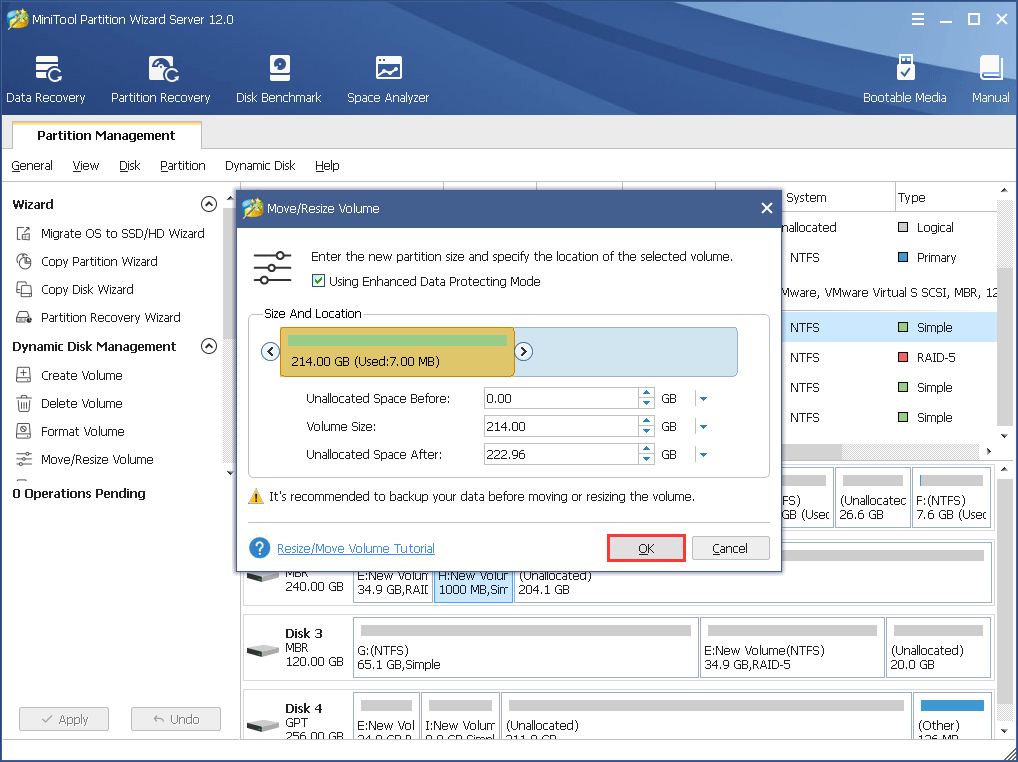 Step 3. Don't forget to click Apply on the upper left corner at last. And it will ask for a Restart. You just need to follow the instruction and everything will go smoothly.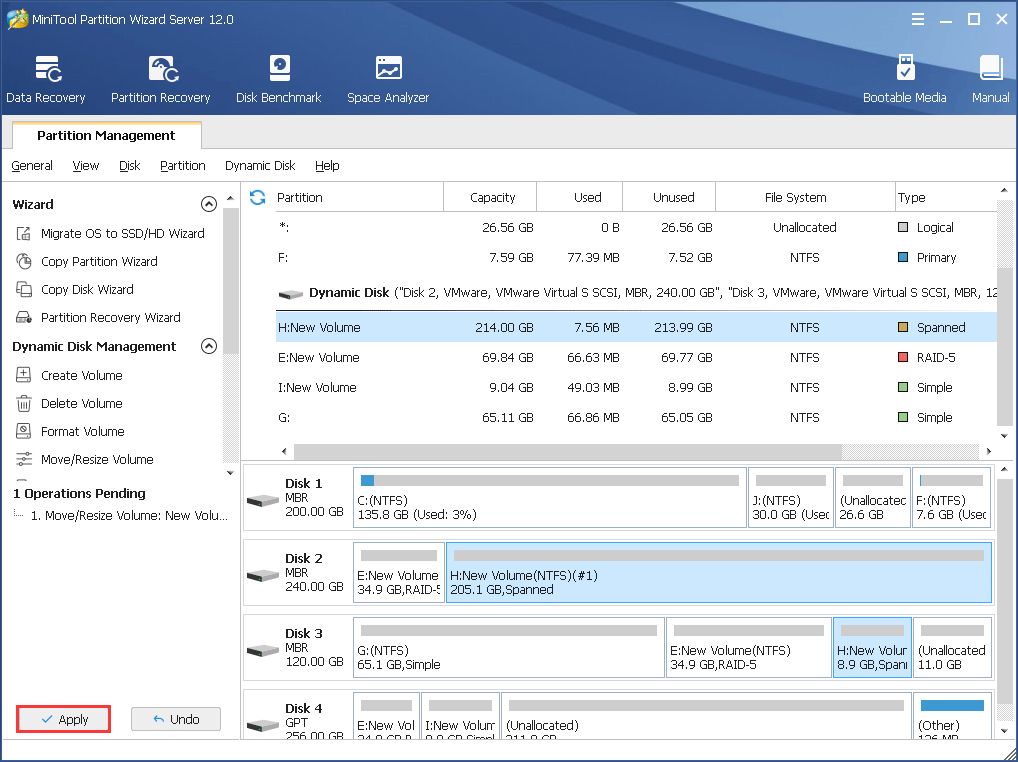 Copy Volume
You may backup RAID volume by using MiniTool Partition Wizard's Copy Volume feature.
Step 1. Select the RAID volume and choose Copy Volume.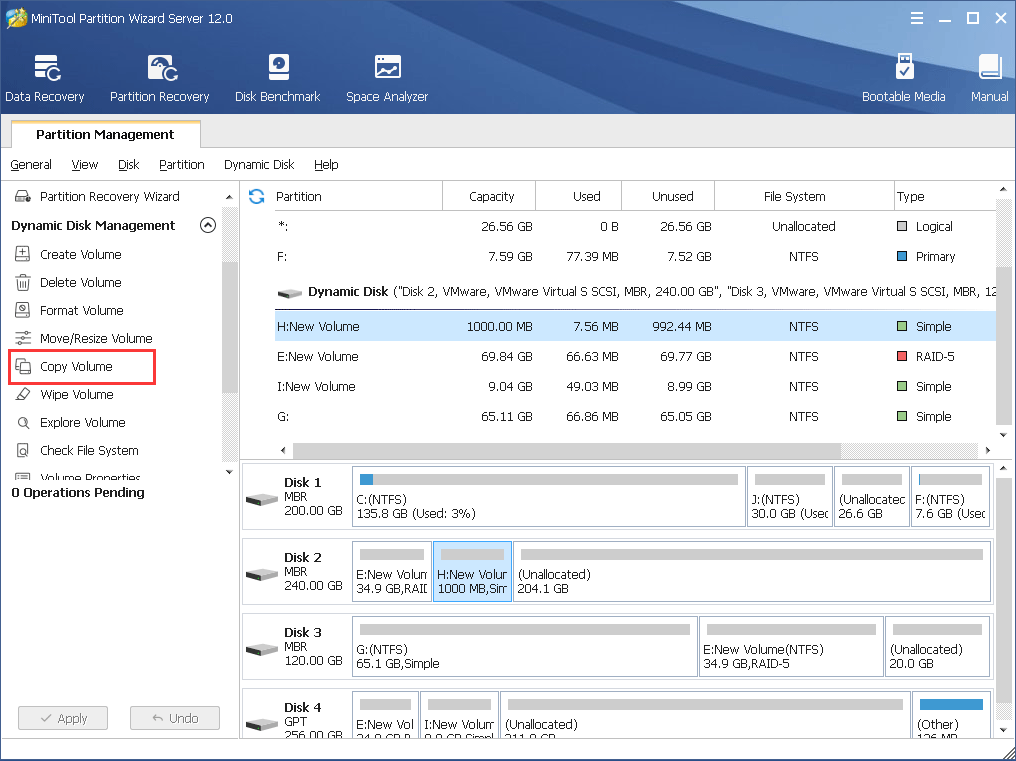 Step 2. Choose where you would like to create the copy. After you click Next, it will remind you that the data on the destination volume will be destroyed, please make sure there is no important files and data on the volume.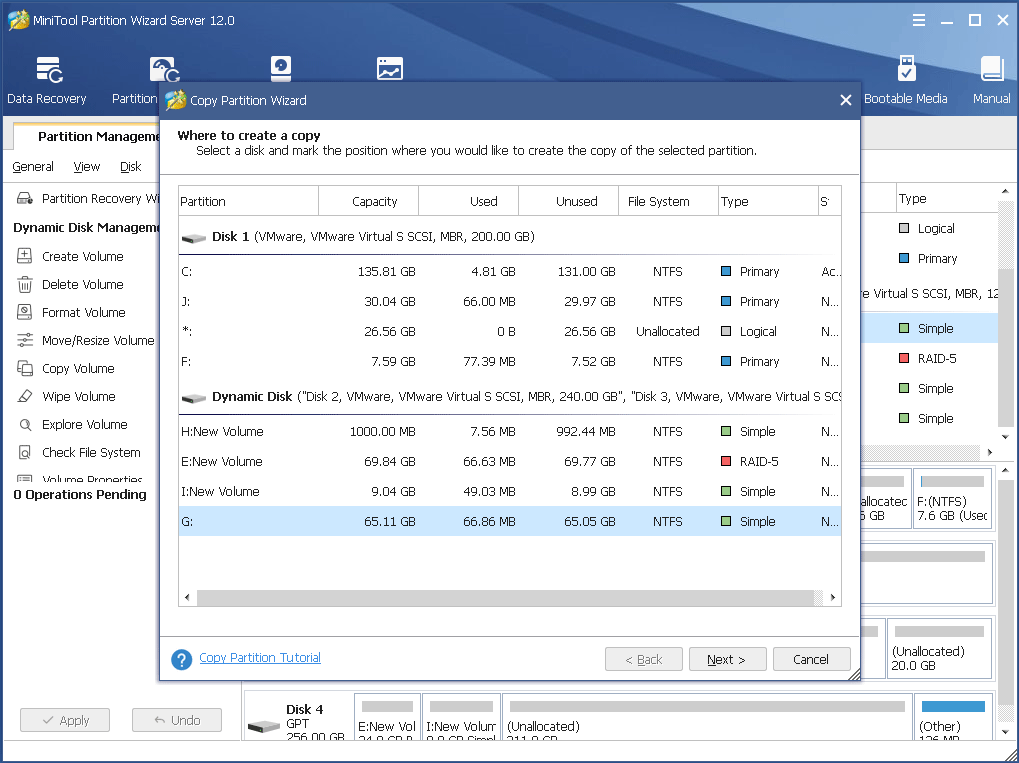 Step 3. You may also change the destination volume size by dragging the handle bar or inputting a specified number. Then click Finish.
Step 4. Don't forget to click Apply at last.
You see! With MiniTool Partition Wizard, you can manage RAID partition in just a few clicks. Besides, the RAID partition manager can also help you format partition, change cluster size and so on. For such a powerful and professional RAID partition manager, don't hesitate to get one!
"MiniTool Partition Wizard Server Edition is the best RAID partition manager I have ever used. With the help of it, I save much time in managing RAID partition. I'd like to share this post with more friends who want to choose a reliable RAID partition manager."Click to Tweet
Bottom Line
These are only one small part of comprehensive functions of MiniTool Partition Wizard Server Edition. This RAID partition software can also copy disk, migrate OS to SSD and so on. If you are looking for a RAID partition manager or RAID partition software, you may try this one.
If you have any question about this RAID partition manager or about RAID management, you can leave a message on the following comment zone and we will reply as soon as possible. If you need any help when using MiniTool software, you may contact us via [email protected].