What causes your PS4 freezing? What can you do when your PS4 froze? In this post of MiniTool, possible causes for the issue and 8 troubleshooting methods are provided for you. With this guide, you will not be confused by the PS4 keeps freezing issue.
What Causes PS4 Froze
PlayStation 4 (PS4) is a famous game console, which obtains wide popularity across the world. However, it also has many issues such as PS4 cannot access system storage, PS4 data missing, etc. PS4 froze or PS4 lagging is also one of those vexing problems that PS4 users may encounter.
There are plenty of cases for the freezing or lagging. For instance, the console could freeze or lag when playing game or installing game. However, no certain cause for the PS4 froze issue, and there are multiple factors that can result in it. They can be divided into logical elements and physical elements.
Logical elements
Unsuccessful game/application installation
Incompatibility issues with the current PS4 system software version
Program conflicts
Incomplete/unsuccessful update
Mess database
Physical elements
Defective peripheral device connected to PS4
PS4 overheated
Errors with the PS4 internal components
Defective internal PS4 hard drive
Slow Internet connection
As for these possible causes, this post provides you with some solutions to fix the PS4 pro freezing issue. Now, let's begin reading them one by one.
You may also like: 4 Frequently Encountered PS4 Problems and Corresponding Fixes
Solution 1: Troubleshoot the Hardware Issue on PS4
Hardware issues such as overheating, wrong plug-in cables can cause PS4 froze. Therefore, if you encounter the PS4 freezing issue, you should troubleshoot hardware issues before taking any other solutions.
Here are some measures to take to troubleshoot hardware issues. The first one is to put your PS4 in an open space. If there's not enough space for the air to cool down the fan, PS4 machine can be overheated and suck in. While doing so, the PS4 can cool down quickly.
Besides, you should clean the dust on your PS4 machine periodically to keep it under maintenance. It is also necessary to check if all the cables and ports are plugged in a correct way. If the cable is plugged in a wrong port or the cable gets loose, the PS4 froze issue will happen to you.
Based on that fact, you'd better perform a full check to see if all cables and ports are plugged correctly and tightly.
Solution 2: Check and Optimize the Internet Connection
A slow Internet connection is also responsible for PS4 frozen. If you want to get a wonderful game experience, you need to ensure that you have a good Internet connection. Hence, check the Internet connection after encountering the issue. If the Internet is the cause for the freezing, optimize it. Here are some options for you.
Option 1: Restart your WiFi router and modem to see if the Internet runs faster.
Option 2: You can buy a WiFi signal booster on online shopping malls to get a better WiFi performance.
Option 3: Connect the PS4 machine to Ethernet instead of WiFi.
Step 1: Connect the PS4 with the LAN cable.
Step 2: Navigate to PS4 Settings > Network > Set Up Internet Connection.
Step 3: In the pop-up window, choose the Use a LAN Cable option.
Step 4: Choose Custom, and then enter the network information from ISP according to the on-screen message.
Step 5: Select Don Not Use as your Proxy Server.
Step 6: After that, wait patiently for the finish of the process. When you see the Internet settings updated information, try to play PS4 games to check if the machine works normally.
Option 4: Forward ports to the PS4 machine to optimize Internet connection.
Step 1: Find the IP address, Username and Password on your wireless router.
Step 2: Open browsers on your computer or smartphone, and then type IP address in the browser and hit Enter.
Step 3: In the pop-up page, type the Username and Password, and then click on Login button.
Step 4: Go to the forward ports section.
Tip: The place may different according to different routers. It can be ports forwarding, Virtual Server, Applications or other places.
Step 5: Add custom forwarding ports. Here are some ports that are recommended by Sony.
80(TCP)
443(TCP)
3478(TCP and UDP)
3479(TCP and UDP)
3480(TCP)
Tip: When you add these ports, you need to give a name and assign your PS4 IP address to each of them.
Step 6: After that, apply the changes and check if the PS4 froze issue is fixed successfully.
Solution 3: Initialize PS4
Initializing PS4 to reset the system is also helpful for solving the PS4 freezing problem. Before initializing your machine, you need to read the following tips carefully.
Tip:
1.After initializing the PS4 system software, all settings and data that are stored will be deleted. More importantly, all of them are unrecoverable, but you can create PS4 backup files before starting the initialization.
2. Do not turn off your system while initialization. This action may damage your PS4 system.
If you are still sure to do so, please follow these steps.
Step 1: Go to PS4 Settings > Initialization > Initialize PS4 > Full one by one, and then operate according to the on-screen instruction.
Step 2: After the whole process ends, restore your backup data and reinstall the games and applications.
Step 3: Finally, check if the PS4 machine can work as usual.
Solution 4: Update PS4 System Software
When your PS4 firmware gets outdated, the machine may freeze or lag. So, updating PS4 system software is worth trying. Before starting the updating operation, you should close the games and applications that are running currently. Then, follow these steps.
Step 1: Connect PS4 with the Internet.
Step 2: Navigate to PS4 Settings > System Software Update.
Step 3: If there are any available updates, choose Update.
Tip: If your PS4 system is the newest version, you won't see this message. You can skip this solution and try other solutions instead.
Step 4: Wait for the finish of new PS4 system downloading. After that, you will see notifications. Go to Notifications > Downloads on your PS4 home screen, and then follow the given instruction to install the new update.
Step 5: Now, open the game and check if the machine can work properly.
Solution 5: Update PS4 Games or Applications to the Latest Version
You can try updating games or applications on PS4 to the latest version to fix the PS4 freezing on home screen issue. Here's how to do.
Step 1: On the PS4 home screen, choose the game or application that needs to be updated.
Step 2: Then, press the Options button on your PS4 controller and choose Check for Update option.
Step 3: Follow the wizard to download and install any available updates.
Step 4: After all the operations finish, reboot your PS4 to play games to check if it runs smoothly.
Solution 6: Check PS4 Hard Drive for Bad Sectors
A faulty hard drive can make a great reduction for the system running speed. It is suggested that you should check your PS4 hard drive for bad sectors or other issues. The Surface Test of MiniTool Partition Wizard can help you scan your hard drive for bad sectors.
You are able to finish the whole process in a few clicks. Besides, you can utilize this partition management expert to perform disk benchmark, format hard drive, migrate OS, wipe disk, etc. Don't hesitate to download it now!
MiniTool Partition Wizard FreeClick to Download100%Clean & Safe
After installation, follow these steps to finish the operation.
Step 1: Keep holding the Power button until you hear two beeps that indicates that your PS4 has been switched off completely.
Step 2: Disconnect all the cables that are connected to the console.
Step 3: Slide the hard disk bay cover (the lighting part) out to the left of the system, and then take out it.
Step 4: Connect the hard drive to your computer.
Step 5: Launch MiniTool Partition Wizard to enter its main interface.
Step 6: After selecting the target hard drive, click on the Surface Test option in the left action panel.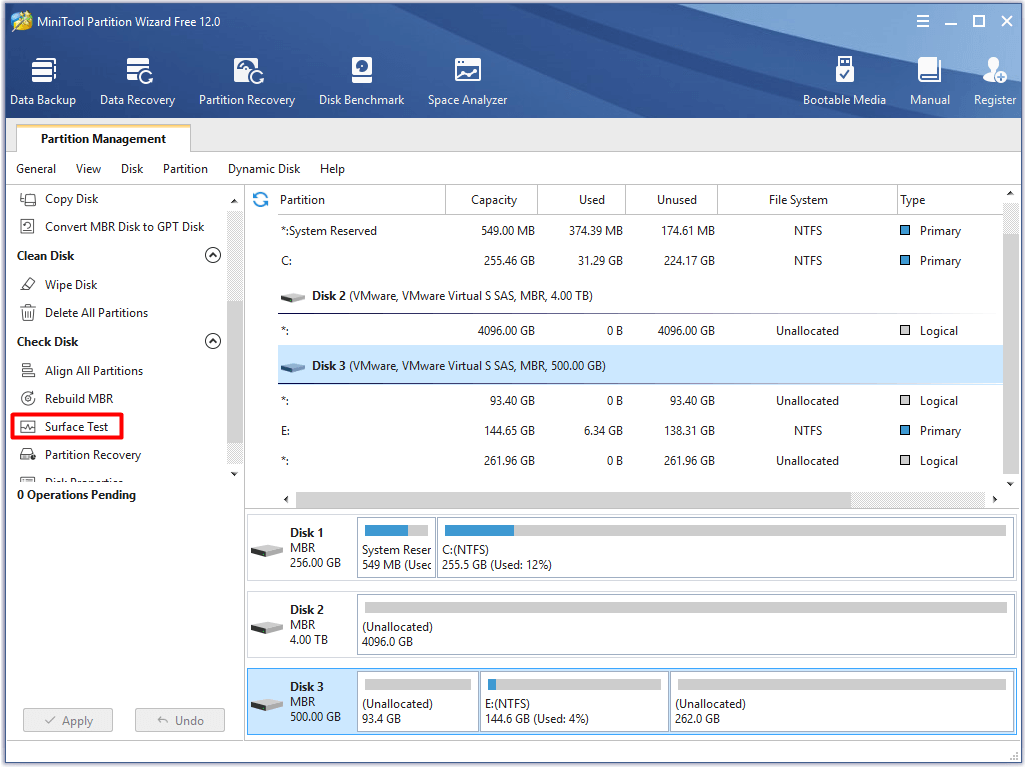 Step 7: In the next window, click Start Now. After that, MiniTool Partition Wizard will scan your drive automatically. You just need to wait for the finish of the scaning process. If there are red blocks on the scan results, it indicates that there are bad sectors on the hard drive. You should continue to fix the issue. If there not, plesase skip the following steps.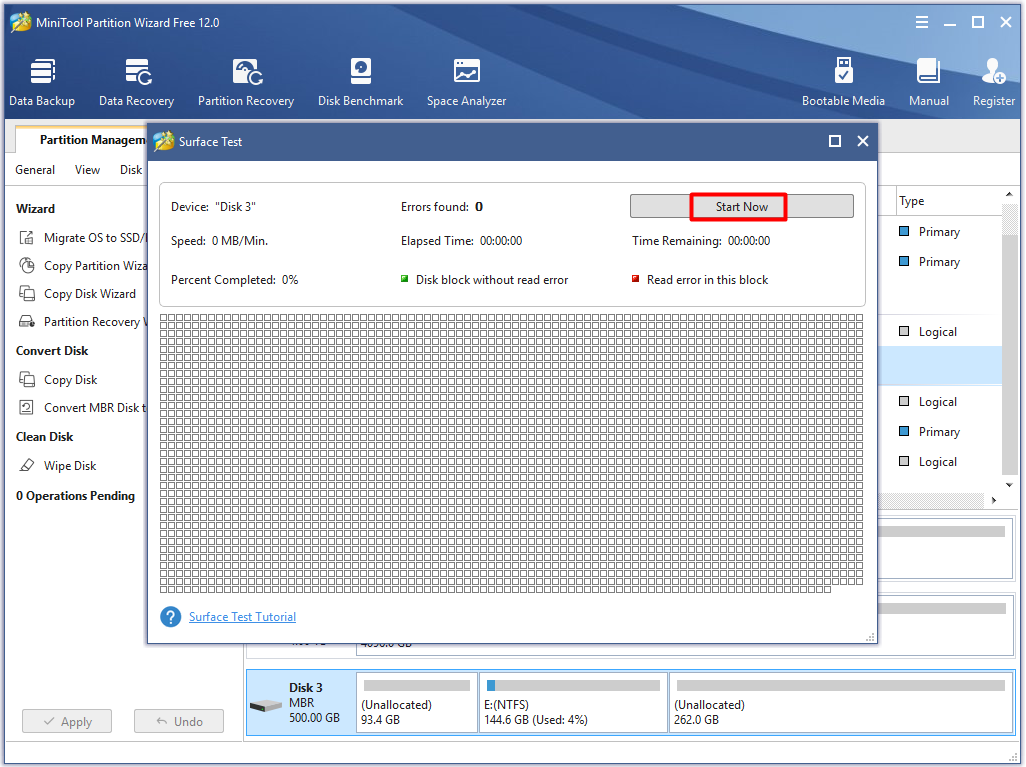 Step 8: Run Command Prompt as administrator in the search box.
Step 9: In the prompted window, type chkdsk n: /f /r (n stands for the PS4 hard drive) and hit Enter. Then, the program will scan and fix any detected issues with your drive.
Tip: Physical bad sectors cannot be fixed, but they can be mapped out to prevent them from being read and written. The above command is doing that operation.

If you hear some unusual sounds or find there's something wrong with the hard disk bay, it is obvious that the hard drive is faulty. Under this circumstance, you need to replace the faulty hard drive with a new one. Repeat the above Step 1 to Step 3, and then put the new hard drive into the hard disk bay.
Solution 7: Free up PS4 Disk Space
If the system storage space is not enough, you need to free up some space for it. You can try 3 Different Ways to Delete Games on PS4 to Free up Space at first. If the space is still not enough, you can take out the PS4 hard drive and delete files on it.
The Wipe Disk feature of MiniTool Partition Wizard enables you to delete all the data on the hard drive immediately. This way is very direct. Of course, you should ensure that all the files on the hard drive are useless or backed up in advance.
MiniTool Partition Wizard FreeClick to Download100%Clean & Safe
Step 1: Repeat the Step 1 to Step 5 of Solution 6, and then right click the PS4 hard drive and click on the Wipe Disk option in the pop-up menu.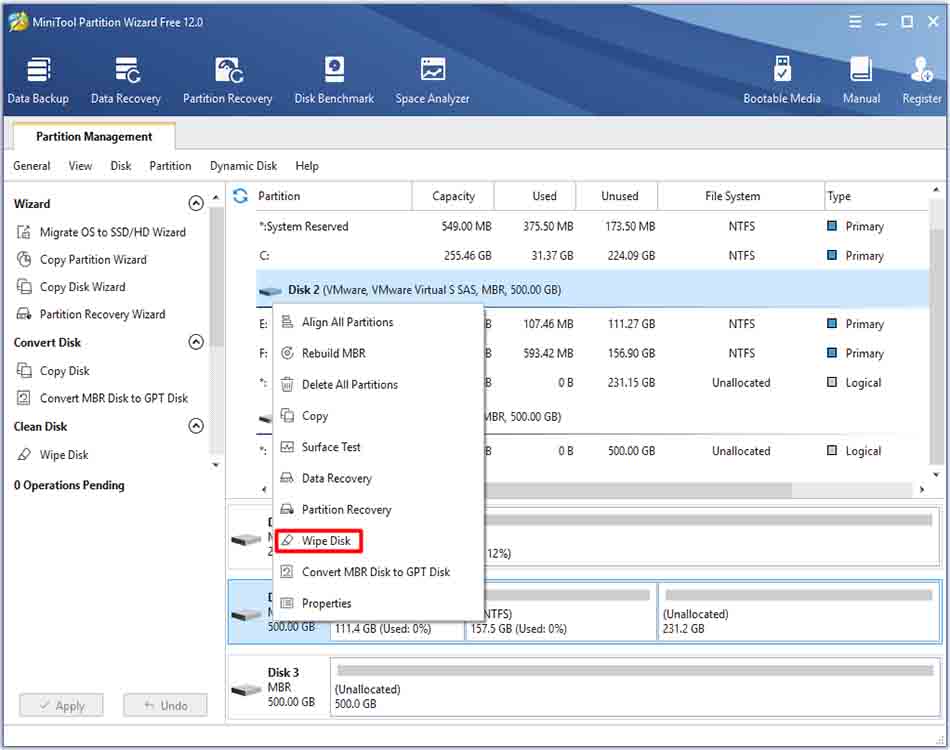 Step 2: After selecting the Wipe Disk option, you are required to choose a wiping method and click OK to save the change. Then, click on Apply to carry out the operation and make the operation take effect.
Tip: While the wiping time is longer, the data security level is higher.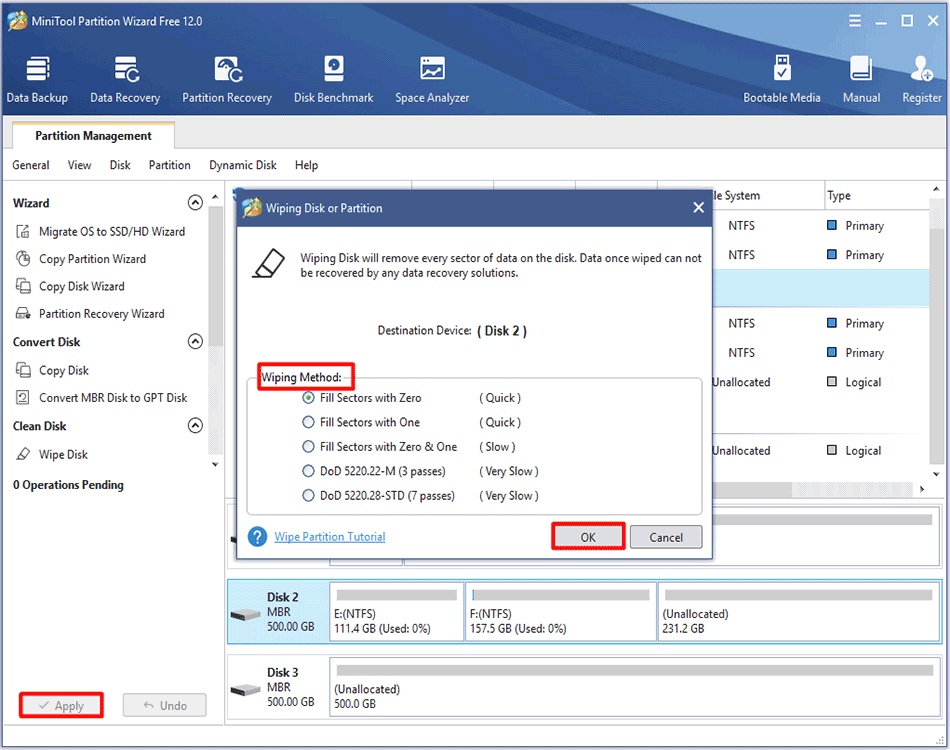 After wiping or deleting the files on the hard drive, you need to put it back to the PS4 console. Now, check if the PS4 keeps freezing issue is fixed.
Solution 8: Rebuild PS4 Database
If you have used the PS4 for rather a long time, its database may start to lag, which results in low efficiency and PS running slow. Rebuilding database will improve the performance of console greatly and fix the freezing or lagging. Here are steps for that.
Step 1: Press the Power button for at least 7 seconds to turn off the PS4. If you hear two beeps, it implies that your machine is totally off.
Step 2: Hold the Power button about 7 seconds to enter the Safe Mode. If you hear two beeps, it indicates that you are in Safe Mode successfully.
Step 3: As Bluetooth is inactive in Safe Mode, you need to connect your DualShock 4 controller to the PS4 through a USB cable.
Step 4: Drop down the menu and choose Rebuild Database. Then, the program will scan the drive and create a new database of all content.
Tip: The time that this operation takes depending on the type and number of data item.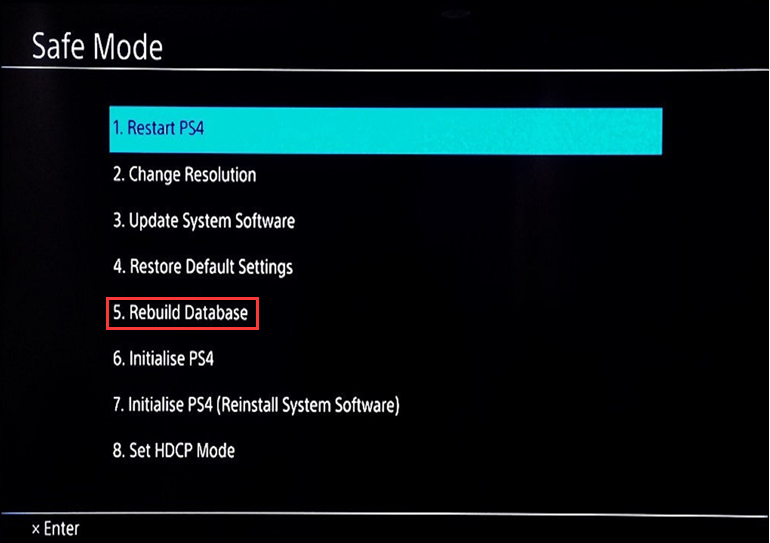 With the methods given by this post of MiniTool, I fixed the PS4 lagging issue successfully. Are you bothered by PS4 keeps freezing issue now? Read this post and get the solutions. Click to Tweet
Conclusion
Are you bothered by PS4 froze? The 8 solutions in this post can be useful for you. If you are not sure that which factor leads to the issue after reading the potential causes, try all the given solutions one after another until you solve the issue successfully.
If you have any doubt or advice about our MiniTool software, please contact us by writing an email via [email protected].
PS4 Froze FAQ
Why did my PS4 freeze?
There are some factors that can cause PS4 freeze like the PS4 system overheating, network connectivity issues. Fortunately, you can solve the PS4 froze issue by taking some measures.
How do you unfreeze PS4 game?
There are 8 available methods for you.
Troubleshoot PS4 hardware issue
Check and optimize Internet connection
Initialize PS4
Update the firmware of PS4
Update games/applications on PS4 to the newest version
Check PS4 hard drive for bad sector and repair it
Free up PS4 disk space
Rebuild PS4 database
How do I know if my PS4 hard drive is failing?
If you find the following signs, your PS4 hard drive may be failing.
The PS4 hard drive gets unusual or excessive heating.
.Repeated read or write disk errors occur.
.When booting or executing tasks, PS4 often crashes or freezes.
Folders and files become unavailable.
.PS4 system is unable to recognize hard drive or it shows nonsensical characters.
There are unusual noises on your PS4, such as unexplained clicking, screening or grinding.
How do I fix a corrupted hard drive?
You can fix a corrupted hard drive via the following 4 methods.
Repair disk with CHKDSK command
Fix hard drive with MiniTool Partition Wizard
Repair disk through SFC utility
Fix hard disk via Windows Startup Repair