This post of
MiniTool
mainly talks about
PCSX2 BIOS
including its basic information, main features, download, installation, and setup. On that basis, it further illustrates you how to load PS2 ISO files to PCSX2 emulator.
What Is PCSX2 BIOS
PS2 BIOS are files that enable you to run Play Station 2 Roms on your PC. It means that you can play PlayStation 2 games on your computer thanks to PCSX2 BIOS. It offers a chance for gamers who want to play PlayStation 2 games but they don't have a PlayStation 2 console.
Further reading:
You need to know that PCSX2 BIOS has the following features.
Add more options to control the game
Change and optimize the game engine
More stability when simulating the game
Cover more games to run and simulate
Make fundamental changes to run better games
Optimization of the possibility of passing through the frames
To use PS2 BIOS, you should have a PCSX2 emulator installed on your computer, Linux, macOS, etc. Here comes the need of PCSX2.
Tip: Though there are various emulators on the market, none of them can work as good as PCSX2 with PS2 BIOS.
PCSX2 (also called PS2), a free and open-source PS2 emulator for Windows, Android, iOS, Linux, and macOS, supports a wide range of PlayStation 2 video games. It has a high level of compatibility and functionality. It is built to emulate the PS2's hardware using a combination of MIPS CPU Interpreters, Recompilers, and a virtual machine used for managing hardware states and PS2 system memory.
Playing PS2 games on your computer with PCSX2 brings you some extra features and benefits. They are summarized as follows.
Custom resolutions and upscaling
Virtual and sharable memory cards
Save-states
Patching system
Internal recorder to achieve lossless quality at full speed
PCSX2 BIOS Download
Before starting the PCSX2 BIOS download process, you should download the PCSX2 emulator first. Click here to download it, and then find and double-click pcsx2-1.4.0-setup.exe in the install folder. Then follow the on-screen instructions to finish the installation operation.
To download PCSX2 BIOS, you should make sure that your computer meets the minimum system requirements as shown below. If you want to run it more smoothly, your PC needs to reach the recommended requirements.
Minimum requirements:
System: Windows 7 (or newer), Linux, or Ubuntu 18.04/Debian or newer, Arch Linux, or other distros (32 or 64 bit)
CPU: any support SSE2 (Pentium 4 and up, Athlon64 and up); two physical cores with hyperthreading
GPU: Direct3D10 support, OpenGL 3.x support, and PassMark G3D Mark rating around 3000 (GeForce GTX 750)
RAM: 4GB
Recommended requirements:
System: Windows 10 (64-bit), Ubuntu 19.04/Debian or newer, Arch Linux, or other distros (64 bit)
CPU: supports AVX2, PassMark Single Thread performance rating near or greater than 2100, four physical cores with or without hyperthreading
GPU: Direct3D11 support, OpenGL 4.5 support, PassMark G3D Mark rating around 6000 (GeForce GTX 1050)
RAM: 8GB
To get the PCSX2 BIOS download, you can refer to these steps.
Step 1: Click here to choose a version according to the versions and architectures of your PC system.
Step 2: Click the Download button to start the process.
Step 3: The PCSX2 BIOS will be downloaded automatically after you click the button. You just need to wait patiently for the finish of the process.
PCSX2 BIOS Setup
After downloading PCSX2 emulator and PCSX2 BIOS, you can start the PCSX2 BIOS setup process by following steps below now.
Step 1: Launch Emulator. If you do that for the first time, you will be prompted to choose a preferred language. Here, we choose English.
Step 2: In the next screen, you are required to choose different plugins. If you don't have specific demand, you can follow the default settings and move on.
Step 3: Choose the BIOS if you are asked to do so.
Step 4: Uncheck the Use default setting option and click on Browse.
Step 5: Choose the folder where you extract the BIOS file. Then all the BIOS will appear on the screen and you can choose a preferred one. It is recommended to choose the latest version.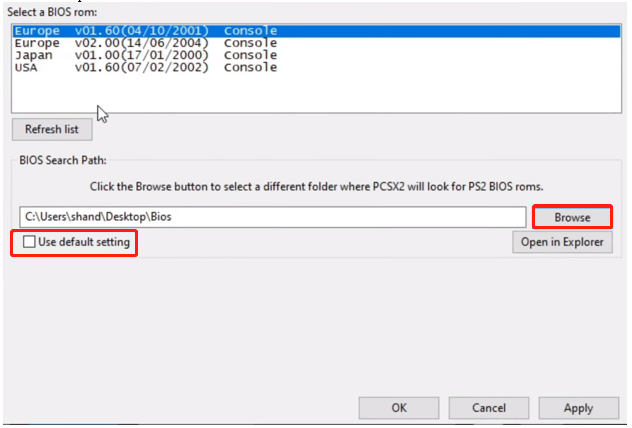 Step 6: Click Finish to complete the operation.
Tip: Alternatively, you can directly choose the BISO by moving to Config > Plugin/BIOS Selector > BIOS and then following the elevated instructions to finish the process.
How to Load PS2 ISO Files on PCSX2 Emulator
To play PS2 games on computer, you need to load ISO files of PS2 games on the basis of PCSX2 BIOS setup. If these game files are not in ISO format, you need to convert them. For that, you should download and install an ISO creator like ImgBurn > choose Create image file from disc > select the Source drive and hit Read.
After that, follow these steps to load ISO files.
Step 1: Download a game on your computer, and then check if it's a Zip file or an ISO. If it is an ISO, you can move on directly. If it is a Zip file, you need to extract it first.
Step 2: On the PCSX2 emulator window, move to the CDVD tab and choose ISO Selector > Browse.
Step 3: If you have extracted the game file, click System > Boot ISO (fast).
Step 4: Then the game will be loaded automatically. Then you can play the game.
As you see, ISO files are useful. With the PS2 ISO, you can play PS2 games even you don't have a PS2 console. If you have a Windows ISO file, then you can clean install a system. MiniTool Partition Wizard allows you to create an ISO file that enables you to boot into MiniTool Recovery Environment and then fix errors.