This post will introduce ISO files briefly and then show you 6 best free ISO creators. If you are looking for an ISO maker, this post of MiniTool is worth reading. You can pick one ISO creator from given options.
What Is ISO File and ISO Creator
ISO files refer to files that contain similar data as an optical disk but are stored on the hard drive. As you know, CDs and DVDs are being used less and less. With ISO files, you can share multiple files as one with others online. Besides, ISO files are often used to distribute extremely large programs over the Internet.
In a word, ISO files is an ideal way to store and distribute discs. Hence, the number of users who create ISO files from CDs, DVDs, BDs, or selected files and folders increases quickly. You can make ISO files with ease with the help of ISO makers.
Like Windows 10 Media Creation Tool and Chromebook Recovery Utility, ISO creators can make files that can be used to boot a unbootable computer. As implied by its name, ISO maker is built to make ISO files.
Here, several best free ISO creators are introduced. You can download one from them according to your demand for your PC and then make ISO files.
Further reading:
If your computer becomes unbootable because of hard disk errors, MiniTool Partition Wizard helps. At first, you need to create a bootable CD/DVD/USB Drive with its Bootable Media Builder feature. Then boot from the burned bootable drive.
After launching MiniTool Partition Wizard, you can fix errors with your hard drive. For instance, you can rebuild MBR, convert MBR to GPT, etc.
ISO Workshop
ISO Workshop is one of the best free ISO creators. It has a smart and intuitive interface. It can help you create, copy, and burn ISO files, and allows you execute other ISO files related operations. Additionally, you can burn and emulate Blu-ray disc, CD, and DVD with it.
Tip: ISO Workshop also has a paid pro version. Generally speaking, the free version can satisfy your basic demands for ISO making.
This ISO creator also supports ISO and BIN image formats or converts other image formats to ISO and BIN. To be specific, it allows you to convert files like PDI, DMG, GI, B5I, ISO, CDI, MDF, IMG, BIN, NRG, and B6i to ISO.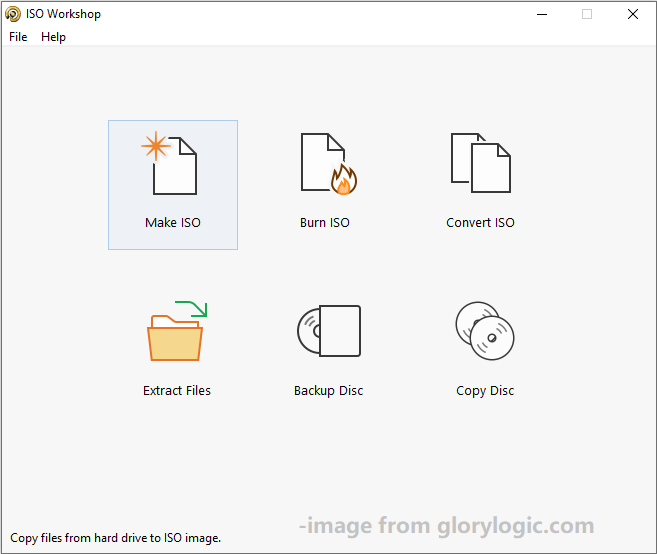 ISO Workshop enables you to search for files from multiple sources and disc images. It can directly open and browse ISO files or extract files from ISO images. Importantly, it is free of adware and spyware. It consumes you a little CPU resource. It can copy the original data files into data disc and create disc backups quickly.
Also read: Fast Copy Windows 10 | How to Get a Fast File Copy Speed
Power ISO
Power ISO is a reliable and powerful free ISO creator. It can burn, extract, mount, encrypt, compress, and convert disk image smoothly. For instance, it is capable of burning ISO files to CD, Blu-Ray discs, DVDs and so forth. It is compatible with Windows systems starting from Windows 98.
Note: This ISO maker supports file formats including CD, DVD, and BD-ROM, and disc formats like ISO, BIN, CDI, etc.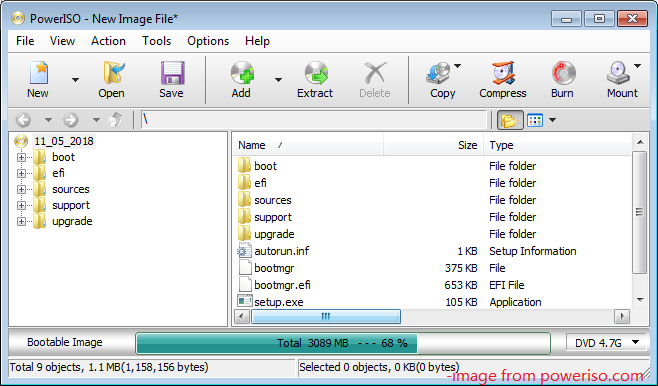 Power ISO can create disc image files from a disc or hard drive, and allows you to edit ISO files by adding or deleting them form it. It supports shell integration, drag, drop, context menu, clipboard copy & paste and other features. Moreover, it can also be used to make audio discs.
Free DVD ISO Maker
Free DVD ISO Maker is a free ISO creator that enables you to make ISO images from CDs or DVDs with ease. What's more, it also allows you to convert DVDs to ISO images. Under the help of it, you can create a backup of discs on the hard drive.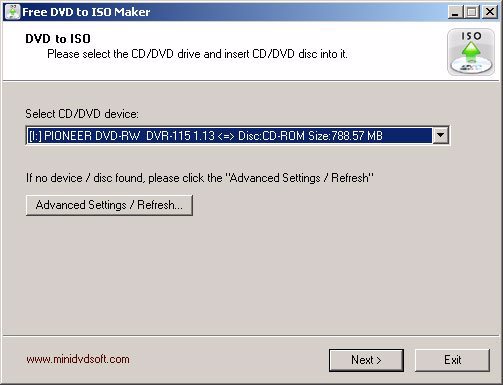 Once you launch Free DVD ISO Maker, it scans for a disc in your optical disk drive. Then you choose the disk and folder from the scanned results to make a backup.
ImgBurn
ImgBurn is a lightweight and free ISO creator. It supports image file formats like DVD, CDI, DI, CCD, GI, BIN, and so forth. You can see various modes in its interface including read, write, built, as well as verify and discovery. Besides, the main screen contains various command buttons.
In addition, ImgBurn supports audio and video file formats that can be burned by the software. It is supported by Windows and Linux, but isn't supported by mac OS. With ImgBurn, you can create ISO files from CDs or DVDs. To do that, choose Create image file from disc and then select the location for the ISO file. After you click the Read button, the process starts.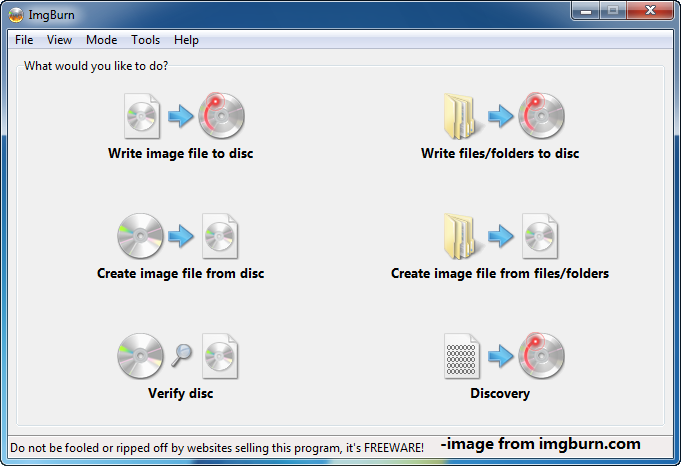 Thanks to the image queue system, you can burn multiple ISO files at the same time. This will save you much time. You also need to know that it has a special layer breaker selection screen that supports double-layer DVD jobs. In conclusion, it deserves the name of the best free ISO creator.
ISODisk
ISODisk is a multifunctional and free ISO creator. It has a simple and easy to use interface. It allows you to build virtual CD/DVD drives for up to 20 drives. It can be used to create, mount ISO images and execute other operations.
Tip: ISODisk creates true copy of your discs. Hence, ISO images created by ISODisk can be used for backing up, burning to other discs, and mounting to CD/DVD emulator.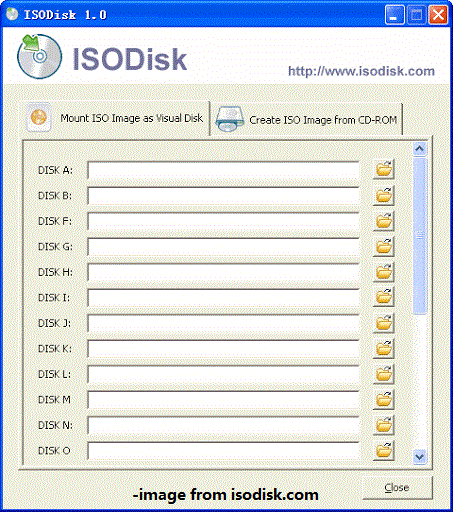 With the help of ISODisk, you can directly access the files on an ISO image. It can mount disks to LAN and work with even Windows XP, 2003, and Vista. To install and run ISODisk, you just ensure that your system has at least 64MB RAM and 10MB storage space.
7Burn
7Burn, a free ISO creator, can create CD/DVD/Blu-Ray disk backups to the system hard disk in the format of ISO. It is very easy to create ISO files with 7Burn. To do that, you need to choose a build ISO mode and pick the input files or folders or the optical drive.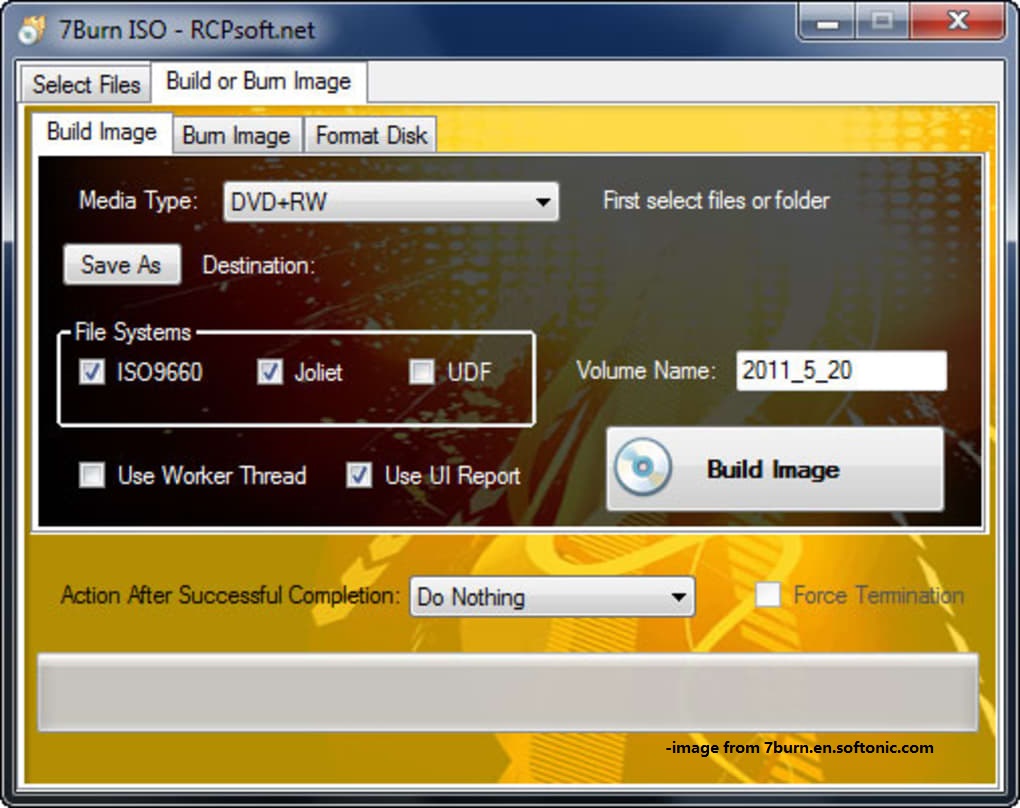 Choose an appropriate media type, the destination, and file name from the Build and Burn Image tab, and then click Build Image. After that, the ISO image creating process starts.
Up to now, 6 best free ISO creators have been introduced to you. Now, it's you turn to make a choice.