Some users of Windows 10 May 2019 Update reported that they saw a new PortableBaseLayer partition in Disk Management. Do you know what it is? This article introduces the odd thing. By the way, you can manage your hard drive in an easier manner via MiniTool Partition Wizard.
What Is the PortableBaseLayer Partition in Windows 10?
To learn about PortableBaseLayer partition in Windows 10 better, I would like to introduce Windows Sandbox at first which is closely related to the former.
Introduced in Windows 10 Version 1903, Windows Sandbox is a new lightweight desktop environment designed for safely running applications in isolation. In other words, with this feature, you can run untrusted software without the fear of a lasting impact on your PC.
Any software installed in Windows Sandbox only stays in this environment and cannot affect the host. Furthermore, once Windows Sandbox is closed, all the software with all its files and state are permanently deleted.
Considering the benefits brought by Windows Sandbox, you may want to have a try. Please note all pro and enterprise users can enable Windows Sandbox as long as the system meets the minimum requirements.
When you enable the Windows Sandbox, Windows 10 will automatically create the PortableBaseLayer partition and place all the important files that are necessary to run the Sandbox.
Here we can make a conclusion that PortableBaseLayer is not virus or malware but a system partition created for Windows Sandbox in Windows 10 May 2019 update. This means that this partition will remain present until the Sandbox optional feature is removed.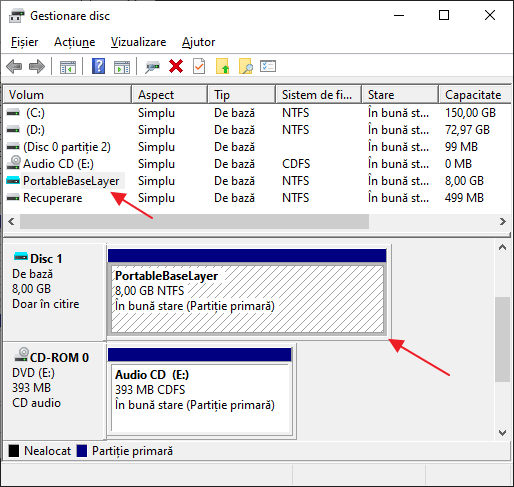 Depending on your usage, the partition size will be varied from 1GB to 10GB. Sometimes, it might even exceed that range.
Tip:
Sometimes, you may find that the system partition size is too small, but you cannot extend it via Disk Management since there is no free space next to C drive. In this situation, you can try MiniTool Partition Wizard to
extend partition
if unallocated space on the same disk is available.  
It seems that Microsoft uses PortableBaseLayer partition as a way to guarantee the integrity of the Windows Sandbox environment. Furthermore, using this locked virtual hard drive gives Microsoft a way to seal the Sandbox off from the wider system.
Two Doubts about PortableBaseLayer Partition in Windows 10
After reading the content above, you may have two doubts about PortableBaseLayer partition in Windows 10.
Doubt 1: Is this partition appearing in File Explorer?
It is unlikely. You won't see this partition in File Explorer.
Doubt 2: Can I remove this partition from Disk Management?
The answer is No. Do not delete the partition manually as it might corrupt the Windows Sandbox. Furthermore, removing this partition from Disk Management might even cause problems for the host system and other applications like Windows Defender.
The fact is that Windows will automatically delete the partition for you when you disable the Sandbox feature. Therefore, you needn't to waste time to delete this partition.
Final Words
You may have learned more about PortableBaseLayer Partition in Windows 10. So, please take it easy when you see it in Disk Management and do not delete it manually.
If you have any questions related to this partition, please leave them in the comment zone.