Introduction to Animal Crossing
Animal Crossing is a series of games developed by Nintendo and released by Nintendo. The first game in this series was released in 2001 and the latest game in this series was released in 2020. Apparently, this series of games is very popular.
The content of the game is very simple. All the player needs to do is to play a human role of a "village" and lives in an anthropomorphic animal village. In the village, players are neighbors and interact with many animal partners, participate in activities such as exchanging furniture, fishing, catching bugs, etc.
Why is this game so popular? The main reason is that it is a highly liberalized game. Here are some examples:
In this game, there is no mandatory task and no time limit. You can go on this game even if you don't complete any tasks.
The time in the game and the real time are fully synchronized. There will be different activities in specific festivals, such as Christmas, Halloween, etc., but if you miss these activities, you will have to wait until next year.
Your different actions will have different consequences and you can't start again. It's a little like real life.
How to Play Animal Crossing on Computer?
Can I play Animal Crossing on my computer? This game doesn't release official PC version, but you still can play it on computer via an emulator. If you want to use an emulator to play Animal Crossing on your computer, I recommend you to use Ryujinx
Ryujinx is an open-source Nintendo Switch emulator created by gdkchan and written in C#. This emulator aims at providing excellent accuracy and performance, a user-friendly interface, and consistent builds. With this emulator, you can play Animal Crossing on computer smoothly.
Here is the tutorial on how to play Animal Crossing: New Horizon on a computer using Ryujinx Nintendo Switch emulator:
Step 1: Download the Ryujinx emulator from the official sites. Once the installation package is downloaded, extract it. Open the extracted folder and double-click Ryujinx.exe to run it.
Step 2: In the emulator, navigate to File > Open Ryujinx folder. Open the System Folder. Drag and drop the Prod.keys file inside. The Prod.keys file is the copyright file that you need to dump in your PC from within a Nintendo Switch. In this way, you can add Animal crossing to the emulator's library.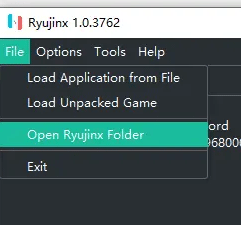 Step 3: Close and re-open the emulator. Then, at the top of the emulator, click Tools > Install Firmware > Install a firmware from XCI or ZIP. Select any XCI that you had in your Nintendo Switch and click Open. You should receive a prompt telling you that you need to install a firmware update. Any version is good as long as it is above 5.1.0.

Step 4: Go to Options > Settings. In the General tab, select your Timezone, System Region and Language. Then, click Browse button.
Step 5: On the pop-window, select the Animal Crossing and click Add, and then Save. In this way, you can add the Animal Crossing to your Game directory of the emulator. Then, you can close the emulator.
After completing the above steps, please make sure your game controller is connected to your PC, and then double-click the Animal Crossing: New Horizons icon to launch the game. Now, you can play Animal Crossing on your computer.