PassMark is a software company that creates software utilities for performing benchmark tests on a computer system. This post from MiniTool Partition Wizard introduces PassMark's main product – PassMark Performance Test.
Introduction to PassMark
PassMark Software or PassMark is a software company that creates software utilities for performing benchmark tests on a computer system. Its major product is PassMark Performance Test, which can benchmark Disk, CPU, 2D & 3D graphics, networking, memory, GPU compute, and visualized physics.
Tips:
It also offers software to test other PC components like wireless adapters, batteries, monitors, keyboards, etc.
In addition, this company has delved into the millions of benchmark results that PerformanceTest users have posted to its website and produced comprehensive ranking charts of CPU, GPU, hard drive, RAM, PC systems (CPU and motherboard), Android, and iOS/iPhone. These charts can help you buy or build the best PC for you. 
For each PC component, it tests many aspects. Therefore, they are many charts to rank the PC components. You can choose the one chart suitable for your situation.
10 Best PC Benchmark Test Software for Windows 11/10 in 2022
PassMark Performance Test Download
PassMark Performance Test is available on Windows, Linux, macOS, and mobile devices for free. You can download the software from this page. Please pay attention to the PassMark Performance Test system requirements. You should make sure your device meets them.
After you download and install PassMark Performance Test, it may ask you to register. Why? If you purchase PassMark Performance Test, it will offer the following services:
Free 12 months of unlimited technical support via email and web
Free minor upgrades & bug fixes as they become available
Ability to export results in image, text, and web formats.
Ability to execute scripts and use automate command line switches (/a).
Ability to print results.
The removal of the initial shareware startup window.
Removal of the 30-day time limit on the following functions: All advanced tests, Baseline searching, Save as baseline, and Install to USB drive.
If you don't want to purchase PassMark Performance Test, click the Continue button to slip it. 
How to Use PassMark Performance Test
Once the PassMark Performance Test launches, you can start running PC benchmarks. On the left side of the software, there are many sections: PassMark, CPU Mark, 2D Mark, 3D Mark, Memory Mark, and Disk Mark. Click the Run button under these sections, you can run tests on them. Running PassMark means running all tests.
Of course, you can also highlight one section, and on the main panel, there will be many sub-tests. These sub-tests include:
CPU: Integer Math, Floating Point Math, Prime Numbers, Extended Instructions (SSE), Compression, Encryption, Physics, Sorting, CPU Single Thread, and Cross-platform Mark.
2D Mark: Simple Vectors, Fonts and Text, Windows Interface, Image Filters, Image Rendering, Direct 2D, PDF Rendering, and Direct 2D – SVG.
3D Mark: DirectX 9, DirectX 10, DirectX 11, DirectX 12, and GPU Compute.
Memory Mark: Database Operations, Memory Read Cached, Memory Read Uncached, Memory Write, Available RAM, Memory Latency, and Memory Threaded.
Disk Mark: Disk Sequential Read, Disk Sequential Write, IOPS 32KQD20, and IOPS 4KQD1.
You can run these sub-tests separately. Once all tests are performed at least once, you can get a PassMark Rating score. In addition, each sub-test will also get a score.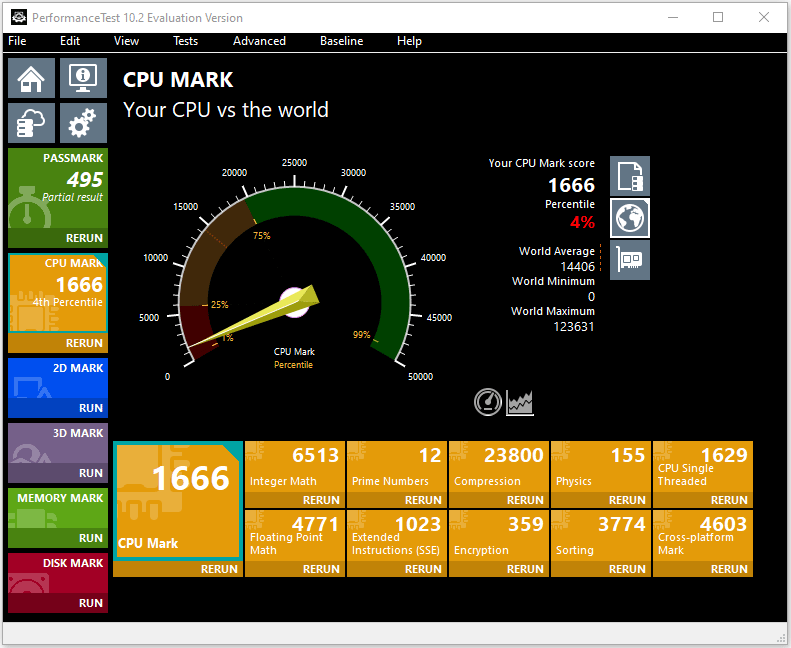 How to understand these results? In general, the bigger the number the faster the computer. The overall Passmark Rating is not an average or a sum of the sub-scores. This rating is limited by the weakest component in the system. Double the score, double the performance.
Bottom Line
MiniTool Partition Wizard can help you clone the system, manage disks better, and recover data. If you have this need, you can download it from the official website.