Many users reflect that they don't know how to resize RAID 5 and they are afraid of data loss by using a third-party software to manage RAID 5. Actually, it is very easy and safe to partition RAID 5as long as you use a reputable and reliable disk manager. This article will show you how to safely partition RAID 5 without losing data with a reputable software MiniTool Partition Wizard.
What Is RAID 5
RAID 5 is a storage medium solution that has great performance, high security, and low cost. It is the compromise solution of RAID 0 and RAID 1. RAID 5 has similar data accessing speed with RAID 0. But it saves parity information at the same time so it is a little bit slower than single disk. Multiple pieces of data are corresponding to one piece of parity information, so RAID 5 has higher disk space usage rate and lower cost than RAID 1.
RAID 5 can be realized by Disk Array Controller or some professional disk management software. After converting basic disk to dynamic disk, we can partition RAID 5 with professional dynamic disk manager. RAID 5 volume guarantees data security. Compared with mirrored volume, RAID 5 has lower security but higher disk usage rate. This kind of RAID 5 made by software is called software RAID 5. And this is the simplest and most effective way.
RAID 5 partition has many advantages like excellent performance, good fault tolerance, high capacity and storage efficiency. You can try to create RAID 5 if you have three dynamic disks in your computer and your operating system supports RAID volume. To create RAID 5 you need at least three disks but 32 disks at the most. And RAID 5 volume cannot include boot partition or system partition.
Partition RAID 5 in Disk Management
Windows built-in partition tool Disk Management can help you create RAID 5 Partition if there are three dynamic disks in your computer and your operating system supports RAID volume. If you just want to create RAID 5, you just need to right-click the unallocated space and choose New Volumeto create RAID 5 volume by following the step-by-step instruction.
However, if you want to extend RAID 5 partition or shrink RAID 5 partition, you will find that these features are not available in Disk Management as shown in the following picture. You have to delete the original RAID 5 volume and then create a new one, which, of course, is very inconvenient and will cause data loss.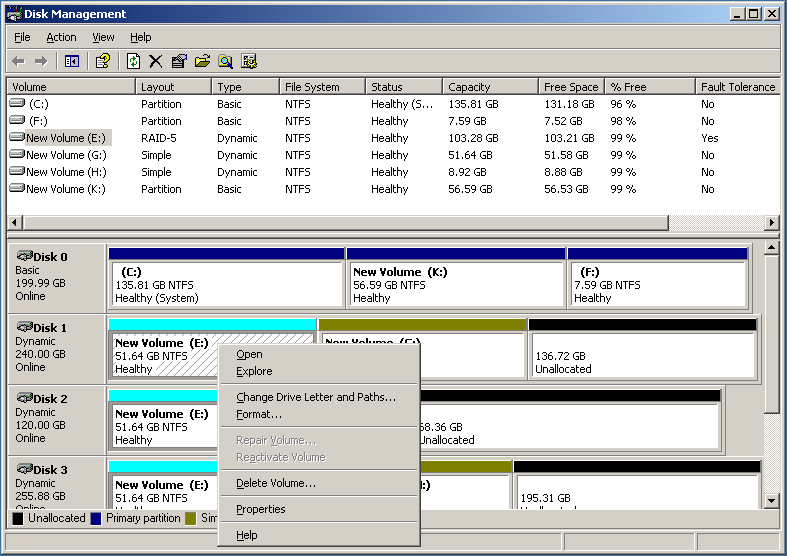 As Disk Management is unable to help you, I recommend you to use MiniTool Partition Wizard to resize RAID 5 for it is a professional and reliable dynamic disk manager.
Use MiniTool Partition Wizard to Expand RAID 5 Partition
In dynamic disk, resizing volume is very simple, as long as there is enough unallocated space of the same size on each disk, you can expand RAID 5 partition at ease.
And resizing RAID 5 volume is only a small part of MiniTool Partition Wizard functions. It has other excellent dynamic disk management functions, such as create volumes of various file systems, delete volume, and move volume, etc. This powerful dynamic disk manager also allows you to back up Server.
Here I will show you how to expand RAID 5 by using its Move/Resize Volume feature as an example.
Step 1. Get MiniTool Partition Wizard Server Edition by clicking the following button. Install it on your computer and launch it to get its main interface.
Step 2. Choose the RAID 5 volume and select Move/Resize Volume from the left action panel directly. We can see there is no adjacent unallocated space in the main interface of MiniTool Partition Wizard, but we can still expand partition RAID 5.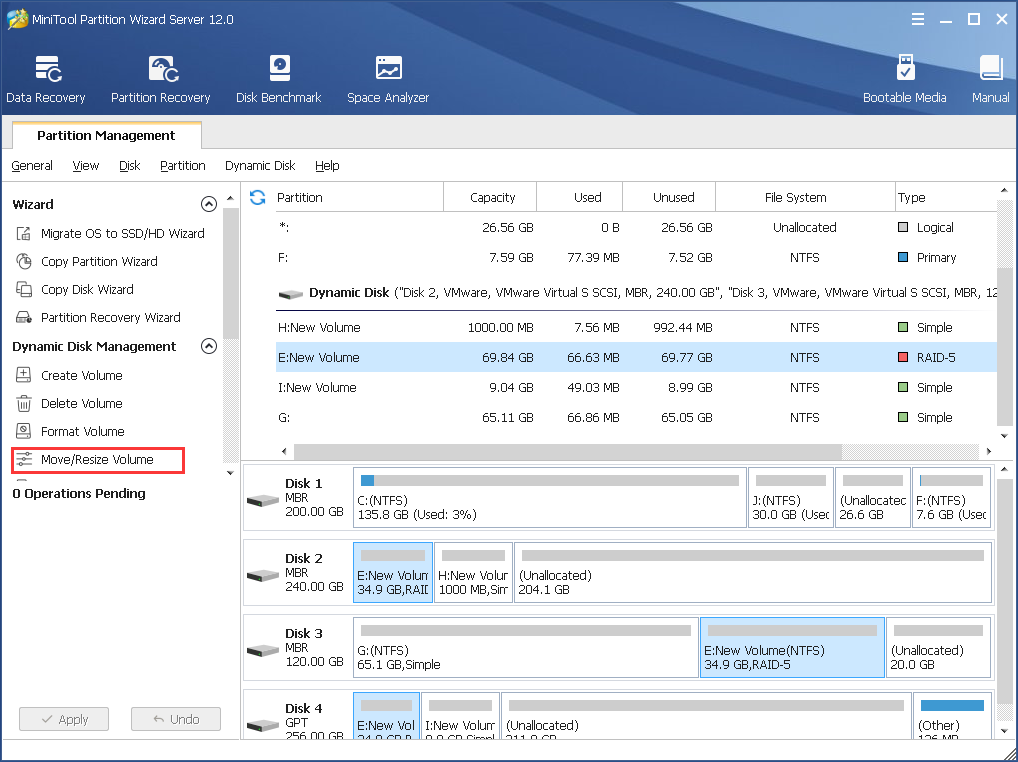 Step 3. In this interface, expand RAID 5 by dragging partition handle border. Click OK button to return to the main interface after setting.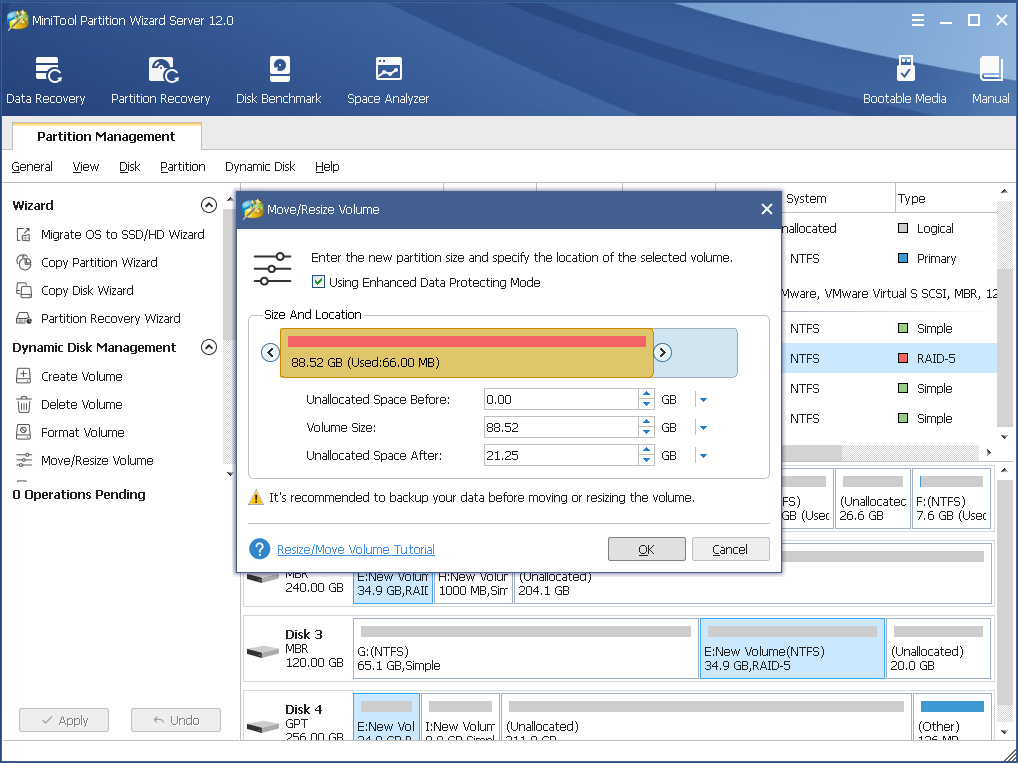 Step 4. At this time we can find the original RAID 5 volume is expanded and the added part is not adjacent to the volume. Click Apply button and all operations will be executed.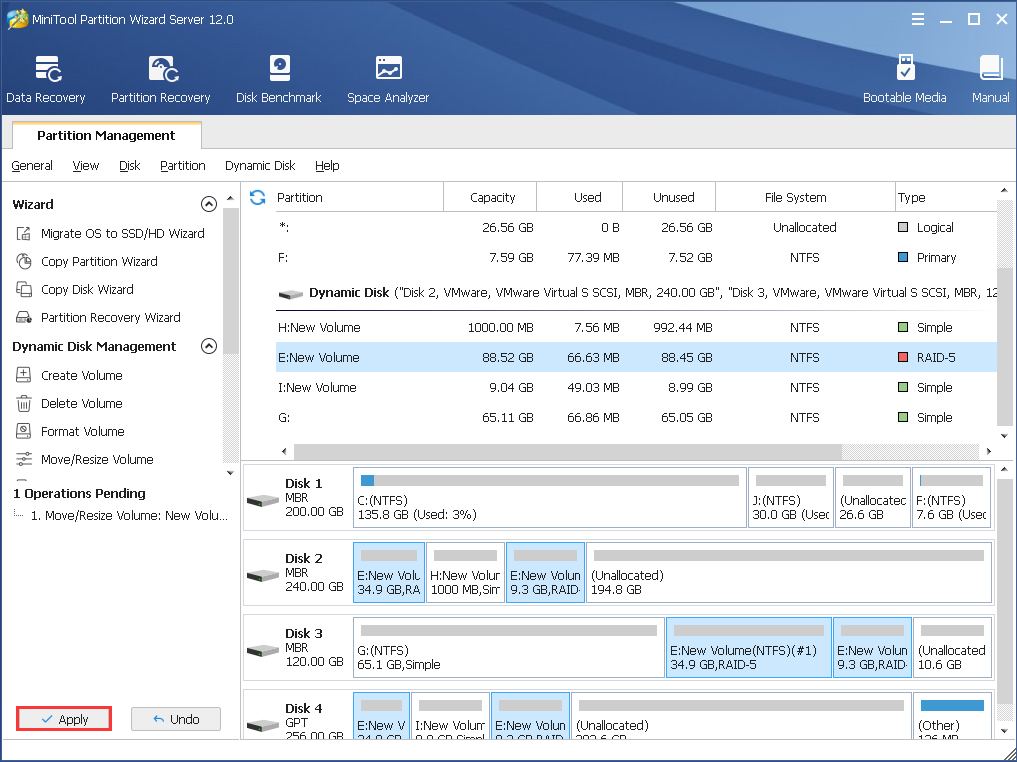 Step 5. MiniTool Partition Wizard will ask for a restart. Click Restart Now to finish the last step.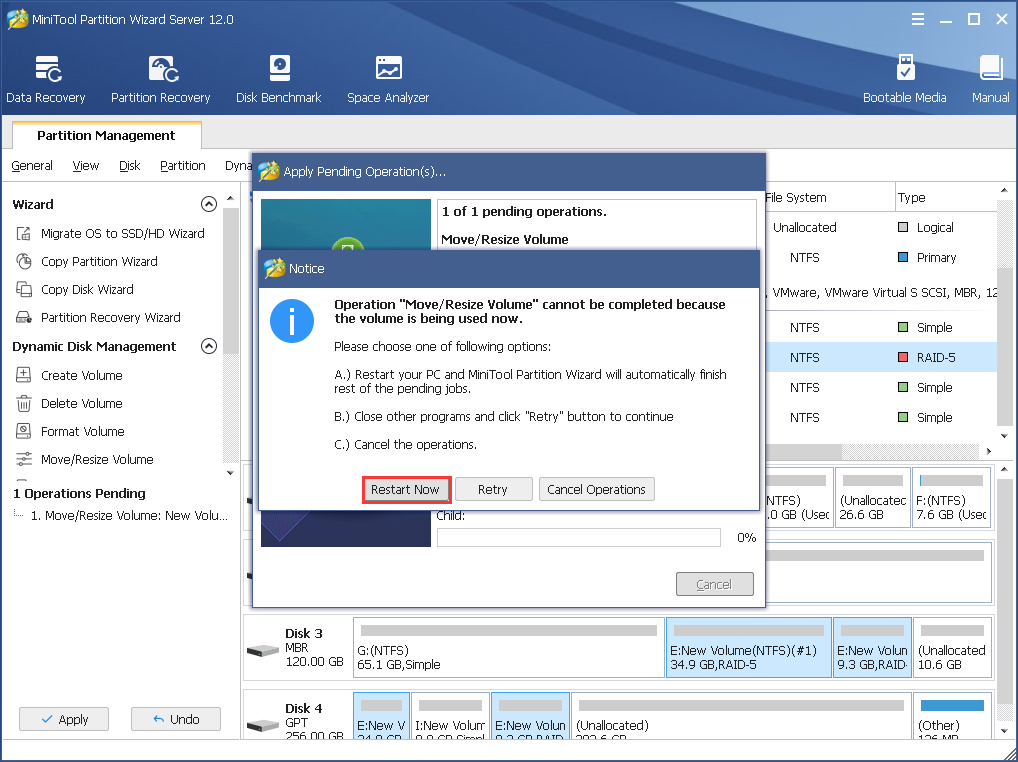 "With the help of MiniTool Partition Wizard Server Edition, I successfully expand RAID 5 without losing data. Hopes this post help more people who don't know how to expand RAID 5 without losing data."Click to Tweet
Bottom Line
After reading this post, you may find how simple it is to resize RAID 5 partition by using MiniTool Partition Server Edition. As I mentioned before, MiniTool partition is very powerful and it provides many other features in addition to resizing RAID 5, which can help you manage RAID 5 partition in a better way. Try this dynamic disk manager now!
If you have come across any problem when resizing RAID 5 with MiniTool Partition Wizard Server Edition, you can leave a message on the following comment zone and we will response as soon as possible. If you need any help when using MiniTool software, you may contact us via [email protected].