Until yesterday everything was normal, but this morning I went to open the game and this error message shows up: Invalid game executable: Win64/Paladins.exe. What can I do to fix that?

--- oldforums.paladins.com
Paladins is a free-to-play online hero shooter video game developed by Evil Mojo, an internal studio of Hi-Rez. It is a team-based first-person shooter game that focuses on two groups of five players each, who compete for combat-based goals.
This game was released on May 8, 2018 for Microsoft Windows, PlayStation 4, and Xbox One, followed by a Nintendo Switch version released on June 12, 2018. In December 2020, Paladins outnumbered 45 million players, making it one of the most-played video games by player count.
However, as with other games, launching Paladins may not be as smooth as expected. Many users report that they have encountered Paladins invalid game executable issue. Then, how to solve this problem and make the game run smoothly again? Please keep reading.
Fix 1. Netsh Winsock Reset
The "netsh winsock reset" command is used to reset the Winsock directory. Problematic Winsock protocol configuration will cause network connection and other problems, while resetting it will restore the network.
In a word, the "netsh winsock reset" command can reinitialize the network environment to solve the problem of parameter errors caused by software conflicts and viruses. Here is the guide on how to run it:
Type "cmd" in Windows search box, right-click it from the result list, and choose Run as administrator.
In the Command Prompt window, type the following two commands one by one: "netsh winsock reset catalog", and "netsh int ip reset resetlog.txt".
Exit Command Prompt and restart the PC.
Fix 2. Verify Game Files
Verifying game files will ensure that integrity of the game files installed on your PC. Here is the guide:
Open Steam.
Right-click Paladins tile and choose Properties.
Skip to Local Files tab and click Verify File Integrity. This process may take around one hour.
After the verifying process is completed, restart the PC.
However, some people say this method may trigger another error "xx files falied to validate and will be reaquired". In this case, you can refer to the following post:
Fix 3. Deactivate Antivirus
Some people report that their Paladins invalid game executable issue is caused by antivirus like Avast. It seems that the antivirus software detect Paladins as a virus. In this case, you can try solving the problem by deactivating the antivirus temporally. Here is the guide on how to disable Windows Defender:
Press "Windows + R" keys, type "msc" in the Run box and press Enter to open Local Group Policy Editor.
Navigate to Computer Configuration> Administrative Templates > Windows Components > Windows Defender Antivirus.
Highlight Windows Defender Antivirusand double click Turn off Windows Defender Antivirus.
Check Enabledand then click Apply and OK to save changes.
Reboot computer to make the changes go into effect.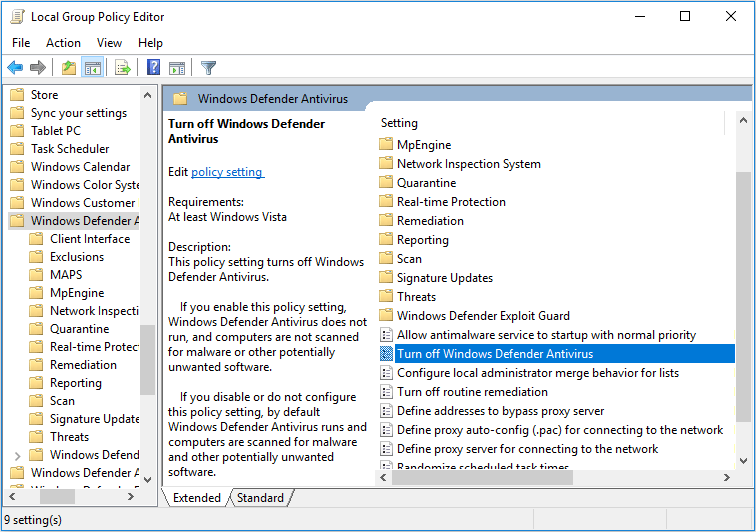 Here is the guide on how to disable third-party antivirus software:
Open Local Group Policy Editor.
Navigate to User Configuration> Administrative Templates.
Click Systemand right click Don't run specified Windows applications in the right box.
Select Edit.
Check Enabledand click Show.
Type the program name (that always ends up with ".exe") in the pop-up window.
Save changes and reboot the computer.
Fix 4. Reinstall Paladins
If you play Paladins on a separate launcher without using Steam, installing the game from Steam may solve the problem. If you play the game on Steam but the game still occurs, you can try reinstalling the game.
However, some people report that they receive the error "An error occurred while updating Paladins (Content file locked)" when reinstalling the game. If you also get Paladins content file locked error, please refer to the following post: