OBS is a popular screen recorder but the issue "OBS dropping frames" is complained about by plenty of users. Luckily, the post from MiniTool Partition Wizard lists why the issue happens and walks you through the process of solving it.
Some users are bothered by the issue "OBS dropping frames" and one example is below:
Whenever I stream a console game through OBS, there seems to be a buffer where frames are dropped every 3 or so seconds.

obsproject.com
If you are also facing this issue, this post might do a little help to you. Now, scroll down!
OBS Dropping Frames
Why do frames drop on OBS? Does OBS cause frames to drop?
"Dropped frames" occurs when the connection to the server is not stable or you are unable to keep up with your set bitrate. Due to this, a program like OBS will be forced to drop some of the video frames to compensate.
Therefore, the real culprit behind "dropping frames OBS" is a connection problem that might be caused by the security software, routers, and more, and is nearly impossible to be caused by OBS itself.
That's why frames drop on OBS. Now, follow the below tricks to fix "OBS dropping frames".
Top Tricks to Solve "OBS Dropping Frames"
Enable Dynamic Bitrate
Lower bitrate
Use wired connection
Check security software
Update network adapter driver
# 1: Enable Dynamic Bitrate
What's version of OBS you are using? If are using OBS Studio 24 or higher, luckily, you can enable the feature called Dynamic Bitrate to solve "OBS dropping frames".
Dynamic Bitrate is a feature introduced in OBS Studio 24. The feature detects when your internet connection is limited, and will automatically reduce your bitrate to compensate instead of dropping frames. When the internet connection limit disappears, the feature will automatically raise your bitrate back to its original value.
So, try enabling Dynamic Bitrate by carrying out the following steps:
Go to the File tab at the top of OBS.
Choose Settings.
Choose Advanced.
Choose Network.
Tick the box next to Dynamically change bitrate to manage congestion.
After enabling the feature Dynamic Bitrate, see if "dropping frames OBS" is solved. If not, move to the next trick.
# 2: Lower Bitrate
Try lowering the bitrate on OBS.
Step 1: Move to the File tab at the top of OBS.
Step 2: Choose Settings.
Step 3: Choose Output.
Step 4: Amend the bitrate setting on the right side of the current window.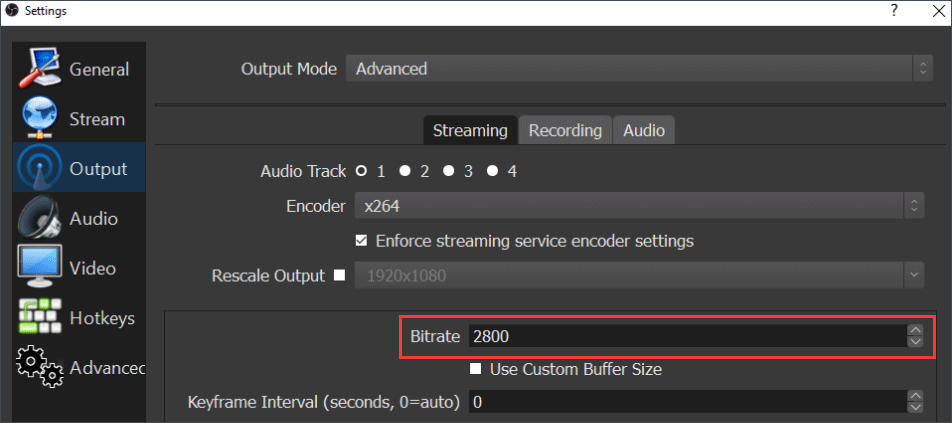 # 3: Replace Wireless Connections with Wired Connections
As we know, wireless connections, in many cases, are not as stable as wired connections and lead to many issues. So, if you are streaming on wireless connections, please replace them with wired connections.
You might be interested in: 11 Tips to Troubleshoot Internet Connection Problems Win 10.
# 4: Check Security Software
Check if the security software like firewall and antivirus is interfering with the connection.
In some cases, firewalls might block the port required for RTMP, so make sure outbound TCP port 1935 is accessible.
# 5: Update Network Adopter Driver
"OBS dropping frames" can be also caused by an outdated network adapter driver. So, you can try updating your network adopter driver to get rid of the issue.
How to update network adopter driver on Windows 10? The tutorial is below.
Step 1: Press Windows + X to access the Windows menu and then choose Device Manager from it.
Step 2: Once the Device Manager window opens, expand the Network adapters category and then right-click the item in the list to choose Update driver.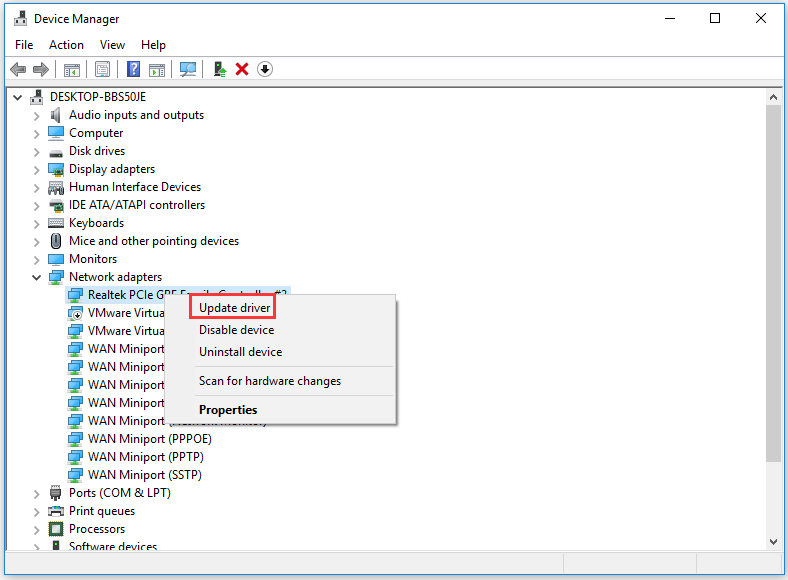 Step 3: Choose Search automatically for updated driver software.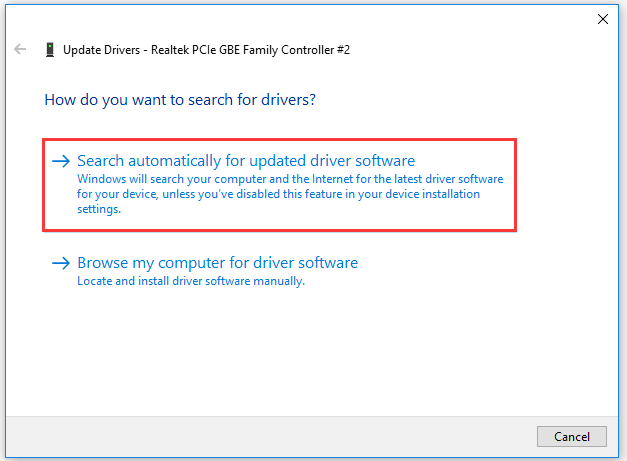 Step 4: Follow the on-screen instructions to finish the updating.
Verdict
All the five tricks to solve the issue "OBS dropping frames" have been displayed. Do you solve the issue by using them?
If you have other ideas for solving the issue, please share them with us and other readers. Thanks in advance.