Summary :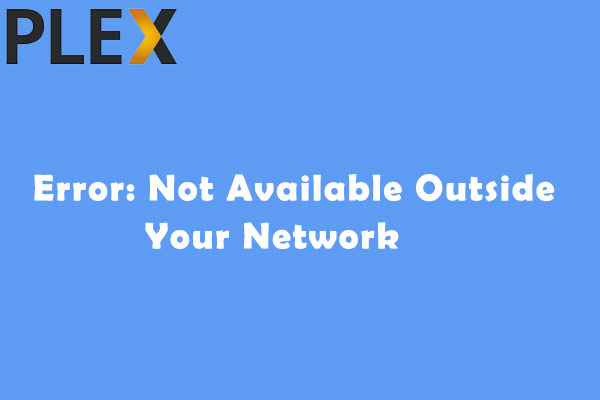 Can't access Plex server remotely due to the error message "not available outside your network"? Here are some solutions you can have a try. Reasons for this problem are various. If you bothered by the same issue, follow the solutions from MiniTool Partition Wizard to fix it.
Plex, a client-server media player system plus an ancillary software suit, is available on many desktop platforms, including Microsoft Windows, Linux, and macOS. It can organize and stream your favorite movies, TV, music web shows, podcasts and other media to your favorite screens.
However, some users report that they encountered a problem while using this program. They got an error message "not available outside your network" and couldn't access Plex server remotely.
How to fix the problem? Keep reading and you will get the answer.
Fix 1: Update Plex to the Latest Version
Sometimes there might be certain bugs in Plex software which may be the reason why you can't access Plex server remotely. Fortunately, the developers are keeping releasing updates for the program to update new features or fix bugs.
Therefore, if you see the error message "not available outside your network" on Plex, the first thing you should try is to update the software to the latest version. Then check whether you can use the Remote Access feature. If this doesn't work, you can try the next fix.
Fix 2: Disable Third-party Firewalls Temporarily
Some users are using advanced firewalls to protect their computer from being attacked by others. In some cases, these firewalls could also block connection to Plex server and cause Plex Remote Access not working.
If you are using any third-party firewalls, you can try disabling it temporarily. Then restart your computer and launch Plex to check whether the problem has been solved. If you don't want to disable it, you can make sure that the following IP addresses are not being blocked in the firewall:
245.172.51
248.59.52
49.250.227
171.49.143
34.171.72
You can check them in the settings of your third-party firewall program. Then restart your computer and then check if you can access Plex remotely.
Fix 3: Perform a Power Cycling
Plex is an application with numerous parameters being used at the same time. If any one of them gets into an error state or is misconfigured, you might encounter problems when you use the program.
You can try performing a power cycling for both the server and target computer. You just need to turn off them and unplug the power cable of each one. Then press and hold the power button for at least 4 seconds to drain the left energy. Wait for about 2 minutes and then plug the power cable back and turn on your computers.
After that, you can open the Plex and check if you still get Plex not available outside your network error.
Fix 4: Enable uPnP or NAT-PMP for the Router
Your router should have automatically configured uPnP or NAT-PMP which allow Plex to configure a forwarded port on the router without additional steps. Check whether they are enabled with the following steps when you see Plex not available outside your network error.
Step 1: Launch your browser and input the IP address related to your router in the address bar, such as 192.168.8.1.
Step 2: Go to your router settings.
Step 3: Find the options for uPnP or NAT-PMP and enable one of them. If they have been enabled, disable them and re-enable them.
Step 4: Save the changes you have made and restart your computer.
Now you can check if the problem has been solved.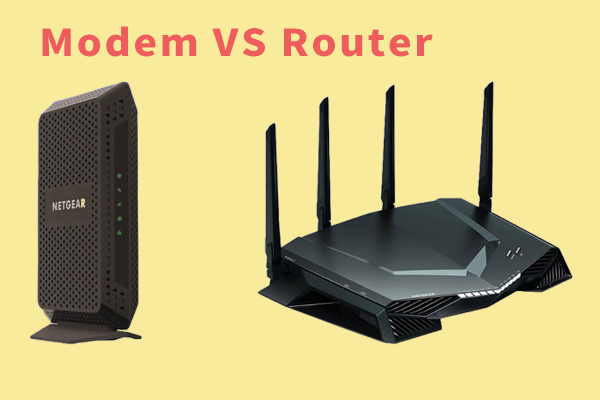 Most people use network to access the Internet every day. However, most of them have no idea about modem vs router. Now, you can get the answer from the post.
Fix 5: Forward the Port Manually
If you have tried all the solutions above but the problem still exists, you might need to forward the port manually. The process might be tedious, so please follow the steps below one by one.
Move 1: Assign a Static IP to the computer
The first thing you need to do to forward the port manually is to assign a static IP to your PC, you need to:
Step 1: Press Win + R to open Run window. Then type ncpa.cpl and click OK.
Step 2: Right-click the network you're using in the pop-up window and select Properties.
Step 3: Select Networking tab and double-click Internet Protocol Version 4 (TCP/IPv4) to open its Properties.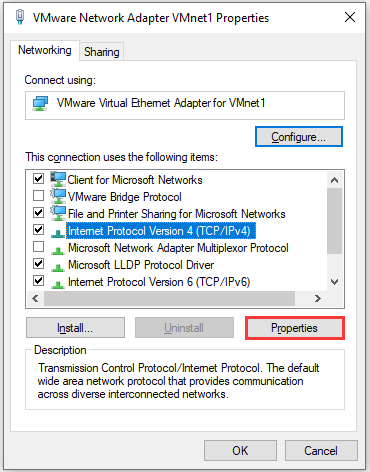 Step 4: Select Use the following IP address and enter the IP address and the default gateway you want to set.
Move 2: Forward the Port in Router
Here is the list of variables needed to forward the port in router and you can check your router's manual for instructions on how to forward a port.
WAN/External Port: Port 32400 (TCP) is default, but you can generally use any available port in the 20,000 to 50,000 range.
LAN/Internal Port: 32400.
IP Address: The local IP address of the computer running the Plex application.
Move 3: Set Plex Server to Use the Port
Now you can set your Plex server to use the port.
Step 1: Open Plex from your browser and sign in with your account. Then navigate to Settings > Server > Remote Access.
Step 2: Select Show Advanced option and check Manually Specify Public Port. Then enter the WAN/External Port which you set up.
Step 3: Click APPLY to save the settings.
After finish the steps above, you can check if you can access Plex server remotely.