Windows and Linux are the two most popular operating systems. And many users want to know the differences on Linux vs Windows? How do they differ from each other? Is Windows 10 better than Linux? This article will make a comparison of Linux vs Windows.
If you don't have much knowledge on Linux vs Windows, this article is worth reading. Before that, I would like to give you a brief introduction about the Linux and Windows operating system.
The Brief Introduction of the Linux and Windows OS
An operating system is the most essential part of a computer system. So before I show you the comparison of Windows vs Linux, you can learn some basics of the Linux and Windows operating system by reading the following contents.
What Is Windows Operating System
Most of you are familiar with Windows operating system and maybe you are using it now.
Microsoft Windows is a group of GUI based operating systems developed and provided by Microsoft, which was first released in 1985. It is mainly used by personal computers. The latest version of the Windows operating system is Windows 10, which currently dominates the market.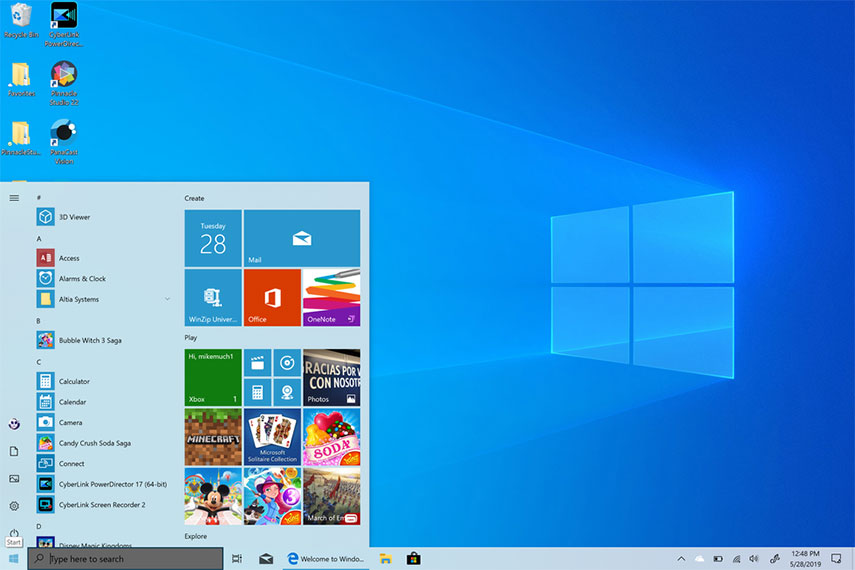 What Is Linux Operating System
Most people are no stranger to Windows operating system. However, not many of them know the Linux operating system. What is Linux operating system?
Actually, Linux is an open-source operating system based on UNIX, which was first released in 1991. It is usually packaged in a Linux distribution. It is most commonly used for servers. However, a desktop version of Linux is also available, which comes with some necessary software that can be used on a daily basis.
If you are not a powered user, you may think that Windows operating system is better and more popular? Is that the truth? After reading this post of Linux vs Windows, you can get a conclusion.
The following will show you Linux vs Windows from 10 aspects. After reading, you should know the main differences between Linux and Windows OS.
Linux vs Windows on Security
Linux: When talking about Linux vs Windows security, Linux is said to be an operating system of high security. Although attack vectors are still discovered, their source code is open and can be viewed by any user, which makes it easier to identify and fix vulnerabilities.
Windows: As the operating system with the largest user base, Windows is the primary target of hackers and malware developer. In this case, Microsoft Windows is the most likely victim of viruses and malware of all operating systems. If there is no antivirus software on your Windows PC, the operating system is even vulnerable and in danger.
Conclusion: Linux is more secure than Windows operating system.
Linux vs Windows on Support
Linux: Linux OS provides users support via loads of Linux user forums, communities and other online searches. And there are lots of tutorials from other users and developers that can help you resolve various Linux OS issue. The downside is that it is a bit fragmented, and unable to provide a comprehensive, consistent support structure for many distributions.
Windows: Windows OS provides support to users through its integrated help systems, help documents, Windows forums and other websites. And it is better at organizing its resources.
Conclusion: Compared with Linux, Windows OS has easily accessible support and has a comprehensive support structure.
Linux vs Windows on Price
Linux: Linux is completely free and open source, including most of its utilities and libraries. You can download and install the GNU / Linux distribution without purchase. You may see paid Linux operating system distributions with additional support available on the market, they are very affordable.
Windows: The price of each authorized copy of Microsoft Windows is usually between $99.00 and $199.00. Many new devices are preinstalled with Windows 10 so you can use the operating system directly. But if you are using the Windows 7/8/8.1 or earlier versions on your computer now and want to switch to Windows 10, you need to purchase it instead of free upgrade.
Conclusion: Linux operating system won't cost you a cent in most cases. While for Windows, you need to pay for it if you want to get the latest Windows operating system.
Linux vs Windows on Privacy
Linux: Without Linux operating system, you don't need to worry about privacy issue, as Linux distributions do not collect much data (or none). And Linux devices are also equipped with a built-in state of the art encryption. So you don't need to use additional tools to protect your privacy.
Windows: Microsoft always tries to anonymize the data collected from each user, though its purpose is to improve user experience. For example, Cortana sends usage data to Microsoft and uses that data to improve how Cortana works. However, not all Windows 10 users are convinced by this reason. Some users are still worried about data leak in this process.
Conclusion: In terms of privacy protection, Linux does better than Windows.
Linux vs Windows on Software
Linux: Most software programs, utilities, and games available on Linux are free and open source, including applications such as GIMP, OpenOffice, and Star Office. Most Windows programs don't work for Linux. Some of them can run on Linux by using a compatibility layer, such as WINE. If your business needs a specific application, make sure that Linux runs a native version or there is an acceptable alternative.
Windows: There are lots of programs developed to be used on Windows. Almost every program is designed from scratch considering the support of Windows OS. In general, Windows users are not affected by software compatibility issues. But the majority of Windows software is commercial and must be purchased.
Conclusion: Windows has great advantages in terms of software. And the set-up process is also simpler than that of Linux.
Linux vs Windows on Hardware
Linux: in the past, Manufacturers often regarded Linux support a secondary consideration. Nowadays, with the increase of Linux fans, most hardware manufacturers put Linux support at the same priority as Microsoft Windows. But still, not of them support Linux. Try to choose some mainstream hardware if you are using Linux OS.
Windows: Almost all consumer hardware made by manufacturers can be used on Windows OS as Windows has a huge user base, which is known to all manufacturers. As a Windows user, you can rest assured that your operating system is compatible with almost any hardware you may purchase.
Conclusion: Windows almost support any hard drive you purchase, which Linux is not.
Linux vs Windows on Performance
Linux: Linux OS is speedy and lightweight as the operating system itself is less demanding. And many of its distributions choose to sacrifice visual effects to ensure best performance. Besides, in Linux, the Ext4 file system has done a commendable job in maintaining device efficiency.
Windows: Windows operating system can easily get sluggish if it is not used wisely or not properly maintained. When using multiple processes, it is common to see an increase in memory and disk usage. Although there are numerous ways to improve Windows system efficiency, it requires you to do extra work.
Conclusion: Linux performs better than Windows in the long run.
Linux vs Windows on Gaming
Linux: Linux is in a slow development stage in the game market. Although many games provide beta support now, it still has a long way to go. If you use a Linux operating system, you will miss out a lot of games.
Windows: Steam, Epic, and many other gaming programs are available to Windows users, giving them the opportunity to play both AAA games and small indie games. Besides, due to the large user base of Windows OS, graphics card manufacturers majorly focus their support on Windows, which is a big advantage for Windows gamer.
Conclusion: When talking about Linux vs Windows gaming, Windows OS is a perfect choice of a PC game player as it supports much more games compared with Linux.
Linux vs Windows on User Groups
Linux: Linux is used by companies, scientific and academic organizations. Most business clients use Linux OS in their software development machines. It is considered the best option for the development machines and servers. On the desktop, it is often used by skilled users who pay attention to security, consistency and flexibility of the system.
Windows: Microsoft Windows is usually the preferred operating system for home users, gamers, novice users and business users who rely on Microsoft software.
Conclusion: Windows dominates the home computer sector, while Linux is the leading operating system on servers. And its influence in the world's technology field is far beyond your imagination.
Linux vs Windows on Installation
Linux: Linux OS has the ability of "live boot". What does this mean? This is to say, you can boot from a DVD or USB drive without actually installing the OS on your computer. This can help you quickly test out if you like the distro without having to actually commit to it. If you like it, you can install the distro from the live-booted OS or just run live version as long as you need it.
Windows: As for Windows installation, most of you must have experienced it, which is a time-consuming process. But compared with many Linux distributions, Windows installations are simpler and require minimal user input.
Conclusion: Windows installation process is simpler than that of Linux.
After reading this post of Linux vs Windows, I learned the main differences between the two operating systems and have a better understanding of the Linux operating system.Click to Tweet
Move from Windows to Linux OS
Is Linux better than Windows? Well, the answer is YES. After reading the comparison of Linux vs Windows 10, you can see that Linux has many advantages over Windows. And some users are considering switching from Windows to Linux operating system. If you are one of them, I suggest that you backup the Windows operating system all the data on the system disk in advance to prevent data loss caused by improper operation.
MiniTool Partition Wizard Free Edition is a piece of free disk cloning software & partition manager. It can help you backup disk or partition, move/resize partition, convert MBR to GPT, migrate OS to HD/SSD, convert NTFS to FAT, and check file system and so on. If you need a partition manager to backup disks or partitions on your computer, MiniTool Partition Wizard Free Edition can be your best choice.
Here's how to make a backup with MiniTool Partition Wizard Free Edition. Please download and install the program on your computer at first.
MiniTool Partition Wizard FreeClick to Download100%Clean & Safe
Step 1. Connect an external storage device to your PC. It should be large enough to store all the data on your system disk.
Step 2. Select the disk that you would like to copy and click Copy Disk.
Step 3. Select a target disk where the copy will be stored and click Next to continue. Then click Yes to continue.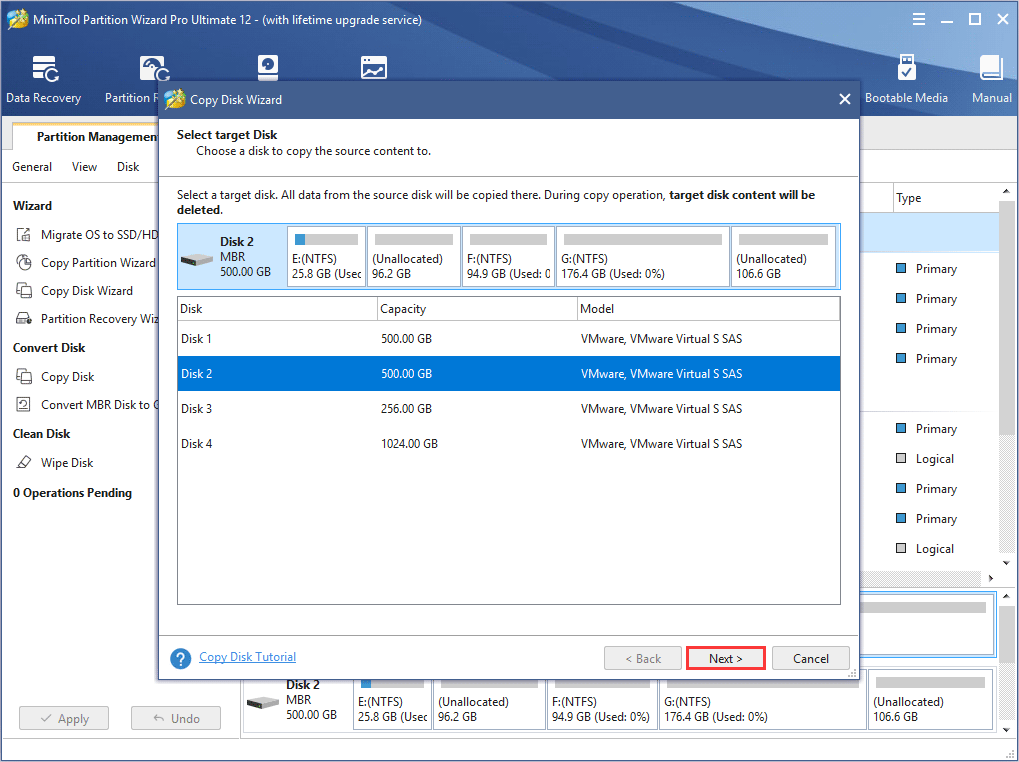 Note: Make sure that there's no important data on the target disk because all its data will be deleted during copy process.
Step 4. Choose a copy method and click Next.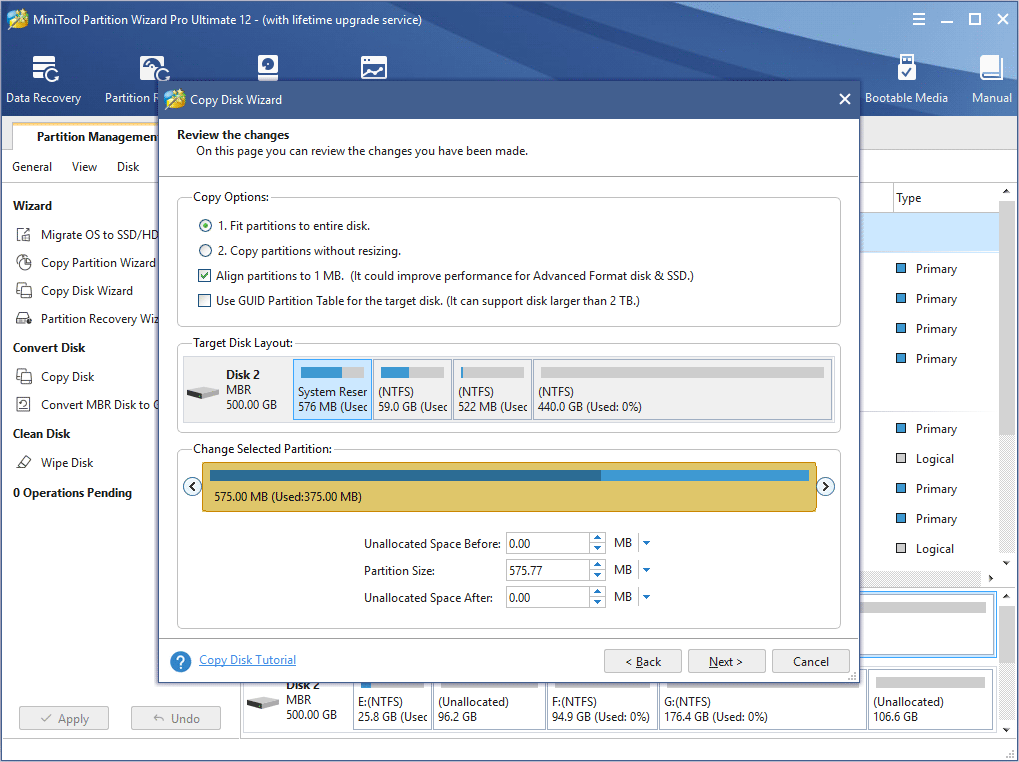 Step 5. Read the note which shows how to boot from the target disk, and click Finish to go back to the main interface.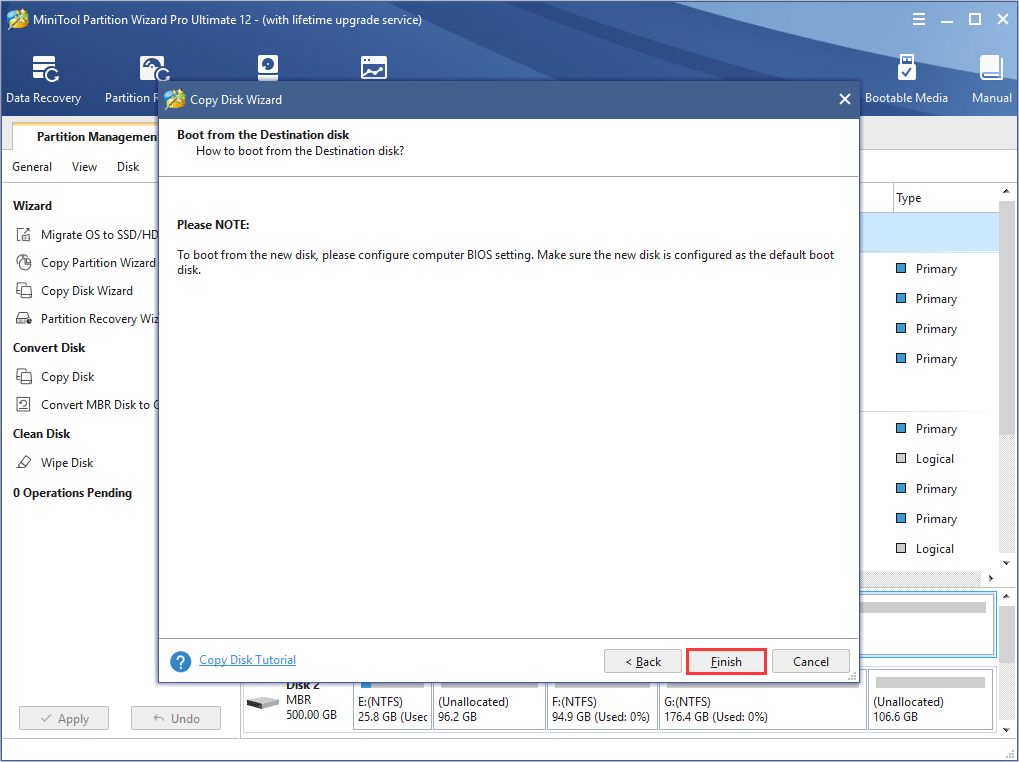 Step 6. Click Apply to execute all changes.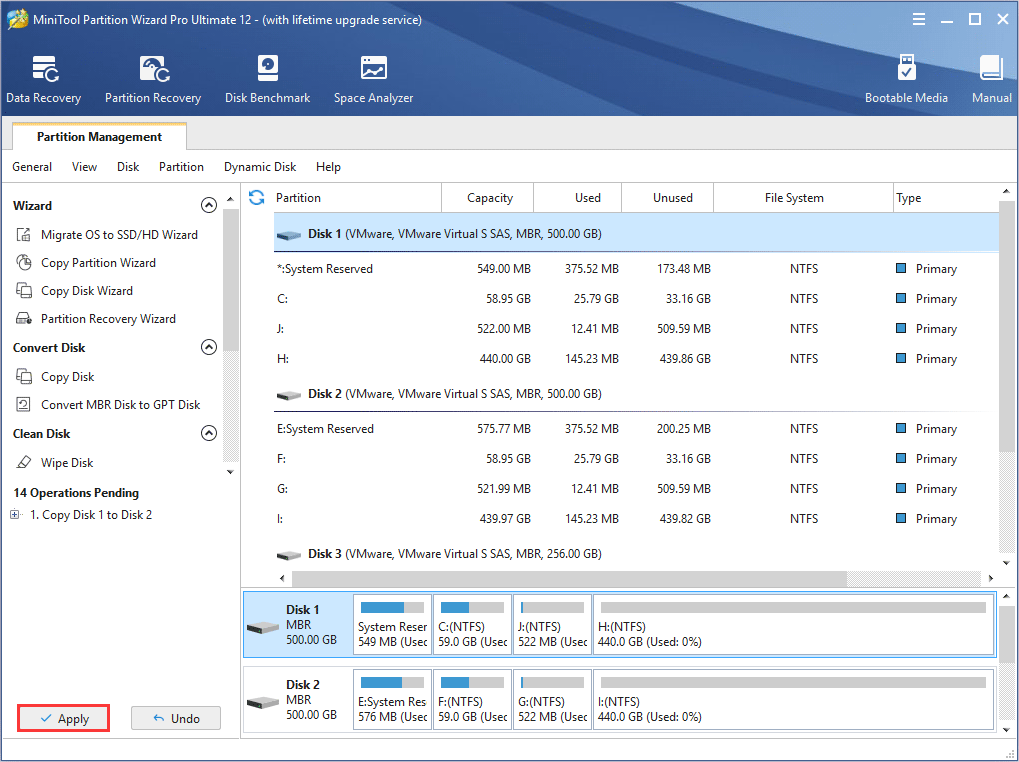 After that, you can install Linux operating system at ease.
For those who are new to Linux systems, it is still difficult to master the Linux system. And you may not get used to it. If there's something wrong happened during the process, the data stored on your computer can be affected. So, to make a backup of the important data on your computer is strongly recommended.
MiniTool Partition Wizard FreeClick to Download100%Clean & Safe
Bottom Line
After reading this post of Linux vs Windows operating system, I'm sure that you have learned more information about the two operating system's differences. If you want to use Linux operating system instead of Windows, please keep in mind that backup system disk at first.
If you have any question about how to backup disk with MiniTool Partition Wizard Free Edition, you can leave a message in the following comment zone and we will reply as soon as possible. If you need any help when using MiniTool software, you can contact us via [email protected].