Is NET Framework 3.0 supported for Windows? A lot of users are confused about this question. In this post, MiniTool explains it and provides a full guide on the NET Framework 3.0 download/install.
As it's well known to us, the .NET Framework is a crucial software component that makes Windows run the C, C++, and Visual Basic apps properly. The latest version of NET Framework 4.8 has been released, but certain apps and programs still require the older versions such as NET Framework 3.5, 2.0, and 3.0.
A lot of users don't know where and how to get NET Framework 3.0 downloaded and installed for Windows. So, we write a full guide to install NET 3.0 and explain some other related information. Let's keep reading.
What Is NET Framework 3.0
Microsoft .NET Framework 3.0 contains the runtime redistributable package and files related to apps that require the NET 3.0 Framework. It provides cumulative roll-up updates for issues found after the release of NET 3.0. Besides, this version improves security and provides prerequisite features that support NET 3.0 service pack 1 and NET 3.5.
What Does NET Framework 3.0 Support
The .NET Framework 3.0 is a relatively old version that was released on Nov 19, 2007, and is available in multiple languages. It is supported on Windows XP, Windows Server 2003, Vista, Windows Server 2008/Server 2008 R2.
In addition, Microsoft NET Framework 3.0 can also work on computers that come with NET Framework 3.5 installed, which supports additional operating systems. But before you install NET 3.0, you should check if your computer meets the following system requirements.
Processor: at least 400 MHz Pentium processor or equivalent, 1GHz Pentium processor or equivalent recommended
RAM: at least 96 MB and 256 MB recommended
Hard disk: at least 500 MB of free space
Display: 800 x 600, 256 colors (Minimum); 1024 x 768 high color 32-bit (Recommended)
How to Download & Install NET Framework 3.0 for Windows
Now, you should have prepared all things ready. Let's see how to install .NET Framework 3.0 with the following 2 methods.
Way 1. NET Framework 3.0 Download/Install via Windows Features
As mentioned above, the .NET Framework 3.5 comes together with .NET Framework 2.0 and 3.0 for Windows. Without NET 2.0 and NET 3.0, the NET Framework 3.5 cannot function properly. Thus, you can install Microsoft NET Framework 3.0 by installing NET 3.5. Here's how:
Step 1. Open your Control Panel, change the View by type to Large icons, and select Programs and Features.
Step 2. Click on Turn Windows features on or off from the left pane.
Step 3. In the Windows Features window, see if the .NET Framework 3.5 (includes .NET 2.0 and 3.0) is enabled. If not, you can tick the checkbox and click on OK to download and install NET 3.5. After that, the NET 3.0 and 2.0 should have been installed too.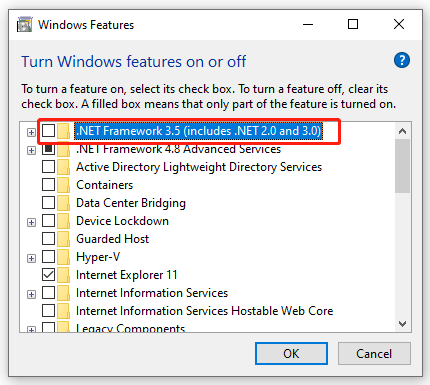 Way 2. NET Framework 3.0 Download/Install Manually from Microsoft
If you fail to install NET Framework 3.0 via the above method, you can download NET.Framework 3.0 from the Microsoft official website and install it manually. For that:
Step 1. Click here to open the Microsoft .NET Framework 3.0 official website, and then select the language from the drop-down menu and click on Download. Then select a location to save the download package.

Step 2. Once downloaded, double-click the executable file and click on Yes to run the installer.
Step 3. In the pop-up window, click on Next and accept the license agreements, and then you can follow the on-screen prompts to complete the installation. Once done, click on Finish.
If you encounter a low disk space error or other errors related to hard disks when installing the program, MiniTool Partition Wizard can help you fix them easily. Moreover, you can use it to extend/resize/format partition, convert a disk to MBR/GPT, migrate OS, etc.