Summary :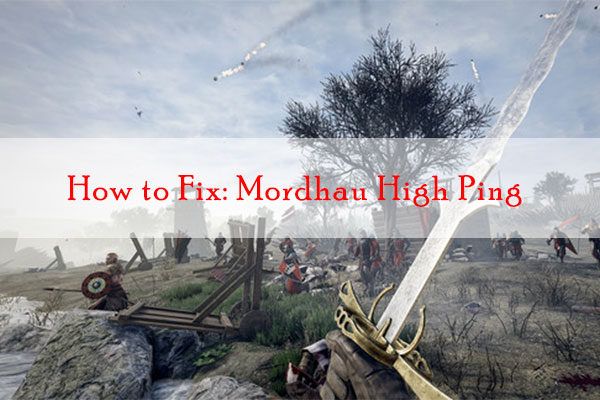 Are you playing Mordhau on Windows PC? It might be annoying if you encounter problems like Mordhau high ping and lag issues? Don't worry. In this post, MiniTool Partition Wizard puts together some solutions to these problems and you can have a try.
Mordhau is a multiplayer video game developed by the independent Slovene studio. This game was released in April, 2019 and users can get it from Steam. In the game, players fight with medieval weapons such as swords, spears, etc. And they can play it in either first person or third person perspective.
Unfortunately, some players report that they encounter problems during the gameplay, especially the high ping, stuttering, and lag issues. You may ask: why is my ping so high? Actually, these problems make the game unable to respond quickly or the page fails to load, which usually has something related to network issues.
How to solve Mordhau high ping, stuttering, or lag issues? You can try the following methods.
Method 1: Update Your Network Driver
Mordhau high ping issue might happen if your network driver is outdated or corrupted. To troubleshoot the problem, you should try updating your network driver. Here are the detailed steps.
Tip: Mordau stuttering and lag issues could also happen due to an outdated graphics card driver. Therefore, you need to keep the graphics card driver up-to-date, too.
Step 1: Right-click Start button and select Device Manager.
Step 2: In Device Manager, double-click Network adapters to expand the category.
Step 3: Right-click the network adapter you are currently using and select Update driver.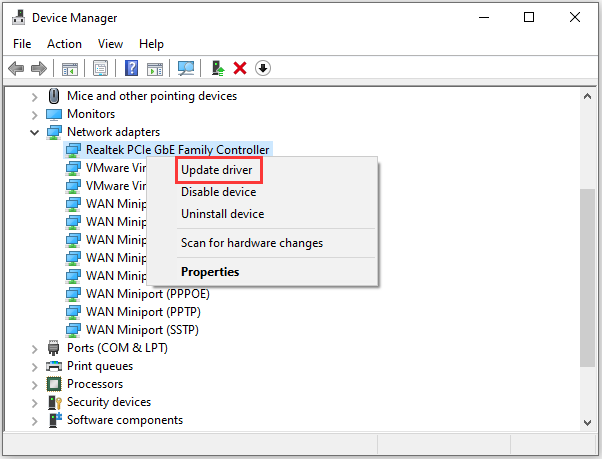 Step 4: In the pop-up window, click Search automatically for updated driver software. Then Windows will search your PC and the Internet for the latest driver software for your network device. You just need to wait until the driver is installed.
After the process, you will be required to restart your PC for the changes to take effect. Then you can launch Steam and try playing Mordhau again. If you are still bothered by the high ping or stuttering issue, you should try closing the bandwidth hogging applications running in the background, or change your network to Ethernet instead of Wi-Fi.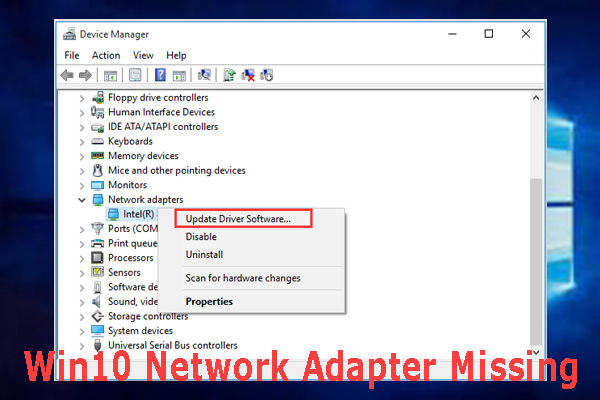 Many people complain about the Windows 10 network adapter missing issue. Are you still trying to resolve it? This post will provide top 5 methods for you.
Solution 2: Verify Game Files
Incomplete game files would also lead to various game issues. When you encounter problems during the gameplay, such as Mordhau high pin, stuttering, or lag issue, it's also a good idea to verify the integrity of game files. You can do it via Steam platform, where a built-in tool for game file verifying is provided.
Step 1: Launch Steam and go to the LIBRARY to view the list of your installed games.
Step 2: Right-click your Mordhau from the list and select Properties.
Step 3: In the pop-up window, switch to LOCAL FILES tab and click VERIFY INTEGRITY OF GAME FILES.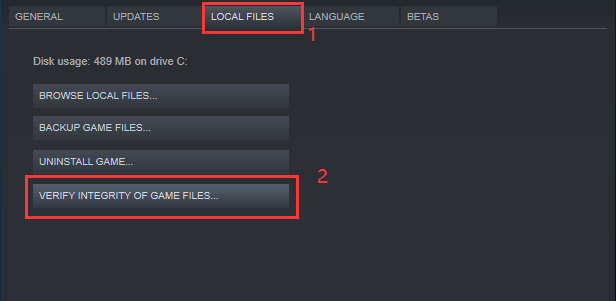 When the process is finished, click CLOSE. Then you can run Mordhau again and check if it works properly now. If it still comes with high ping, you might need to reinstall the game.
According to the players, Mordhau high ping might also happen because of server issues and you might be unable to solve the problem in this case.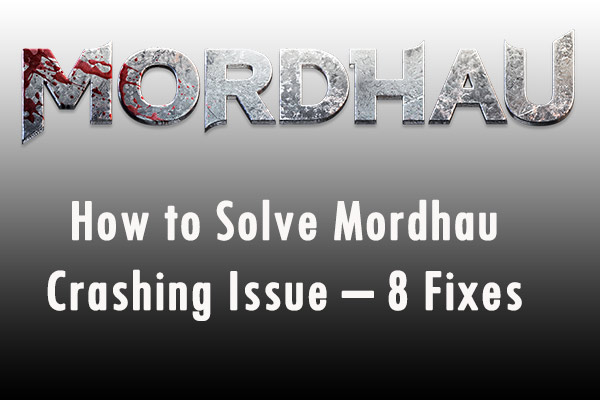 Recently, some players report that Mordhau keeps crashing for odd reasons. How to fix this issue? Some solutions are displayed with detailed steps in this post.