Do you play Minecraft account on PC? Have you ever encountered Minecraft login not working issue? In some cases, you can only wait for the developer to fix the issue. In some cases, you can fix it by yourself. To know more details, please refer to this post provided by MiniTool Partition Wizard.
Minecraft is a sandbox video game developed by Mojang Studios and released in 2011. It has become the best-selling video game of all time, available on various platforms. However, some users who play it on PC report Minecraft login not working. Reasons for this problem are various.
If you're bothered by the same issue, you can try the following solutions one by one until it disappears.
Solution 1: Check the Server
A reason for Minecraft login not working is that the server is down for maintenance. Therefore, you should check for server issue at first once you encounter the problem. You can check Minecraft.net for it. In this case, you need to wait for the developer to fix the issue.
Sometimes, errors like login failed, invalid username and password are temporary and they might disappear automatically after about an hour. In this case, you just need to wait for a while.
If you find that there is no server issue, you can move on to the next solution.
Solution 2: Reset Minecraft Account Password
If you can't log in to Minecraft account for odd reasons, you can try fixing it by resetting Minecraft account password. You just need to click Forgot your password before logging in, enter your email address and click REQUEST PASSWORD RESET. Then open the email sent by Minecraft and follow the instructions onscreen to reset your password.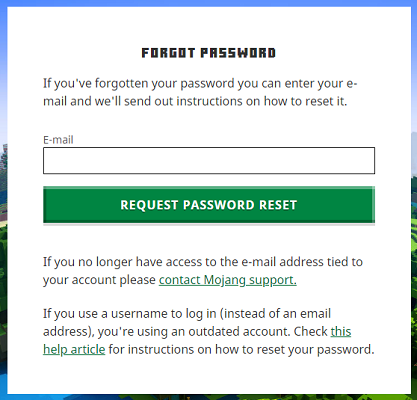 After resetting password, you can login again and check if the problem has been removed.
Solution 3: Flush DNS
Another way to solve the Minecraft account not logging in is to flush DNS configurations. In this way, you can remove all the network information stored in the cache and force the computer to find new DNS information.
Let's see the detailed steps.
Step 1: Press Win + R to invoke Run window.
Step 2: Input cmd in the box and press Enter to run Command Prompt.
Step 3: In Command Prompt, type the following command and press Enter to execute it: Ipconfig /flushdns.
Step 4: After flushing DNS successfully, you can exit Command Prompt.
Then launch Minecraft again and check whether you can log in.
Solution 4: Try Another Browser
If you encounter Minecraft login not working while trying to login to Minecraft.net, you can change a different browser. Just close the current browser and open another one. Then visit Minecraft.net and enter your email and password, and click LOG IN.
If it works, you can keep using this browser or clearing the cache and cookies on the browser where Minecraft login not working issue appears.
Take Google Chrome as an example, you just need to click the three-dot icon and navigate to More tools > Clear browsing data. Then check Browsing history, Cookies and other site data and Cached images and files. You can also check other items which you want to clear. Then click Clear data button.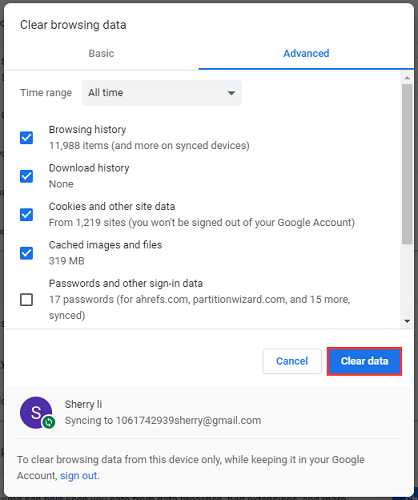 Now, you can try logging in to Minecraft account again.