On Windows 11/10 computers, you may receive error code 0 when trying to install McAfee Security Suite. What is McAfee installation error code 0? How to fix it? In this article from MiniTool Partition Wizard would show you several feasible methods.
What Is McAfee Installation Error Code 0
You may receive error code 0 when you try to install McAfee Security Suite. When your system has this error, the installer displays a red banner with either of the following error messages.
Unable to Continue Installation. We are having trouble completing your McAfee software installation because of this error: 0
Something went wrong with the installation. We are having trouble installing your McAfee software. Contact McAfee Support and mention problem code 0.
Listed below are some common reasons why you might encounter error codes when installing McAfee on your device:
The application download or installation is incomplete.
Malware or virus infection already exists in the system.
Corrupted registry files.
Restrictions on pre-existing antivirus software.
How to Fix McAfee Installation Error Code 0
Method 1: Run the McAfee Preinstallation Tool
You can use the McAfee Pre-Install Tool to prepare your computer for downloading and installing McAfee products.
Step 1: When you see an error, click Finish to close the dialog.
Step 2: Download Pre-InstallTool directly from McAfee.
Step 3: Double-click the downloaded executable file to start the utility.
Step 4: Click the Start button on the home page and follow the prompts.
Restart your PC after the process is complete. When it starts up, you can try to install McAfee security software again.
Method 2: Reinstall McAfee
Reinstalling the McAfee app may help to solve this problem. Here're the steps:
Step 1: Search Control Panel in the Start screen and then press Enter. Then choose the Programs and Features option.
Step 2: Locate the McAfee app. Then click it and click Uninstall.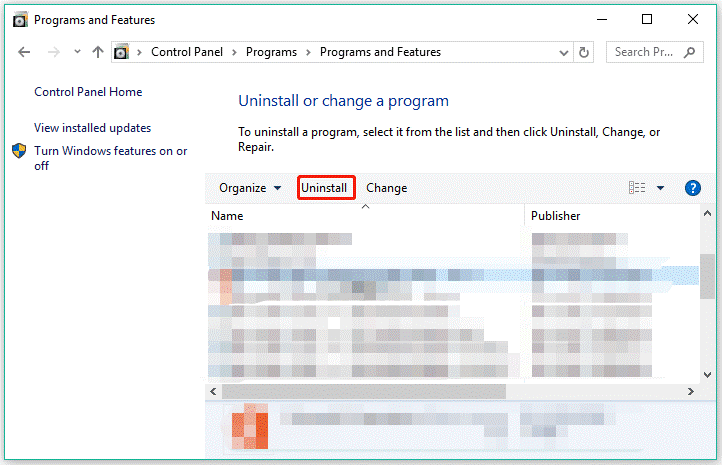 Step 3: Follow the on-screen instructions to uninstall the app.
Step 4: When finished, restart your computer. Then download the McAfee program from the official website.
Method 3: Fix Any DNS Issues
If DNS is slow, there may be an installation problem. In this case, changing the DNS settings on the network card to a public server may help resolve these issues. Likewise, if the DNS settings are corrupted, it can prevent certain applications from contacting the internet, which may be the case for McAfee software installation failures on Windows 11/10 computers. In this case, you can flush DNS.
[Step by Step Guide] How to Troubleshoot the DNS Error?
Method 4: Run the McAfee Software Installation Helper
This program helps you install McAfee software. Here's how to do it:
Step 1: First, you should download the McAfee Software Install Helper tool and install it on your computer.
Step 2: Run the program and log in with your registered email and password.
Step 3: When finished, accept the license agreement. Afterward, McAfee Install Helper will uninstall and reinstall the software to resolve the error. After the process is complete, the program will be installed on your computer.
Method 5: Install and Use Another AV
If none of the above solutions for McAfee installation issues on Windows 11/10 PC resolve the error, then you may consider installing and using another AV solution on your device. Or better yet, configure the built-in Windows Defender according to your requirements.
If you can't or can't start Windows Defender, this article may be helpful to you!
Bottom Line
Is this post helpful to you? If you have other methods for this McAfee Installation Error Code 0 issue, you can share them with us in the following comment zone. To better manage Partitions and disks on Windows, you can try MiniTool Partition Wizard. It is a professional partition manager, which can help you fix low disk space and hard drive errors.
MiniTool Partition Wizard FreeClick to Download100%Clean & Safe