If you are going to download Malwarebytes, this post is worth reading. Here, MiniTool Partition Wizard tells you how to obtain a free Malwarebytes download and then install it.
You need a piece of antivirus software to keep adware, spyware, keylogger, computer virus, worms, Trojan, ransomware, rootkit, malicious cryptomining, exploits, malvertising, spoofing, and phishing away from your computer. Simply put, it can keep your computer safe.
Malwarebytes is a popular antivirus program. To learn more information about Malwarebytes, please keep reading the post.
What Is Malwarebytes
Malwarebytes, a piece of antivirus software, always protects your computer in real-time. It includes features like anti-ransomware, anti-exploit, and malicious website protection. It can work on Windows, Mac Android, and iOS devices. To be specific, it can clean viruses and malware from your infected Windows PC or Mac.
For Android devices, Malwarebytes can find and remove adware and malware. Besides, you can get a privacy audit for all apps on the Android. It can even track your location, monitor your calls, or cost you extra in hidden feeds if you keep tabs on.
By using Malwarebytes on iPhones, iPads, and iPods, you can browse the Internet with fewer distractions, block intrusive ads in Safari with Ad Blocking. On iPhones, you are able to ignore suspicious texts with Text Message Filtering.
Like a coin has two sides, Malwarebytes also has its pros and cons.
Pros
Stable in Windows 10
High-quality scanning engine
Real-time protection
Detailed and plain-English explanations
Con
Limited testing by independent labs
Get Malwarebytes Free Downloads for Windows
You can get the free Malwarebytes download from its official websites or third-party sites like bleepingcomputer and download.cnet. It's worth noting that Malwarebytes.com allows you to get Malwarebytes free downloads from several pages.
To download Malwarebytes on your computer, ensure that your device runs a Windows 7 or higher system (both 32 and 64 bit). Moreover, make sure that you have an active Internet connection. For hardware requirements, you should meet these standards.
800MHz CPU or faster, with SSE2 technology
2048MB (64-bit OS), 1024MB (32-bit OS)
250MB of free hard disk space
1024×768 or higher screen resolution
Get the free Malwarebytes download and then install it by following the steps below.
Step 1: Navigate to this page and click on the Free Download button.

Step 2: Double-click on the setup file of Malwarebytes to start the installation. After you receive the window below, click Yes to confirm the operation or click X icon at the upper right corner to skip the request.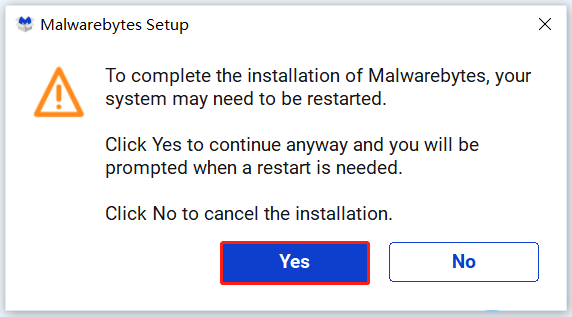 Step 3: Then you will navigate to the following window. Click Install to continue.
Tips:
If you want to configure the location and display language, click Advanced options to configure that.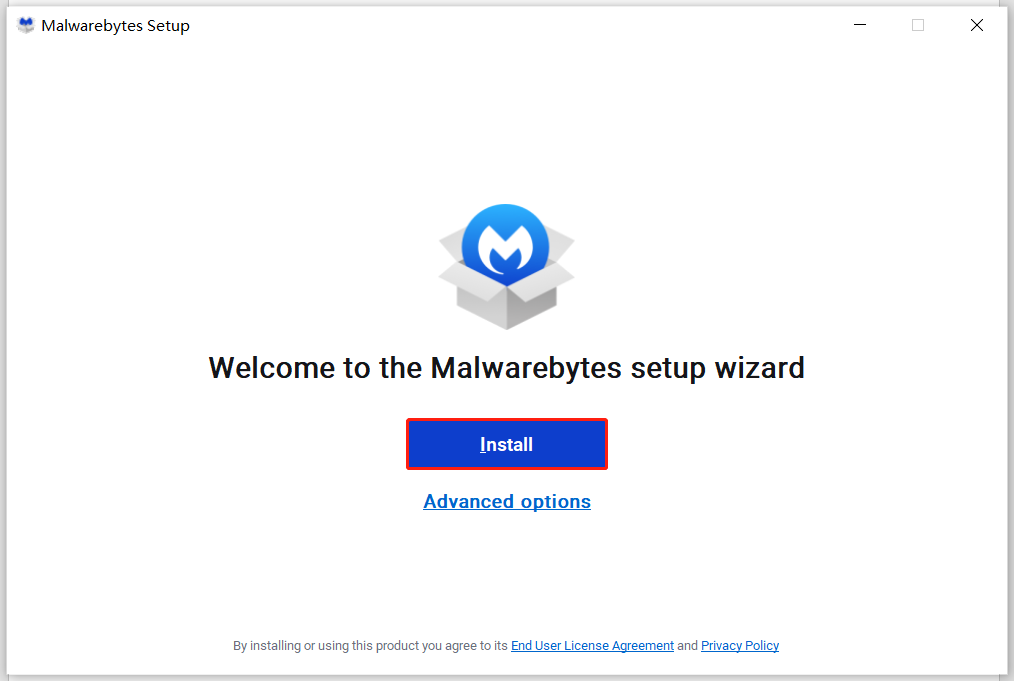 Step 4: In the next window, choose the item that you are trying to protect and then click Next. At here, we choose Me or my family.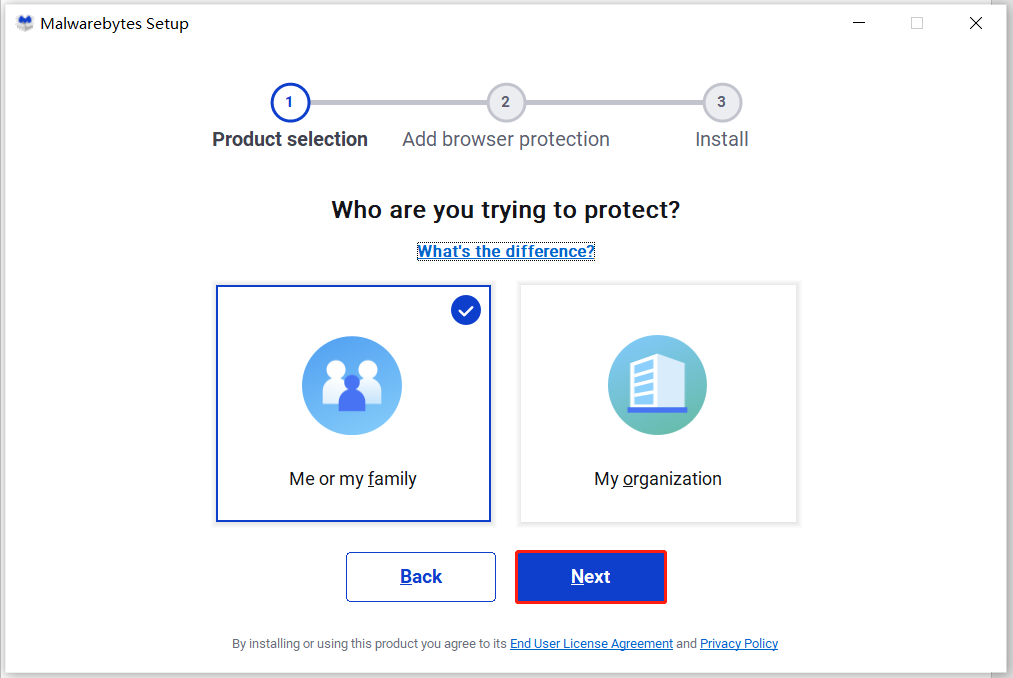 Step 5: Click Yes, sounds good or Skip this for now.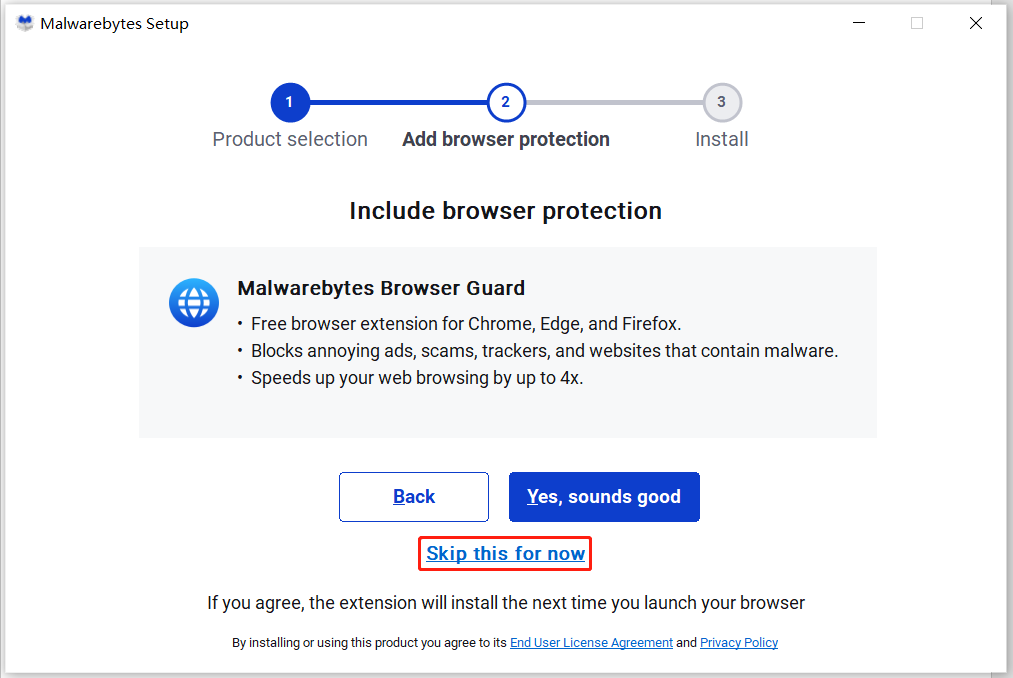 Step 6: Then it will automatically install Malwarebytes. You can view the progress.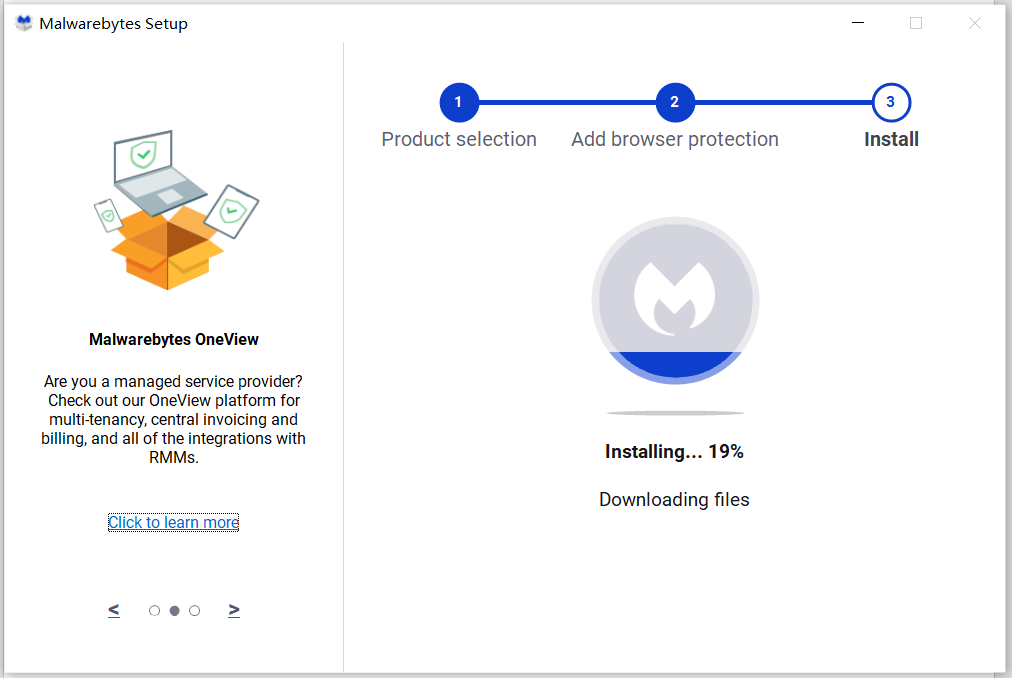 Step 7: After the installation process ends, click Done. Then it will launch by itself.
Download Malwarebytes for Mac/Android/iOS
If you own a Mac device, you can download Malwarebytes for Mac by clicking this link.
For Android devices, click here to get a free Malwarebytes download.
For iOS devices, click here to download Malwarebytes.
After you get a Malwarebytes free download by clicking the given links, install Malwarebytes by following the on-screen instructions like you do on Windows PCs.
How to get the free Malwarebytes download? Well, this post shows you how to download Malwarebytes for Windows, Mac, Android, and iOS devices.
Best Partition Manager for Windows
MiniTool Partition Wizard is regarded as the best partition manager for Windows PCs. It allows you to create/format/extend/move/resize/delete/recover partitions. In addition to these basic partition managing functions, it also includes functions like Space Analyzer, Disk Benchmark, and Data Recovery.
Tips:
It works on operating systems including Windows Vista/7/8/8.1/10/11. It supports file systems like FAT12/16/32, exFAT, NTFS, and Ext2/3/4. It comes with free and paid versions. To learn the difference between different versions, please read this comparison page.