To know the performance and the running speed of your machine, you'd better conduct a benchmark test. In this way, you can know what operating system has a better performance benchmark and then make a wise choice. Today, MiniTool will show you MacOS 10.15 vs Windows 10 vs Ubuntu 19.10 performance benchmark.
An Introduction of MacOS 10.15, Windows 10 and Ubuntu 19.10
Conducting a benchmark test is very useful, because you can see the performance and the running speed of your machine. Recently, multiple operating systems have been released. For instance, Ubuntu 19.10 "Eoan Ermine" and MacOS 10.15 "Catalina" were newly released by Apple.
Since most people are familiar with Windows 10, I only introduce the newly released MacOS Catalina and MacOS 10.15 here. As the latest version OS of Mac, MacOS Catalina strengthens the security level of Mac. Apple cancelled the iTune apple that has been a necessity of MacOS since 2001.
As a replacement, Music, Podcasts and TV are released along with the MacOS Catalina. Besides, MacOS Catalina adds Sidecar, Find My and other new features to meet your demand.
Ubuntu 19.10 "Eoan Ermine" is released on October, 17. Like MacOS Catalina, it brings some new features such as faster boot with LZ4 compression, experimental ZFS support, NVIDIA Graphics drivers in ISO, Dark and light theme, etc. It also sets the development direction of Ubuntu 20.04 LTS (the long-term support).
MacOS Catalina, Windows 10 and Ubuntu 19.10, which one do you want to choose? You can compare their performance benchmarks before making a choice. In fact, you need to execute that operation no matter in Windows 10 vs MacOS 10.15, Ubuntu 19.10 vs Windows 10, or Ubuntu 19.10 vs MacOS 10.15.
MacOS 10.15  Windows 10  Ubuntu 19.10 Performance Benchmark
Now, the point is that how to perform a performance test for Windows 10, MacOS 10.15 and Ubuntu 19.10 respectively.
Perform Windows 10 Performance Benchmark
It is very easy to get the PC benchmark on Windows 10. Here are some tools you can choose like Windows PowerShell, Performance Monitor and System Diagnostics and so on. Click here to obtain the full guide to carry out a Windows benchmark test.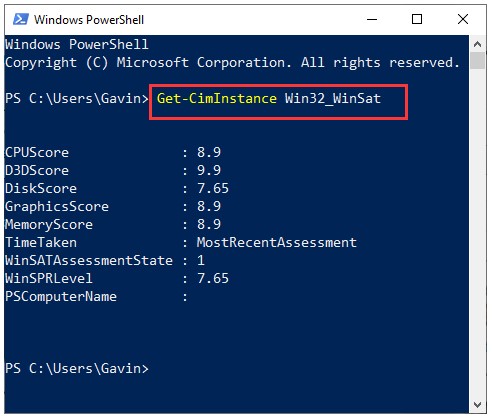 You may also be interested in this: Minecraft Windows 10 VS Java Version: Which Should You Buy 
Perform Mac10.15 and Ubuntu 19.10 Performance Benchmark with Phoronix Test Suite
Alternatively, you can run benchmarks on Mac10.15 and Ubuntu 19.10 from this MacBook Pro by using the Phoronix Test Suite. This suite allows you to run more than 80 benchmarks on the three operating systems.
When using an Apple MacBook Pro with Core i7-6700HQ Skylake CPU, 2 x 8GB RAM, 250GB Apple SSD, and Radeon Pro 450 graphics, MacOS 10.15, Windows 10, and Ubuntu 19.10 are benchmarked off on this same system.
Other Useful Information about the Performance Benchmark
The three operating systems have been tested with their latest software updates so far. You can also test the Clear Linux of Intel to check the performance of an optimized rolling-release Linux distribution. However, you may encounter some issues with its UEFI boot configuration during the startup process of MacBook Pro.
It is pleasing that Ubuntu 19.10 provides support for latest MacBook Pro laptops and other Linux distributions utilizing the Linux 5.3 kernel or newer. In past few years, the Linux 5.3 mainline brought a driver for coping with the Apple keyboards and trackpads for MacBook/MacBook Pro device.
With the release of Ubuntu (using Linux 5.3), MacBook Pro 2016 and more advanced versions can be used massively.
After comparing MacOS 10.15  Windows 10 Ubuntu 19.10 performance benchmark, you are able to select one that suits your demand now. That's the information about performance benchmark on different machines and operating systems. Read here, you may have a deep understanding of the three operating systems.
You may raise a question: Can I know my disk performance benchmark? The answer is definitely "Yes". To get more information about how to conduct a performance test on hard disk, you can keep reading the next part.
Some Extra Information
To test your disk speed, you need a professional tool. MiniTool Partition Wizard is strongly recommended to you. It is a safe and reliable tool for testing disk speed including transfer speed disk read & write speed. Its Disk Benchmark feature enables you to obtain the disk speed information in few clicks.