What Does LGA 3647 Mean?
In usual situations, LGA 3647, also called Socket P, refers to a kind of CPU socket that is compatible with the certain Intel processors including Intel Xeon Phi 72×0 ("Knights Landing"), Intel Xeon Phi 72×5 (Knights Mill"), Intel Skylake-SP, Intel Cascade Lake-SP/AP, and Intel Cascade Lake-W microprocessors.
This type of sockets adopts Flip-chip land grid array (FCLGA) chip form factors, and it has 3647 pins or contacts to contact with the underside of the processors. Socket LGA 3647 makes use of Intel Ultra Path Interconnect (UPI) as a replacement for QuickPath Interconnect (QPI) and direct media interface (DMI) 3.0 serving as its front-side bus (FBS) protocols. Its supported processors' dimensions are 76.0 mm x 56.5 mm.
LGA-3647 socket supports a 6-channel memory controller, double data rate 4 synchronous dynamic random-access memory (DDR4 SDRAM), and non-volatile 3D XPoint memory DIMMs. It uses 100G Omni-Path interconnect and a new mounting mechanism that doesn't use a lever to secure it on the motherboard, instead of secured by the CPU cooler's pressure.
Slot LGA 3647 succeeded socket LGA 2011 in the performance and low- and mid-end server platforms in 2016.
LGA 3647 Sub-versions
There are 2 variants of land grid array 3647 sockets, LGA 3647-0 (socket P0) and LGA 3647-1 (socket P1). They are different in several aspects including the independent loading mechanism (ILM), processor package carrier frame (square vs narrow) preventing mounting the heatsinks for other socket versions.
Tip: Noctua is an LGA 3647 cooler that is specially designed for Intel LGA 3647 CPU socket coming with both square and narrow carrier frames.
Respectively, LGA 3647-0 version is used for Intel Skylake-SP and Intel Cascade Lake-SP/AP processors, while LGA 3647-1 version is applied to Intel Xeon Phi x200 processors.
LGA 3647 CPU List
Intel Xeon Phi 72×0 Series ("Knights Landing")
Intel Xeon Phi 7210
Intel Xeon Phi 7210F
Intel Xeon Phi 7230
Intel Xeon Phi 7230F
Intel Xeon Phi 7250
Intel Xeon Phi 7250F
Intel Xeon Phi 7290
Intel Xeon Phi 7290F
Intel Xeon Phi 72×5 Series (Knights Mill")
Intel Xeon Phi 7235
Intel Xeon Phi 7285
Intel Xeon Phi 7295
Intel Skylake-SP
Intel Xeon Bronze: 3104 and 3106
Intel Xeon Silver 41xx
Intel Xeon Gold: 51xx, 61xx
Intel Xeon Platinum 81xx
Intel Cascade Lake-SP/AP
Intel Xeon Platinum 82xx
Intel Xeon Gold: 62xx, 52xx
Intel Xeon Silver 42xx
Intel Xeon Bronze: 3206R & 3204
Intel Xeon W-32xx
LGA 3647 Motherboards
The following will introduce you with 3 popular motherboards of LGA 3647 socket.
#1 GIGABYTE W42G-P08R (rev. 1.0)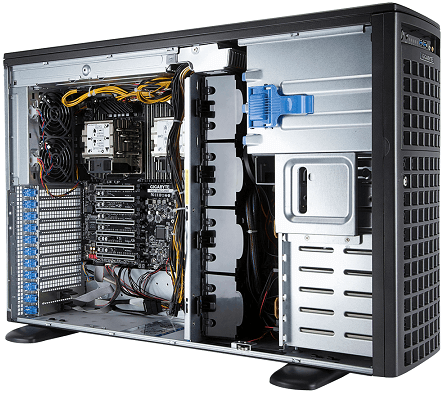 This is a dual-socket p (LGA-3647) motherboard that supports the first and second generation of Intel Xeon scalable processors. It has 12 x DDR4 RDIMM/LRDIMM with 6-channel and up to 1.5TB capacity. The system board equips with 8 x 3.5" hot-swappable HDD bays, Aspeed AST25 BMC, dual Intel Server GbE LAN, as well as 2000W 1+1 redundant PSU.
#2 SUPERMICRO MBD-X11SPM-F-O Micro ATX Server Motherboard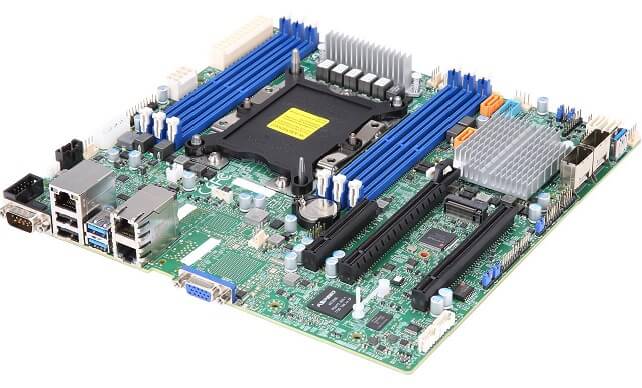 This motherboard comes from Supermicro and is of micro ATX size. It adopts a single LGA 3647 CPU socket, supports Intel Xeon Scalable processors, Intel C621 chipset, and CPU TDP 165W. It supports up to 768GB ECC 3DS LRDIMM, DDR4-2666 MHz, 6 x 288-pin DDR4 slots, 2 PCI Express 3.0 x 16 expansion slots, 12 x SATA 6.0 Gb/s, as well as 5 x USB 3.0.
#3 AsRock Rack EPC621D4I-2M Mini-ITX Server Motherboard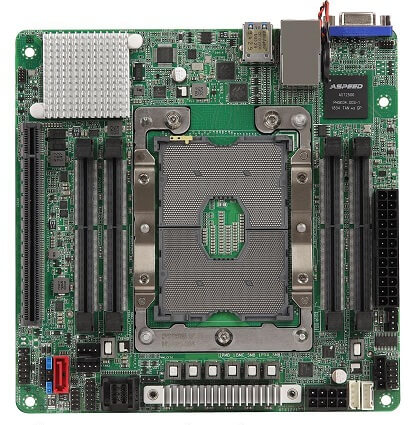 This kind of motherboard is of Mini-ITX size and is special for server computers. It supports Intel Xeon Scalable processors, 4 x DDR4 SO-DIMM slots (4 channel), 7 x SATA 3.0, 1 x PCIe 3.0 x 16, and 2 x GLAN by Intel integrated MAC X722 + Marvell 88E1514.