Downloading and installing new Windows Updates is an effective way to obtain new features and bug fixes. If you want to get better experience on Windows, the KB5007186 update is a good choice. MiniTool shows you how to download KB5007186 and fix KB5007186 issues during the installation process.
KB5007186 Release Date
On November 9, 2021, Microsoft released the Cumulative Update KB5007186 for Windows 10 21H1, 20H2, and 2004 versions. If you run May 2021 Update now, you would get the Build 19043.1348 after downloading and installing KB5007186.
If you have upgraded to the 21H2 aka November 2021 Update, you will receive the same set of bug fixes and improvements but with the 19044.1348 Build version. If your current system version is 20H2, you will get the Windows 10 Build 19042.1348 after installing the KB5007186 update.
As for the 2004 version, KB5007186 would be the last security patch for consumer editions of the OS version according to Microsoft.
Tip: You can find the version and build number of your Windows 10 by opening Settings > clicking System > clicking About. Alternatively, you can also check that by opening the Run window, type winver, and hit Enter.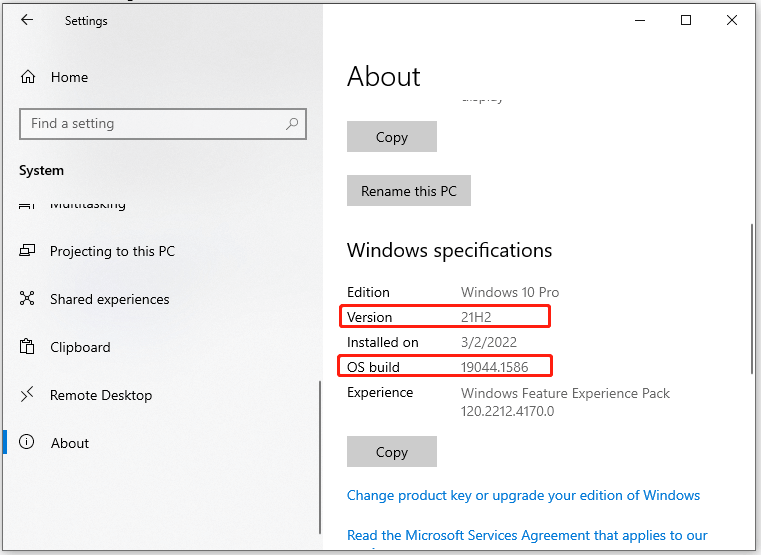 Also read: [Fixed] Feature Update to Windows 10 Version 20H2 Not Installing
New Features and Bug Fixes of KB5007186
Like other Windows updates, KB5007186 also contains new features and bugs fixes. For example, it stops subtitles from appearing in certain video apps, but Movies & TVs are not affected. Besides, it also blocks subtitles on certain streaming sites.
The bug "the lock screen background appears black when you have configured a slideshow of pictures as a lock screen background" is fixed too. It is good news for enterprise and consumers that Microsoft has solved the bug – preventing some users from seeing the out-of-box experience pages.
In addition to that, the Cumulative Update KB5007186 offers other bug fixes. They are listed as follows.
Tip: Windows update patch KB5007186 didn't fix "can't print with network printer or new network printer".
Fix video streaming issues caused by the system bug
Fix issues with LogonUI.exe
Fix the memory leak issue in Isass.exe
Fix another issue that can result in memory leaks
Fix an issue where BitLocker recovery stops working
Fix an issue that causes Kerberos.dll to stop responding when LSASS enables access to the same client user
Fix the bug that could prevent the installation of printers that use IPP
Fix Windows 10 virtual private network problems occurred especially during the setup of network between Windows Server 2019 Routing and RRAS servers
Certainly, there are some KB5007186 issues as well. For instance, the Microsoft Edge Legacy might be removed after you clean install this update. Fortunately, this case only happens when Windows has a custom offline media or an ISO image installed that doesn't include the 29th March 2021 SSU update.
Given that fact, it is recommended to install the March SSU update through slipstreaming or update the current OS through Windows Update. By doing so, you can avoid the mentioned issue. Another issue you might encounter is that you are possibly unable to install KB5007186 entirely. This issue often occurs because of a previous installed update KB5003690.
KB5007186 Download Sources
The KB5007186 update rolls out via Windows Update, WSUS, and Microsoft Update Catalog. So, you can download KB5007186 from multiple places. For instance, to download the Cumulative Update for Windows 10 Version 21H2 for x86-based System (KB5007186), you can get it from Microsoft Update Catalog.
To download KB5007186 and install it from Windows Update, you need to navigate to Settings > Windows Updates > Check for Updates. As mentioned earlier, the exact system build for different Windows 10 versions is different. 
Also read: Windows 7 ISO File Safe Download: All Editions (32 & 64 Bit)