Why is my IP address blocked? What should you do if your IP has been banned? If you are still bothered by these questions, this post of MiniTool is worth reading.
After you connect to the Internet, your ISP (Internet Service Provider) will assign an IP address to your network devices like PCS, mobile phones, tablets, etc. According to the type of Internet access, you can be allocated to use static IP address or dynamic IP address.
However, your IP address sometimes can be banned so that you can't access your beloved websites. What is IP ban? Well, you can find the answer in the next part.
Related article: Fake IP Address: What Is It and How to Get One
What Is IP Address Banning
IP address banning is also called IP address blocking. It is a configuration of network service used to block requests from hosts with certain IP addresses. As a matter of fact, IP address blocking is commonly used to protect against brute force attacks and to avoid access by a disruptive address.
This service can also be used to restrain access to or from a particular geographic area. The IP banned feature is available on multiple systems using a hosts file. As for Unix-like operating systems, they often implement IP address blocking with a TCP wrapper.
To some extent, banning an IP address is a safe way to keep order on the web. However, it can be frustrating for you. Why do you receive the "your IP has been banned" message? Some possible reasons for it are summarized in the section below.
How do you know if your IP address has been banned? Well, you can learn that after receiving a notification while try entering the site.
Reasons behind the "Your IP Has Been Banned" Error
Why is my IP address blocked? You may have such a doubt. Well, an IP address is usually blocked because a computer or person has executed something wrong. For instance, you may have repeatedly entered an incorrect username or password on certain websites.
In addition to that, there are some other possible causes for the "your IP has been banned there was recaptcha dumbass" error.
Violate the terms of use of the provider
Have more than one accounts under the same IP address
Restrict access from your location
Limit access from an IP address containing a virus
Establishing confidentiality
Prevent fraudulent transactions
Solutions to IP Ban
#1. Change IP Address
Changing your current IP address is a simple way to solve the "your IP has been banned" error. Here are steps for doing that on Windows devices.
Step 1: Right-click on the Windows icon on the desktop and click Run.
Step 2: In the pop-up window, input ipconfig /release and hit Enter.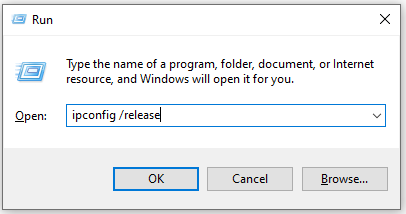 Step 3: In the prompted window, type ipconfig /renew and hit Enter to execute the command.
#2. Use a VPN
The virtual private network (VPN) routes your traffic to its server, which masks your IP address and transfers the data back to you. Hence, websites won't detect your IP address but the VPN's address if you use a VPN. You can select the country or location through which you would like to access a website.
#3. Utilize a Proxy Server
You can also get rid of the error "your IP has been banned there was recaptcha dumbass" by using a proxy server. It solves the issue effectively.
If you experience the user account ban, you can solve it by clearing cache, creating a new account, or reinstalling application.