On September 26, Microsoft released a Windows 10 optional cumulative update KB4517211, which came with a fix for audio issues and other problems. However, this update gives rise to some problems.
Printer Issue
Some users reported that all printers on the system had disappeared after installing the Windows 10 Version 1903 update KB4517211. Almost all programs reported "No printer installed", and the message "Print spooler service does not run" was displayed.
Some users also reported that the print queue had ended itself several times since installation. The reason is the stopped print spooler service. When the print spooler service does not run, you can't complete a print job and the print job will be canceled or failing.
Unfortunately, the manual start of the service was not successful and it seems that the only solution was to uninstall update KB4517211. Later on, Microsoft confirmed the presence of the bug and promised a fix, which is yet to arrive.
Windows Search Issue
Some users reported that the search window was not displayed or they can't type anything into the search field, or they can't even get their cursors in there, after applying Windows 10 September 26 update.
VMware Workstation Issue
KB4517211 also broke VMware Workstation. The update KB4517211 upgraded Windows 10 to build 18362.387 and added entries to the Windows Compatibility database, although that was not mentioned in the knowledgebase. As a result, VMware Workstation no longer worked because it was blocked by the cumulative update.
Only older versions of VMware Workstation like VMware Workstation 14 or below are affected. When you run these older versions, the message "VMware Workstation Pro can't run on Windows: Check for an updated version of this app that runs on Windows" is displayed.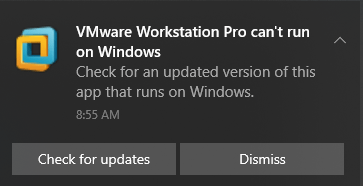 Some Attempts
To solve this problem, you may be willing to pay for an upgrade. However, that may cost you a lot of money. One affected user complained on Microsoft's site that upgrading 100 VMware Workstation licences for his company would cost €11,500.
In addition, even if you are willing to pay for an upgrade, you may face other compatibility issues. A user trying to run the networking software GNS3 found that the software no longer worked after upgrading. Another fact is that newer versions of VMware do not work on some older processors, so an upgrade is not always possible.
Some users may try replacing sysmain.sdb file with an older version to get blocked applications to run.
There is a basis for doing so. Sysmain.sdb, namely the Shim Database, is a place where Windows maintains its compatibility information, is also part of the Application Compatibility Framework which is able to patch applications on the fly as well as informing the user of compatibility issues.
However, I don't think this is a sound strategy since tinkering with sysmain.sdb, a system component, could have unpredictable affects on other applications or system stability; in addition, relaxing permissions on sysmain.sdb could make it a security vulnerability.
Some users reported that they did this subsequently and then VMware 14 worked. This method works, but they are still puzzled as to why Microsoft chose to block it.
Another solution is to uninstall this update and block the update, but it seems likely that a future update will cause the problem to return. On the other hand, this is also not a good long-term strategy because it also leaves Windows 10 vulnerable to security issues.
A lot of old applications still run well on Windows 10, so in general the compatibility is fair and it is understandable that some low level applications like hypervisors are more likely to run into this type of issues. But a better mechanism for flagging the issues in advance is also necessary so that admins have a chance to prepare.