Do you want to try Kali Linux? If so, you may need to download a proper Kali Linux ISO file. This post from MiniTool Partition Wizard shows you how to download this file and tells you the system requirements for your OS.
About Kali Linux
Kali Linux is a Linux distribution based on Debian and it is the industry leader in penetration testing and white hat. Kali Linux comes with a large number of intrusion and penetration tools and software. With these tools, it can do the following things:
Information forensics: It includes disk recovery, memory analysis, PDF audit, registry audit, and so on. In addition, if necessary, the forensics result can be used to support or refute a hypothesis before criminal or civil courts.
Penetration testing: It is an assessment method that evaluates the security of computer network systems by simulating the attack methods of malicious hackers. Most white hat hackers use this technology to uncover system vulnerabilities and propose improvement methods for employers without affecting the normal operation of business systems.
Attack wireless network protected by WPA/WPA2 to get Wi-Fi password or sniff the network.
Crack the password: It can crack the hashed password offline or crack the website login password online.
Reverse engineering: It is used to decompile programs written in android, Java, and C++ into code.
Social engineering: It's the black hat hacker's favorite.
Kali Linux System Requirements
To install Kali Linux on your PC, you should make sure your PC meets the following requirements:
If you just set up Kali Linux as a basic Secure Shell (SSH) server with no desktop:
RAM: 128 MB (512 MB is recommended)
Storage: 2 GB
If you install the default Xfce4 desktop and the kali-linux-default metapackage:
Tip:
1. If you want to run resource-intensive applications, such as Burp Suite, at least 8 GB of RAM is recommended.
2. Kali Linux has a 64-bit version and a 32-bit version. The 32-bit version uses a PAE kernel, so you can run them on systems with over 4 GB of RAM.
How to Check PC Full Specs Windows 10 in 5 Ways
Kali Linux Editions
Kali Linux is a rolling distro. Unlike other Linux distributions that may have the LTS edition, Kali Linux only has the rolling releases. An LTS version of Kali just does not make much sense for this distro.
A system used for penetration testing needs to keep the tools up to date. However, the LTS update model will freeze these tools for at least two or three years.
Kali Linux editions are only classified into 32-bit and 64-bit versions depending on what CPU you use. Of course, it also offers editions for ARM devices (like Raspberry) and mobile devices (phones).
Kali Linux Download
To get the Kali Linux ISO download, you should go to the official Kali Linux website and then click the Download button. It will lead you to the download page.
On this page, if you want to install Kali Linux on your PC, please click Bare Metal. Then, you can choose 64-bit or 32-bit Kali Linux ISO for download. If your PC is an Apple M1 PC, please choose the Apple M1 version.
In addition, Kali Linux also offers the Kali Linux ISO VM version (32-bit and 64-bit for VMWare and VirtualBox). This can save a lot of effort because you can skip the Kali Linux installation process on the VM.
If you want to install the Kali Linux on a USB drive, please scroll down to find the Live Boot version.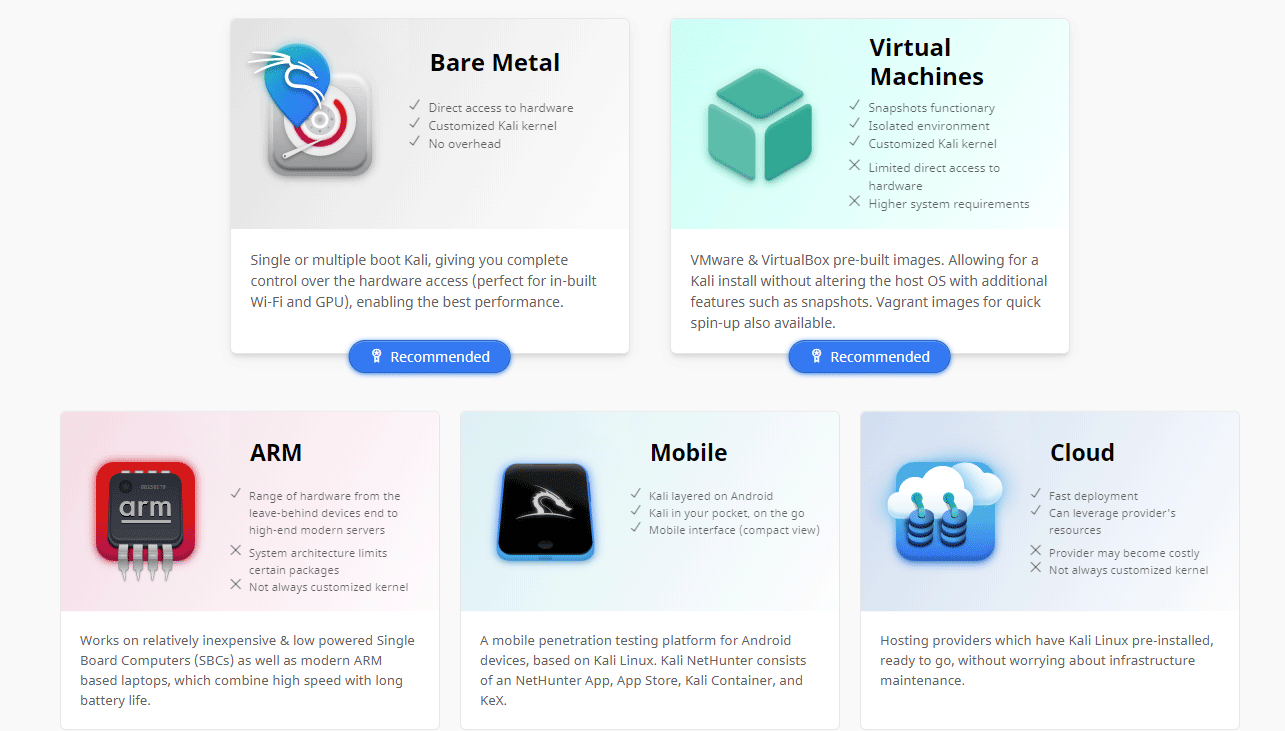 Through the above methods, you can download the latest Kali Linux ISO file. If you want to know how to install Kali Linux, please refer to this post: How to Install Kali Linux on Virtual Machine, USB, and Hard Drive.